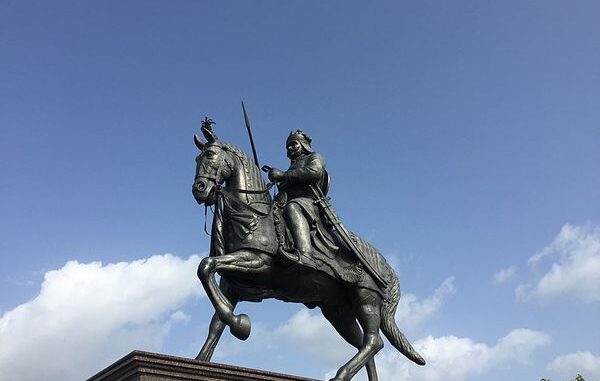 The name Maharana Pratap is synonymous to 'patriotism', 'valour', 'freedom fighter', 'martyrdom', 'sacrifice' and 'strong determination'. No wonder, the valiant Rajput struggled for freedom even in adverse condition, and did not shy away from his royal comforts and luxury for his motherland. A great figure, he is often addressed as 'Lion of Mewar.'
The Early Days as Pratap Singh – The Son of Rana Uday Singh
Maharana Pratap was born on May 9, 1940 to Rana Udai Singh II (son of Rana Sanga) and his first wife Maharani Javanta Bai at Kumbhalgarh fort. Being the first born, he was destined to be the 54th ruler of the Sisodiya Rajputs.
His father had a tough time as he struggled continuously from foreign invaders to save his kingdom. So, Pratap Singh from the very start had huge responsibilities on his shoulder to preserve his kingdom and Motherland. 
Brave and bold right from the start, both, the royal courtiers as well the general public were proud of his qualities. He mastered the art of horse riding, weaponry, and warfare tactics very early in life. It is said that Pratap's birth was considered very auspicious. The priests even  predicted that this Mewar son will bring glory to his clan, that is the Rajputs. 
Maharana Pratap's Personal Life – His Wives
Pratap Singh married at the age of 17. His first wife was Ajadbe Punwar, daughter of Rao Ram Rakh Panwar, a samant of Bijolia. In 1559, he was blessed by his first son Amar Singh.
Besides, Maharani Ajabde, Maharana Pratap had 10 more wives – Solankhinipur Bai, Champabai Jhati, Jasobai Chauhan, Phool Bai Rathore, Shahmatibai Hada, Khichar Asha bai, Alamdebai Chauhan, Ratnawatibai Parmar, Amarbai Rathore and Lakhabai. In all, he had 22 children – 17 sons and 5 daughters.
The Siege of Chittor
In 1567, Pratap was only 27 when the Mughal forces captured Chittor and the entire royal family left for Gogunda, leaving Jaimal and Patta to guard the royal palace.Though the young Pratap wanted to stay back and fight the Mughals, the elders somehow convinced him to leave Chittor. This incident had a great impact on Pratap as Chittor witnessed its third Jauhar.
The Accession
Pratap was Udai Singh's legitimate heir yet his accession had its own twist. It seems that when Udai Singh died in 1572 he appointed his favorite son 'Jagmal' as his successor. The reason? Well, one of his favorite wife Bhatiyani wanted her son to be the next heir so she had asked this favour from the Mewar ruler.
Highly influenced by Bhatiyani, Udai Singh obliged to her demand. However, this wasn't accepted to the royal courtiers and senior nobles. So, they didn't allow Jagmal to become the Mewar ruler and crowned the real heir of Mewar as the next Maharana. Disappointed Jagmal joined the Mughal force. Before him, Shakti Singh and Sagar Singh (brothers of Pratap) had already joined Akbar.
Mewar ruler Maharana Pratap was not ready to accept Akbar's suzerainty in spite of several invitations. Failing which, Akbar decided to capture Mewar. He sent his general Raja Maan Singh to capture Mewar with as much as four times more army than Pratap's army. When Pratap heard that Maan Singh's army has reached Khamnor, he stationed himself and his army in the narrow Haldighati pass, the only route to Gogunda. Both the armies got equal chance to win the battle. However, both missed the chance. Eventually, neither could win the battle when Maharana Pratap's loyal horse took him away from the battlefield.
Also Read: Why the Rulers of Mewar used the Title Rana and not Raja or Maharaja?
Post Haldighati
After the battle of Haldighati, Mughal Emperor Akbar tried to take over Mewar at several occasions. However, he failed every time. During this time, Pratap himself was trying to win his lost kingdom of Chittor back. But, the quest hit him badly as the constant attacks of the Mughals weakened his army. Besides, he hardly had any money to keep the army going. This is the phase when Bhama Shah, came to help Maharana Pratap by offering him a huge sum. This money helped the Mewar to aid his army of 25,000 for as long as 12 years.
The Recapture
After the year 1587, Akbar shifted his focus to India's Northwest Frontier and Punjab. Maharana Pratap could then free most of Mewar, including Kumbhalgarh and Udaipur, but certainly not Chittor. Although Maharana was never able to free Chittor from Mughals, he neither lost hope nor gave up fighting to re-capture his kingdom back.
Maharana Pratap's Death – How did Maharana Pratap Die?
On 29 January 1597, Maharana Pratap Singh, was injured while hunting. This accident turned out to be fatal and the Mewar hero, at the age of 56 left his body at Chavand. His enemy could never catch him, nor did he accept their suzerainty. Such was his determination.
Also Read: 20 Greatest Kings of India – List, Photos, Biography
A true son of the soil, Maharana Pratap lived, fought and ultimately died for the pride and honour of his motherland.
Feature Image Source: Suryapratap18 via Wikimedia Commons