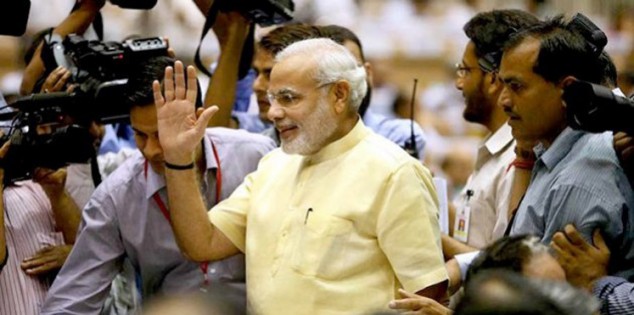 Election time, for politicians, is time when the proverbial curses in the form of chickens come home to roost. Time for the deeds of the past to catch up with the present. Time for public memory to sharpen. Prime Minister Narendra Modi whipped up the public mood against corruption in 2014 by promising he would end the scourge if his party was given a majority of its own in Parliament.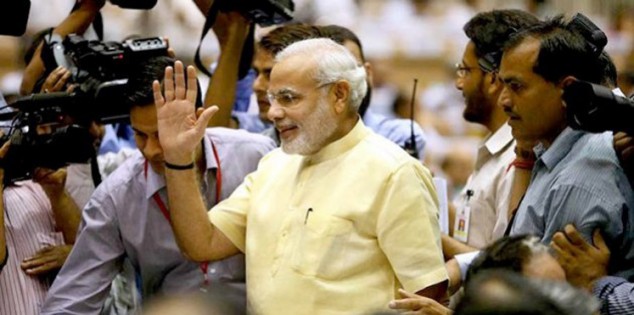 The people listened, and gave him and BJP a thumbs up and a comfortable majority. Nearly five years later, the wheel is turning full circle. Modi has just four more months before the next polls are called. Juxtapose Modi's promise with what happened to one of his own council of ministers, YS Chowdary — who quit government just recently.
Chowdary, a close chum of Andhra Pradesh chief minister Chandrababu Naidu and a TDP member of Rajya Sabha, was subjected to a raid by the income tax department and the enforcement directorate the other day, weeks after he left the Modi government. One report has it that he's facing fraud charges of Rs 57,000crore, and that he has been summoned for interrogation. In a rags-to-riches story, Chowdary is a controversial figure and heads a business house by name the Sujana group, he having had recorded assets of over Rs 100crore in 2010, it having doubled by year 2014. He is also seen as a front for Naidu, who claims Chowdary is the main financier for his party. The big money flow between the two, for party or otherwise, has been a matter of much speculation. Who gives what, to whom, for what?
Despite expression of reservations by PM Modi, Chowdary was taken into the Union council of ministers as minister of state for the department of science and technology etc. How he qualified to lead this department was itself a big question. Naidu had insisted that his chum be made a minister. Modi compromised on his stand, and took Chowdary in. Terrible, but true.
At this late hour, Naidu has tried to protect Chowdary – and himself, one must surmise – by anticipating what was about to happen. A week ago, the CM cleverly invoked a legal provision and ordered that the CBI is barred from entering the state of Andhra Pradesh. CBI on its own can investigate matters in capital Delhi, but requires "general" nod from a state government when it goes to investigate matters there. This is granted in normal course by state governments. Despite the spoke that Naidu put now, this did not stop investigations into the alleged 'frauds' including money laundering by Chowdary on his behalf, or on behalf of Naidu or the TDP.
Likely, Naidu is cornered by Modi and the Centre for the Telugu Desam's break-up from the NDA, which was swiftly followed by the southern CM's frenzied attempts to craft an anti-BJP front at the national level. For this, Naidu has backing from Congress president Rahul Gandhi; and he has support from another Modi baiter, Bengal's Mamata Banerjee, to start with. One can only imagine this: if Naidu has more clout at the Centre after the next polls, what could happen to him and this nation.
Coming back to the central point, that of Modi's promise to root out corruption if he was given a majority in Parliament? What message goes out, now that one of his own council of ministers for the past few years is finally and belatedly caught – that too, after he quit government? Inference is that if he had not quit, and if Naidu had not parted ways with the BJP and NDA, Chowdary would still have continued in Modi's government and possibly made more money. If this was one case of a bad apple in Modi's basket, what of the rest?
Like Manmohan Singh, no one suspects Modi to be corrupt. Not yet. Power by itself is a heady potion to him. Behind Manmohan Singh was Sonia Gandhi and her retinue pulling the strings of governance. The learned doctor sat through when others made hay. For, the Sun was shining bright and the nation's coffers were wide open. The Coal Scam, the 2G Scam, the CWG Scam, and the VVIP Helicopter Scam, to name a few. Now, Modi is saddled with the Rafale Scam. If slush money came, where it went is anybody's guess.
So, what difference Modi made to India after he came to office? A Look into Modi's Promise and Performances
Modi failed on many fronts. See how the RBI story unfolds. See how the CBI is fighting a battle within itself, with corruption and exchange of crores as bribes further denting its image of being a "caged parrot." No institution of governance in this country is now above board; and even the judiciary no more retains the halo it once held. Every department is corrupt to the core; and there's hardly any difference to the way they functioned in the past and now. Rather, the graph of corruption is on the ascendant in every sphere of governance and public administration. Modi too sat watching the scenario. Whether he was amused or bewildered, one does not know. Modi would, aside of his Mann Ki Baat, would do well to come up with a fact-sheet on what his government did, department by department, in the past over four years of its governance of the country – and what difference it made to India. The nation expects as much from him before he heads for the next round of campaigning for the Lok Sabha polls.
Demonetization was a well-intentioned decision, but things went terribly wrong due to lack of proper planning and execution. GST, a unique market reform measure aimed at the goal of "one nation, one tax", has been rolled out despite irresponsible blockade of its passage for many months by the Congress-led Opposition. It showed how politics should not be played – to the detriment of national interests. GST would take time to stabilize markets and plug its loopholes. It has helped in raising the tax revenue for the nation, and much more could come out of it for national good in due course of time.
Several sectors under the Modi government are ailing, just as some of his ministers themselves were. The minister for Railways has been changed repeatedly; and the lack of continuity has affected its functioning. It is another Eldorado for those who are bent on looting public funds and wealth. The Pawan Kumar Bansal era was over, but there yet is not enough of zest to the Railways' growth. The big talk about bullet trains of the Japanese style, and other high-speed trains matching the Chinese rail service, are still a far cry.
Long years of neglect of the Railways, mainly at the hands of those like Mamata Banerjee, has had a telling effect on the functioning of what came as a great gift to this country from the British Raj. It will take years of concerted efforts to get the nation's top mass transport and freight service back on its legs. Not many new trains have come in; railway services remain worse; and this is true of its catering services as well. More of track length, yes, but this happens in normal course. What difference did Modi make to the Railways?
Or, take the aviation scene. Air India is in deep debt and ailing for long. The likes of Praful Patel of what Modi once called the Nationalist Corruption Party (NCP) left it in a mess. Modi had a point when he pleaded with the voters in the 2014 campaign that he wanted a majority of his own for the BJP, so that he could keep the corrupt regional and other satraps under check and not allow them loot or dictate terms to the Centre. What the NCP, the DMK, the Congress politicos did under the UPA would remain etched in public minds for long.
Expectations were that Modi would effect a major turnaround. It would now appear that, despite his interest and initiatives to clean up the system, the system turned its head on him. The systems undercut Modi's efforts because it, over the years, acquired an evil clout of its own. Take the NPAs, for instance. Non-performing assets of banks is a euphemism for bad loans – loans not repaid by big sharks, mostly businessmen, and this includes a large number of those wilful defaulters. These men are mostly those who have the capacity to repay the huge loans they have taken, but will not. Why? Because, they can go on fighting such cases for years and for decades, and in the end get away with their act without paying back a penny. India's judicial systems and the company law board would ensure as much. They move, perhaps deliberately, at snail's pace.
Finance Minister Arun Jaitley's stand is that much of these bad loans, running into some 10 lakh crore, interest included, were taken during the UPA periods by mischievous businessmen who managed to fool banks and got money without sufficient guarantees for repayment. It happened because those in the ruling dispensation were there to push banking honchos to relax rules for these crooks. They took the money and scooted from the scene, reaching the ill-gotten funds to tax havens and foreign banks with rare frenzy. There were also those who failed in business and could not repay. Again, what did Modi do to get back this money, something he had promised during his 2014 campaign? What did he do to speed up recovery? Modi had not only promised he would get back the black money and put it into the bank accounts of India's poor. Modi opened bank accounts for India's poor – a first – but how much of such money has he been able to put into their accounts as promised?
Modi might have understood by now that there are limits to what a Prime Minister can do even if he has the best of intentions. The rotten system will block every such effort. India cannot carry on in this fashion for long. See how China functions. At the height of its economic prosperity and military might, China has granted more powers to its leader, Xi Jinping, by making him President for Life – a rare distinction once held by Mao. No one can question his actions anymore, or try pull his legs. He can now steadfastly concentrate on nation-building. He can go any length, confront any situation, and need not worry about losing his seat.
An Indian PM, or its elected leader, instead, would be booed at every turn, blamed for every step he takes, and pilloried for even the best efforts he takes for the nation's well-being. Fighting is what Indian politicians excel at, though the days of freedom fighters are over long ago. India cannot fight with itself with the same zeal, unless foolishness has the better of Indian politicians. When someone else steps into Modi's shoes, he would face the same charade. India has a large breed of wayward, undisciplined politicians. A rootless, retreating reds' Sitaram Yechury can fight a PM from the front, a wily Chandrababu Naidu can do so from the back, and another regional satrap Mamata Banerjee can pull the PM's leg at every turn if his or her interests are affected. India's irresponsible army of leaders can keep pulling each other's leg and take the nation to cleaners, when China takes new leaps in progress! Democracy and the unfettered freedom it gives to all and sundry here promise as much.
buy Lasix without prescription
buy Synthroid no prescription
buy Lipitor online