It is hardly 3 months and the new NMMC Civic Chief Tukaram Mundhe has already made changes in the 21st century city Navi Mumbai that are worth appreciating. The Navi Mumbai Municipal Commissioner has not only proved his administrative skills but emerged as a great relief to the citizens of Navi Mumbai who from ages where longing for an upright honest officer.
While, Navi Mumbaikars have been rejoicing the work and steps taken by disciplinarian Tukaram Mundhe, here we share some of the good things brought/done by the new NMMC Commissioner.
Tukaram Mundhe Scrapped 3 Unviable Projects worth Rs. 187 Crore
Often politicians approve money-guzzling projects even if they are unnecessary and not at all feasible. Irrespective of their viability, funds are released for these redundant projects. Three such projects have been scrapped by Mundhe after he termed them as "unnecessary".
The first project worth Rs. 20 crore involved placing of white marble stone upon the dome structure of Dr. Babasaheb Ambedkar Bhawan Memorial in Airoli. The second project was operating Hospital on Wheel at Palm Beach Road. The cost of this project was Rs. 3.5 crore and the third project that cost a bomb was Solar Project at Morbe Dam worth Rs. 163 crore.
Irrespective of the viability funds were allocated for these projects. However, now that it has been scrapped, the funds will be allocated to make the city more disabled and pedestrian friendly by improving drainage, creating recreational zones and improvising connectivity among other things.
Demolition of Illegal and Unauthorized Construction by NMMC Commissioner Tukaram Mundhe Even in the Goathan Areas
Over the years a majority of unauthorized constructions were coming up in the Gaothan areas but both the civic body and the officers were hesitant to take any action against them.  However, with zero tolerance policy for any illegal activities by Mundhe, unauthorized building, and illegal constructions are being demolished.
Unauthorized Constructions have been demolished in Gaothan areas like Karave Goan, and Digha along with Belapur, Nerul, Sanpada, Vashi, Ghansoli and Airoli.
Taking Strict Action Against Commercial Establishments for Encroachment
Not just unlicensed hawkers, strict steps have been taken against Commercial establishments in the city by Tukaram Mundhe. The new civic chief is sealing for all those commercial establishments that do not possess the required Occupational Certificate (OC) and violates the MRTP rules – Monopolies ad Restrictive Trade Practices.
Mundhe has demolished encroached area by MGM hospital in Vashi, Navi Mumbai. The hospital had violated the FSI norms. Similarly, the encroachment division has also sealed two floors of DMART KoparKhairne as they had no permission for commercial space for first and second floor. The basement area meant for parking space was also released to avoid commotion of vehicles on road. Similar action is taken against Hawre Centurion Mall and Hypercity Mall in Navi Mumbai. All these commercial establishments is violating the encroachment policy  and functioning against town planning.
Recently, two of the Petrol Pumps in Belapur (Sector 29 and Sector 15) were sealed after the department looked into the matter and confirmed both the Petrol Pumps were functioning without OC.
Walk With Commissioner Initiative
There was never a direct point of contact between the citizens and a Civic chief. However, with 'Walk With Commissioner' initiative Tukaram Mundhe has eradicated the distance between a citizen and a Commissioner. In this initiative, the Navi Mumbaikars can not only meet the civic chief but also share their grievances and concern with the Navi Mumbai Municipal Commissioner.
Mundhe has been a good listener all throughout. After all, immediate action is being taken post-hearing the complaints of the Navi Mumbai residents.  Interestingly, the sealing of Petrol Pumps in Belapur and sealing/demolitions of few structures were carried out post residents complained about the same.
The Beginning of Waste Management in Navi Mumbai by Tukaram Mundhe
It is good to see that the NMMC Commissioner is also taking care to make the city environment-friendly. The step was taken when the newly appointed NMMC civic chief strictly sent a notice of waste segregation throughout the city. The result – the residents are segregating the waste as dry waste (plastic, metal, paper etc) and wet waste (vegetable waste, organic waste) which will go for recycling and preparation of compost respectively.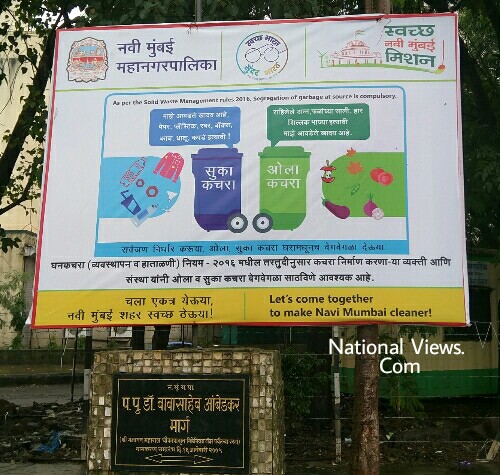 This will not only help Navi Mumbai in controlling pollution but will also fetch NMMC a huge some of money (from compost and recycling) that will further go in giving proper facilities and amenities to the public.
Tukaram Mundhe has already won the heart of the citizens. This is the reason why there is an online petition addressed to CM Devendra Fadnavis to allow Tukaram Mundhe to complete his 3 year term in Navi Mumbai as politicians have joined hands together to ensure he is transferred as soon as possible. In merely 4 days, the online petition for Tukaram Mundhe has crossed more than 5,500 signatures
News Reference:
TOI – Civic chief scraps 3 'unviable' projects, more under scrutiny
TOI – NMMC acts tough, demolishes 3 illegal buildings in Karave
DNA – Walk with the commissioner: Mundhe promises Belapur residents 24hr water supply
NMTV – NMMC Municipal Commissioner Tukaram Mundhe sets deadlines to clear encroachments
Youtube Video – NMMC Chief Tukaram Mundhe issues notice for encroachment against MGM Hospital Vashi
Do Not Miss Reading:
Know More about Tukaram Mundhe – The Dynamic Navi Mumbai Municipal Commissioner!