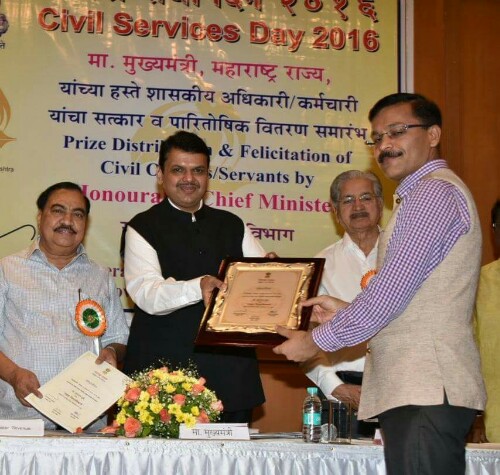 The new Navi Mumbai municipal commissioner has taken the 21st-century city by storm. From businessmen to politicians and common men, the name Tukaram Mundhe is on everybody's lips. While common men are celebrating Mundhe's entry, his presence is sending some serious thrills and shiver to few especially those politicians, officers of NMMC (Navi Mumbai Municipal Corporation) and businessmen who have been involved in illegal and corrupt practices all throughout.
While the aam aadmi of Navi Mumbai cherishes the entry of this dynamic officer, here we share few interesting facts about the NMMC Civic chief who is nothing but a crusader in himself.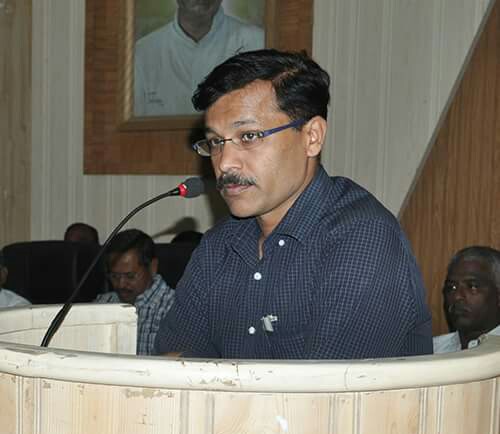 Tukaram Mundhe Is an Alumnus of a Zilla Parishad School
The dynamic and high on disciple standards, Mundhe belongs to a humble farmer's family in Tadsonna village of Beed district. He studied and completed his schooling from a Zilla Parishad school. Later, he went to Aurangabad to pursue graduation and post-graduation from Govt. College of Arts & Science. It was here that he started his preparations for UPSC exam.
In his Career of 10 years, the officer has been transferred eight times.
Tukaram Mundhe is an IAS Officer (batch 2005). In his Career of 10 years, the officer has been transferred eight times. The upright officer in his career took on land mafia, sand mafia and even the corrupt politicians. Mundhe was the one who could crack the whip on corrupt officials involved in the Irrigation scam in Solapur. He had also ordered a preliminary probe into the construction of 600 checks that were built from 2002.
He is addressed as the "No-Nonsense Officer" in the Solapur Circle
Before taking over as Navi Mumbai civic body chief, Mundhe as Solapur district collector took on many powerful politicians along with the sand mafia and land mafia. This is the reason why the disciplinarian is known as the "no-nonsense" officer in the Solapur circle.
Officers come and go but people of Solapur will always remember Tukaram Mundhe for hi tremendouswork for the general public of Solapur.
Solapur Is Ahead in Fighting Drought now, Credits to Mundhe
From declaring 12,000 water structures including tube wells, rig wells, and ponds for only drinking purpose only to making provisions for water with existing infrastructure to beat drinking water shortage, Mundhe tackled the problem of water scarcity well in Solapur.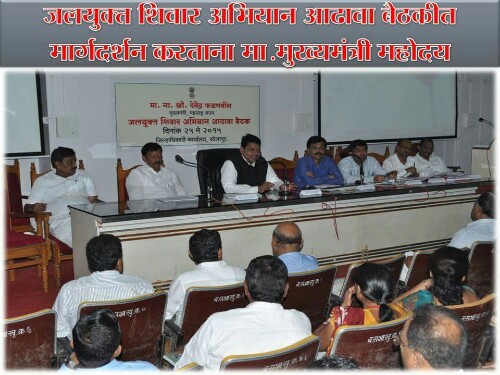 Jal Yukta Shivar (JYS) is a flagship small scale water and soil conversation program of the Maharashtra Government for drought-hit areas. It is highly successful in Solapur because of Mundhe and his team. Collector Tukaram Mundhe was the one who helped the common man by staunchly opposing and stopping water release from the Ujani Dam in Solapur for irrigating sugarcane in Rabi clearly stating that the project is meant only for 8 monthly irrigation and no release can be made for a perennial crop like sugarcane in the face of severe water crisis looming over sugarcane.
He Was Attacked By Sand Mafia
Honest and upright officers often have to face the burnt of being righteous. Mr. Mundhe is no exception. Earlier this year, on January 13, 2016, the sand mafia tried to kill Mundhe. However, Mundhe got rescued at the right time.
Tukaram Munde Has Been Felicitated and Honored By the Maharashtra Government
Mundhe was felicitated and honoured by the Government of Maharashtra for his outstanding work and in Solapur during 2015-16. The award was handed by CM Devendra Fadnavis on Civil Services Day – April 20, 2016. Earlier, he was felicitated at the hands of CM for making 7 Municipal Councils ODF in Solapur district.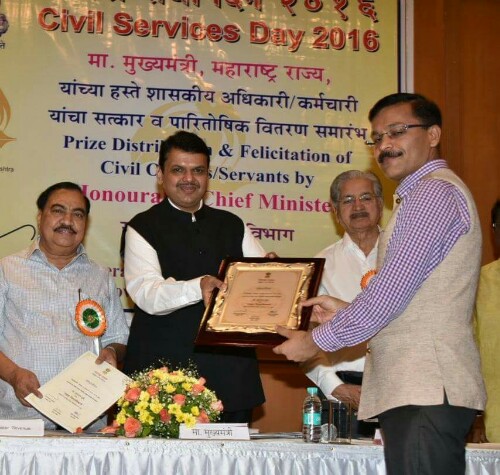 He Has Started the Walk with Commissioner Drive to Directly Connect With the Citizens
When a senior citizen approached Mundhe with his problem during his regular morning walk, he thought of using the concept to discuss the problems of the citizens regularly on his walks. This gave rise to "Walk With Commissioner" which is a huge hit now in Navi Mumbai.
Politicians of Navi Mumbai are Highly Irked by Tukaram Mundhe
Only an honest, upright, dynamic and highly disciplined bureaucrat with zero tolerance to corruption and illegal activities can irk the city politicians with his outstanding work. No wonder, the politicians of Navi Mumbai are already irked by this man so much that they even complained CM Devendra Fadnavis apparently on the topic of 'Walk With Commissioner'. Interestingly, the CM snapped back the local politicians by saying, "Let the Municipal Commissioner do what he wants." Little do these ministers know that being an upright officer and working solely for the upliftment of the people, he is already in good books of Fadnavis.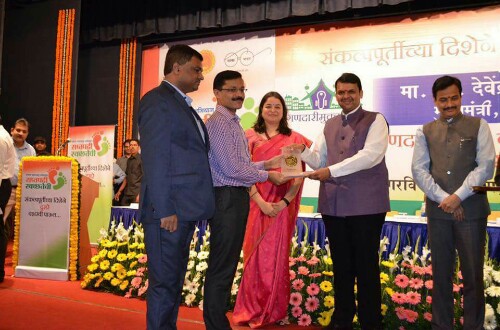 He Is Known For Taking SWIFT Actions especially suspending Corrupt Top Civic Officials
Tukaram Mundhe doesn't take time to settle down, he starts his action from day 1. This is the reason why we saw the suspension of DMC Prakash Kulkarni over administrative irregularities in property tax department. Kulkarni has been heading the department from past 9 years now though according to the norms they have to transfer after every 3 years.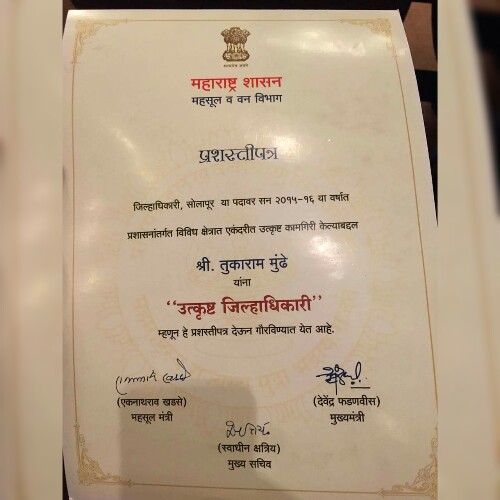 Tukaram Mundhe Is the Man Behind "Waste Management" in Navi Mumbai
Navi Mumbai residents have been strictly segregating "wet waste" and "dry waste" so that the dry waste can be recycled and the wet waste can be composted. A great step by the Civic chief, the move is a welcome change as it reduces the waste that reaches the landfills and also lessens pollution to water and air.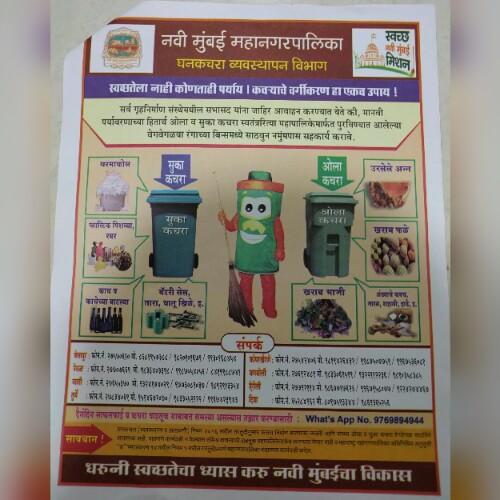 Image Courtesy: Tukaram Mundhe Facebook Page
Source and Reference:
Solapur: 12,000 wells and ponds to be used only for drinking water purposes
Municipal commissioner Tukaram Munde suspends four more officials for embezzlement
Do Not Miss Reading:
5 Good Things Done by Tukaram Mundhe in Navi Mumbai
Young Indians, Let Not Be Immune to Injustice, Torture & Suffering Of Others
Editor's Note: NationalViews is a home for people with views and opinions that caters to the changing India. It is a place for the common men to articulate their views and opinions on any topic. A platform where you express and we publish. Mail us your opinion, views, and thoughts at editor@nationalviews.com and we will help you reach out to the masses.