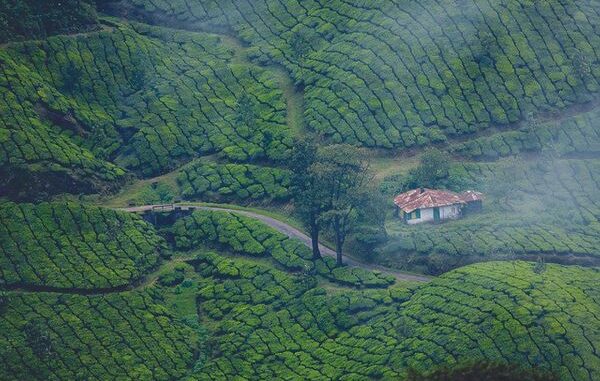 Take a break from the worldly affairs of life by exploring the beautiful places to visit in Munnar. Nestled in the panoramic landscapes of nature, these tourist attractions promise a refreshing escape for everyone. Whether you're a backpacker or visiting a group of friends and family, Munnar tourist places are sure to leave you overwhelmed by their enthralling beauty. Munnar is a famous Kerala hill station perched at an altitude of 1600 meters in the Western Ghats.
There are several beautiful places to see in Munnar that offer an invigorating retreat whether you're looking for a relaxing vacation or an adventure. Echo Point, Photo Point, and Top Station are among the best Munnar sightseeing spots. Munnar is famous for its lakes, waterfalls, and its orthodox tea production. Without much ado, go through the railway time table online to know about the trains to Munnar.
With a plethora of tourist attractions in Munnar, tourists are sure to have a gala time during their holidays. From a surreal sunrise at Kundala Lake to a lovely picnic at Attukad Waterfalls with family members, Munnar is a lovely escape for everyone. The nearest railway station to Munnar is Aluva, 110 kilometres away from Munnar. If you have already booked your train ticket then don't forget to check PNR status.
Let's have a look at 7 Munnar, Kerala tourist places for your next vacation:
1.    Attukad Waterfalls
If you are a nature photography enthusiast, birders, or just a vacationer on the Nilgiri side of Kerala, you can't miss a visit to the iconic mountain springs around Munnar, such as the Atukkad Falls. It is located in the mountainous Idukki district, on the way from Munnar to Pallivasal, where the Attukad Falls running down is a thrilling view. There is abundant greenery as far as vision goes, and resounding peace has been found in untouched nature.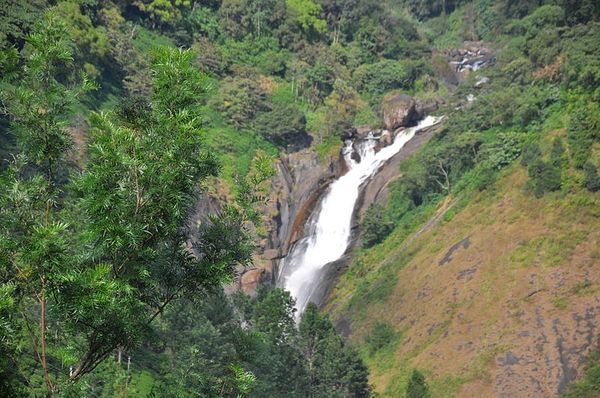 The lush jungles welcome you to an adrenaline-thumping trek in the deep forests, but if you're only in a mood to relax, feel free to settle down with a picnic basket and a good book. In comparison to other mountain destinations, Attukad Falls in the Western Ghats is recommended for both monsoon and dry season visits. The best time to visit Atukkad Falls is when the waterfall is at its most vigorous form. So, prearrange your train schedule to Munnar.
Best time to visit Atukkad Falls: Monsoons, from mid-June to September.
Things to Do at Attukad Waterfall,Munnar: Trekking, wildlife, bird sighting, rappelling and taking a dip in the pool.
2. Mattupetty Dam
Right in the lap of the hills of Munnar, lies the Mattupetty Dam, named after Mattupetty's hill station. Today, the dam is not only a major source of electricity in the area, but it is also a popular Munnar tourist spot. The dam works as an excellent vantage point from where you can immerse yourself in the stunning scenery, including the mist-covered hills.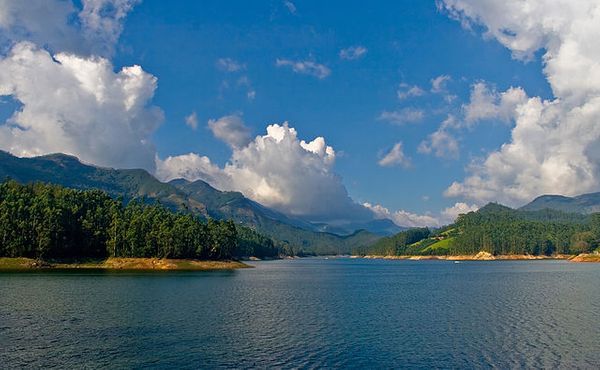 When at the Mattupetty Dam, you can spend your time enjoying a variety of activities, such as bird watching, water sports, boating, etc. Water sports activities include speed boating, which attracts a lot of adrenaline junkies from around the world. Apart from these Munnar tourist spots, you can also opt for trekking in the forest of Shola, which surrounds the dam.
Best time to visit Mattupetty Dam:
● Winter season from October to February with the mist-covered vistas of the surrounding hills
● June and July for clear blue skies and picture-perfect scenery.
Things to do on and near Mattupetty Dam:Mattupetty Dam boating, hiking, bird watching, Travelling to Mattupetty Dam viewpoints.
3. Cheeyappara Waterfalls
With water flowing down in seven stages, Cheeyappara Waterfalls is about 42 km away from Munnar and is a must-visit hill station in Kerala. A treasure trove for nature lovers, the waterfall also serves as an ideal spot to spend fun times with family and friends. Trekkers and hikers find this Munnar attraction a picture-perfect destination to unravel the bountiful beauty of Kerala.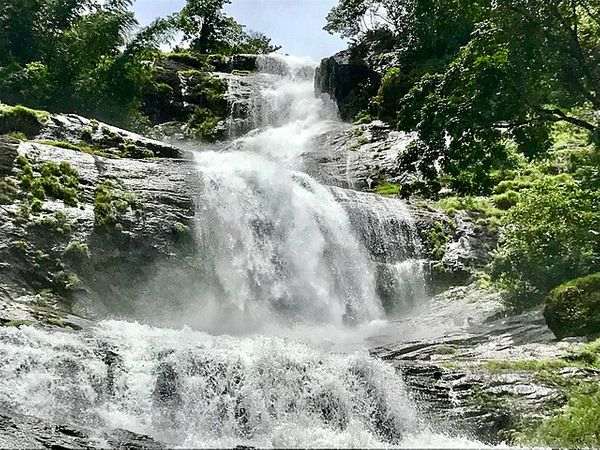 Best time to visit Cheeyappara Waterfalls Munnar: From June to August.
4. Eravikulam National Park
Eravikulam National Park is located 45 minutes' drive from the Munnar City Center and is located at the top of the Western Ghats. Spread over a land range of 97 kilometres, this is one of the most common spots for Munnar sightseeing. It is home to a plethora of flora and fauna and is part of the other UNESCO World Heritage Site.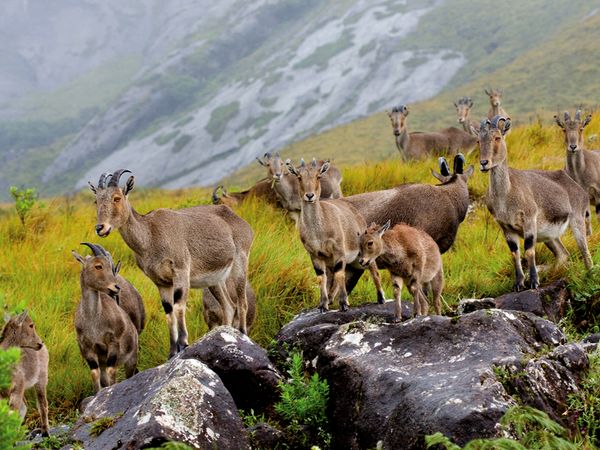 There are approximately 132 different species of birds, 19 species of amphibians, 26 species of mammals, 101 species of butterflies, and 20 species of orchids. Nilgirilangur, Atlas moth, Nilgiri marten, small-clawed otter, Lion-tailed macaque, and a rare variety of leopards and lions are some of the major wildlife to be seen here. While reaching Munnar, you can check the live train status to know about any delay in train.
If you're an avid birdwatcher, be prepared to spot Black & Orange Flycatcher, Nilgiri Wood Pigeon, White Bellied ShortWing, Kerala Laughing Thrush, and NilgiriVerditer Flycatcher. Besides the vast array of wildlife that thrives here, you can easily spot the NilgiriTahr.
● Best time visit to Eravikulam National Park:
○ September to October (end of monsoons)
○ April to May (summer)
● Eravikulam National Park Entry Fee:
● Indian Adult: 125 INR per head
● Indian Children: 95 INR per head
● Foreign Nationals: 420 INR per head
● Photography Charges: 45 INR per unit.
● Eravikulam National Park Timings – Eravikulam National Park opening time is from 07:30 am till 04:00 pm.
5. Pothamedu View Point
Immersed in the fog and greenery, Pothamedu viewpoint in Munnar is a spot worth a trek. This view gives a panoramic view of the valley, and if the day is clear, you can also see the Muthirapuzha River and the Idukki Arch Dam from quite a high altitude. The view is made of a series of hill slopes where tea, coffee, cardamom, and pepper create a blanket of greenery all over the hills.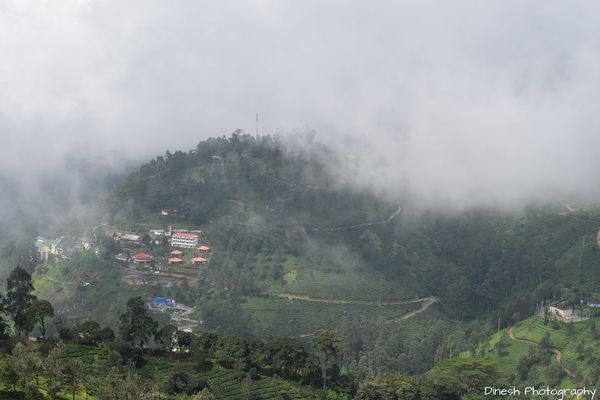 As you enjoy the mesmerizing view of the valley, take a sip of ginger tea from the only tea shop nearby, and you'd love to spend your evening in Pothamedu. Watching the sun slide down the horizon in the vast expanse of the Sahyadri range is a perfect way to spend your holidays in this quaint town.
● Best Time to Visit Pothamedu viewpoint, Munnar: Early in the morning or evening.
● Pothamedu viewpoint,Munnar Entry fee: No charge.
● Pothamedu viewpoint Timings: Open 24 Hours.
● Activities at Pothamedu viewpoint: Hiking, trekking, and long mountain nature walk.
6. Echo Point Munnar
The famous Echo Point is situated 15 kilometres from Munnar, at an altitude of 600 meters above sea level. Known for its inherent echo effect, it is at Echo Point where you can hear your voice reverberate back to you like an echo when you scream. Located along the banks of the picturesque Kundala Lake, Echo Point is surrounded by misty clouds, hills, green meadows, and forests that make this scenic spot one of the most exhilarating places to see in Munnar.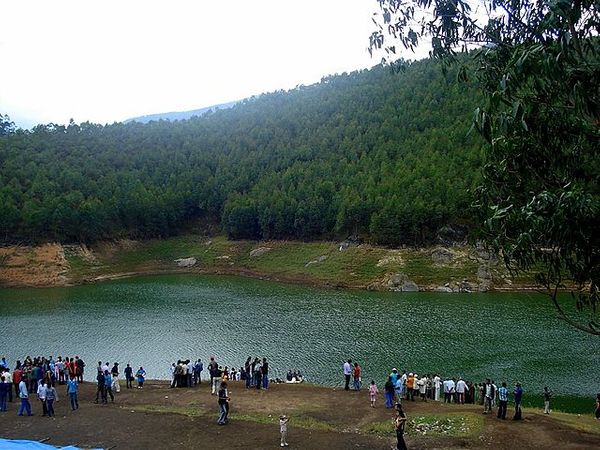 You can also go for boating in the lake and choose either a speedboat or a paddleboat. Echo Point is also a perfect place to observe birds, as many people come here to get a glimpse of the colourful species of native and migratory birds.
● Best time to visit Echo Point: September to February, when the weather is cold, calm, and serene.
● Echo Point Munnar entry fee:
○ Adult: INR 30
○ Children: INR 15
7. Kundala Lake
Kundala Lake offers a plethora of natural gems to wandering tourists who are ready to take the extra mile to satisfy their nomadic drives. Located at an altitude of 1,700 meters above the sea level, Kundala Lake is a must-watch along the Munnar route. Rolling tea plantations on the slopes of the Nilgiris under the canopy of the blue sky above, with a gentle fragrance of fresh tea leaves, can make your holiday experience richer than ever before.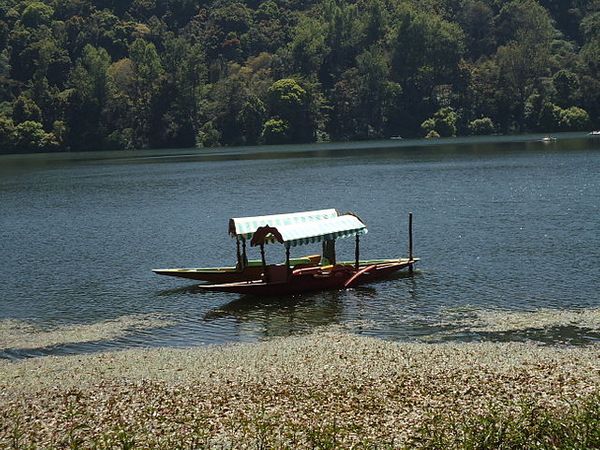 The historic Kundala dam, which shares its name with the lake, is one of the main attractions of Kundala Lake. Riding through the tranquil waters of Kundala Lake on a Shikara boat in the middle of eternal greenery is something that many honeymooners are eager to do. Kundala Lake is among the foremost Munnar tourist spots all year round because of its pristine natural surroundings and calming climate.
Best Time to Visit Kundala Lake in Munnar: Monsoon months between June and September
Kundala Lake in Munnar Timings: Open 24×7.Duration of visit is one to two hours.
Kundala Lake Munnar entry fee: No fee
To celebrate a perfect vacation trip in Kerala, September to March is the best time to visit Munnar. It is when the weather is the friendliest in Munnar and you can enjoy a variety of outdoor activities for a fun-filled getaway. Attukal Waterfalls, Pothamedu View Point, TATA Tea Museum, Eravikulam National Park, Mattupetty Dam, Photo Point are among the best places to visit in Munnar. A holiday of at least three days is perfect to see all of Munnar's top attractions and have a relaxing time with your loved ones.While you're planning your summer trip to Kerala, order food in the train from trusted e-catering partners to have a delightful journey to Munnar in your train.