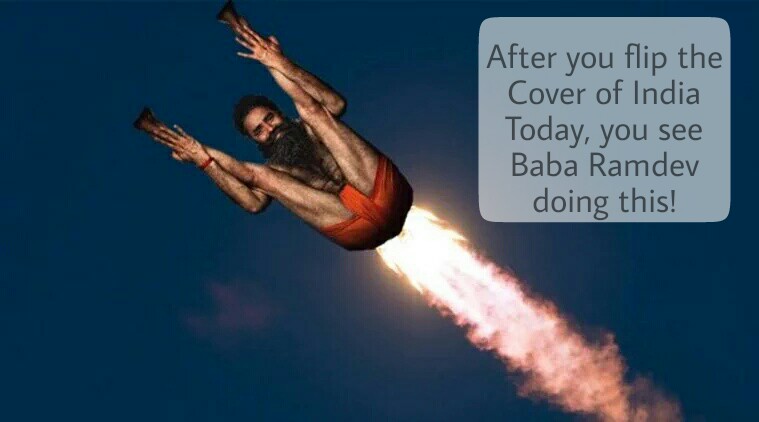 Ramdev Baba just got featured on the cover of India Today magazine and he is in the news everywhere.
Well, he has been photographed in a way that can make anybody keep on thinking.
Here's the photoshoot I'm talking about – 
Twitteratis simply couldn't control themselves from trolling Baba Ramdev. Check out :
After you flip the cover of #IndiaToday, you see #BabaRamdev doing this! pic.twitter.com/YnzOGhrAVi

— Devansh Patel (@PatelDevansh) July 15, 2016
Baba Ramdev trying to spell A.
For Adani. pic.twitter.com/06VN3i2NCc

— Sorabh Pant (@hankypanty) July 15, 2016
Baba Ramdev leading the Indian Air Force attack on terrorist hideouts in POK pic.twitter.com/NtZaWjel13

— Gautam Trivedi (@Gotham3) July 14, 2016
Baba Ramdev practicing for Rio Olympics diving competition #Olympics2016 pic.twitter.com/ezIj3XjDVp

— Gautam Trivedi (@Gotham3) July 14, 2016
Baba Ramdev was at Olympics in 2012. Sickular media won't show. No Gymnastic medal because of racism 🙁 pic.twitter.com/lZYRcQu4nF

— Being Watched (@DuckSpeech) July 14, 2016
Baba Ramdev showing how Pokemonasan helps us to find out the most popular pokemons around us. pic.twitter.com/e2cLpzSarX

— Ojas. (@Ojasism) July 14, 2016
I fixed the Baba Ramdev @IndiaToday cover. pic.twitter.com/iObeoPQqjD

— Sahil Shah (@SahilBulla) July 14, 2016
#BabakaBasePasandHai. IndiaToday desperation. Needed #BabaRamdev to pump up their declining readership. Good shot… https://t.co/mqZnACKyfh

— mRiDuAL pRaBhAa (@writingdoll) July 15, 2016
While, everybody is thinking whether the team of India Today was smoking weed to show Ramdev Baba in such a way on the cover page, the photographer Bandeep Singh has his own views on the same. He has penned down an entire article on the same on DailyO – 
Why I shot Baba Ramdev the Way I did for India Today Cover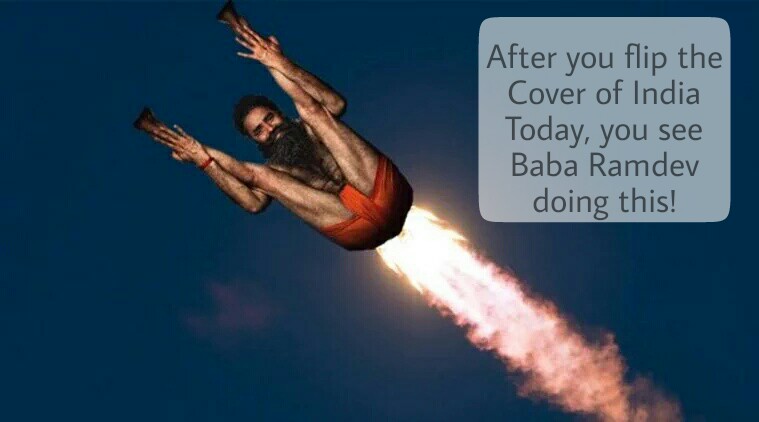 Do Not Miss Reading:
#TalibaniRamdev: Baba Ramdev Trolls, Memes & Bharat Mata Ki Jai!
Should We Eat Baba Ramdev's Patanjali Noodles?