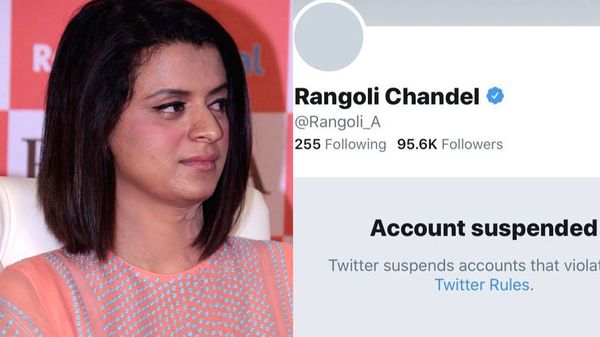 Rangoli Chandel, the sister of Kangana Ranaut has been an outspoken and respected personality on Twitter……beyond twitter no one really knew her much and those who knew her, did so, because of whose sister she was.
Yet, she is a strong advocate of nepotism and has spoken out against people using connections to get recognized.
I have always had sympathies for her since she herself has been a victim of an acid attack.
An acid attack is an irrational and perverted act by someone against a woman which destroys not only her face but her confidence too.
Yet she has always stood up with confidence in demanding the "shoot to kill" of Muslims. It is difficult to find such confidence in women (or men) who have been subjected to such vile atrocities.
It is a shame that despite being such a confident and outspoken woman who has earned her reputation not through nepotism, Twitter has decided to suspend her account.
I am a firm believer in freedom of speech and I think Rangoli Chandel is also entitled to her freedom of speech.
I think that the Mumbai Police should immediately take cognizance of the flowery praises she has showered on guns and bullets directed at one community in particular and honor her with the appropriate sections of law.
She should be given her freedom of speech to defend herself in the court of law, after which she can also use her freedom of speech to appeal for bail and then finally use her freedom of expression to scream her heart out in the confines of Arthur Road Jail cell.
I hope the Mumbai Police takes a hint from this post and does the needful.
The post was first published by Darshan Mondkar on his Facebook timeline.
Also check out Kangana Ranaut's tvideo on demolishing platforms like Twitter on TOI after Rangoli Chandel's suspension