No matter what comes in front of Anami regarding Sudha, the girl doesn't seem to understand the ill motives of both, Sudha and Narottam. Forget about the Laal Mahal members, she isn't even hearing the continuous warning of Adhiraj (Ankit Siwach), the CBI officer whom she trusts more than anybody right now.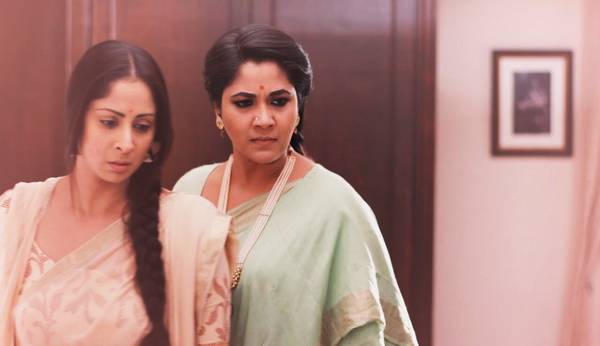 However, good thing is that although she isn't listening to anybody against Sudha, post the recent events there is a certain doubt in her mind. And this doubt we hope will not allow her to trust Sudha blindly; giving us enough hope that soon Anami will know about Sudha's reality in the serial Rishton Ka Chakravyuh. Still, the question remains how and here we have our assumptions:
Rishton Ka Chakravyuh Update: Adhiraj Will Timely Warn Anami With Enough Proofs against Sudha
Earlier we saw Anami trusted Sudha 100% by hearing her sob story. Not even once did she think about her motives. However, seeing her stand against Vikram Singh aka Dadaji aka Badde Miyan while refusing his offer, Anami has several questions in her mind. Good thing is, not just Satrupa even Adhiraj has warned her with enough evidence.
Now that Anami trusts Adhiraj. We are sure his timely warnings and proof against Sudha will slowly and steadily make her suspicious about Sudha and perhaps even Narottam. Once, the seed of suspicion starts taking its shape in her mind and heart, we are sure her trust will definitely dwindle in the process.
The Entire Laal Mahal Family Is Working to Make Anami See Sudha's Real Face
Satrupa has convinced the family to rather behave nicely with Anami by considering her as one of their own than treating her as an outsider. Even the head of the family, Dadaji now is interested in talking to her politely as the situation is going out of their hands. Now that Anami is a kind-hearted soul we are sure she'll soon get to know the family's perspective too.
Also Read: 7 Reasons Why TV Viewers are Loving Rishton Ka Chakravyuh Serial on Star Plus
Besides, according to latest Rishton Ka Chakravyuh update, Satrupa has plans to bring Anami's brother Ladoo in the picture. If Satrupa can behave nicely to Narottam, she can go any level to win Ladoo's heart in order to win Anami's trust and affection. We are sure Satrupa's timely and well-thought plan will not only make Anami look into the plight of her mother and Laal Mahal but also give her enough reasons to know the reality of Sudha and Narottam.
These two things along with her quest to get to Vatsalya's murderers will definitely take Anami towards Sudha's truth. What do you think?