While smart watch and fitness watch are slowly becoming a trend, sports watches are being updated with additional features and heavy duty designs. Here are a few features without which you'd be better off looking for a good sports wrist watch: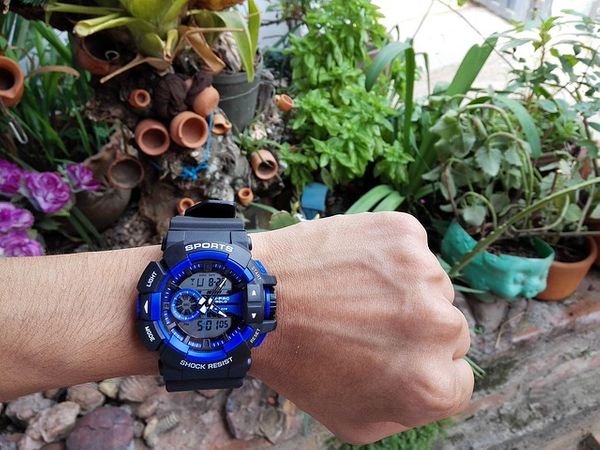 Resistance to water
This feature is indispensable for athletes such as swimmers or ones who spend time underwater. A swimmer, alone with his watch can time his laps and strive harder without having to get out. Similarly, divers can clock their time under water and know when it is time for high or low tide.
However, watches were labelled water proof initially which was a hoax. Lately, they have been labeled water resistant, which is true up to certain extend, and a watch resistant up to 100 meters depth is respectable. Moreover, with water resistance, you don't have to take off your watch every time you wash your hands.
Alerts/Alarms
Athletes are required to follow strict routines for obvious reasons, and a watch with alarms simply won't do. One simply cannot rely on the mobile phone for alarms and alerts since it is bulky and requires extra care as compared to a watch.
Interestingly, there are watches in the Indian market like the Timex Command that comes with multiple alarms along with a special hydration alert. This feature is extremely useful as athletes need to stay hydrated simply to remain fit, let alone performing exceptionally well; alerts set on the right time intervals are welcome.
Comfortable & sturdy strap
All those who wear watches know the pangs of sporting an uncomfortable watch. Sports watches, for that matter, must be super comfy so that they don't bother athletes while involved in strenuous activities. Also, it should be strong enough to not give out when subjected to stress or external force.
Most wrist watch for men online comes with an adjustable strap that fits around the wrist perfectly. You can look for resin straps that complement the most robust frames and last for years.
Display
The display of the watch, which is invariably digital, should be clear and big. Athletes don't have the time to stop and measure their performance, which is something they must do on the run. Moreover, the display should have an illuminator for when the athletes go conditioning in the dark.
Stopwatch
Runners need to time their runs to reach the finish line faster than the previous attempt. One can easily determine this with a respectable wrist sports watch and achieve the most elaborate goals one sprint at a time. It is equally important for cyclists or swimmer's as well.
If you live an active lifestyle and are looking for Men's sports wrist watch or searching for casual watches for men online that make a great value, make sure the time-piece have the technicalities and functionality as mentioned above. From walk to jog, track to field, swim to dive and run to sprint, these wrist watches can be your seamless companion all day long.