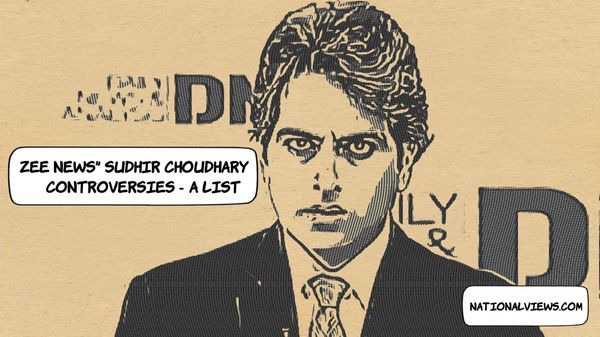 Sudhir Chaudhary, the editor-in-chief of Zee News have been a lot in news these days. The journo cum anchor is highly talked about, not only for his show but also for the various controversies that he has surrounded himself with. Off late Mr. Chaudhary is recognized for his soft-corner towards right-wing politics and his critical comments towards its opposition.
Here we shall share all Sudhir Chaudhary Controversies from the very recent to the past ones:
May 2020 – Telecasting a Program Named Jihad on His Show Daily News & Analysis
On May 7 a FIR was lodged against Sudhir Chaudhary for his program 'Jihad' that was telecasted on Zee News on March 11. Mr. Chaudhary has been booked under non-bailable sections by the Kerala police for anti-Muslim hatred.
Mr. Chaudhary has been booked under Section 295A of the IPC (Deliberate and malicious acts, intended to outrage reli­gious feelings of any class by insulting its religion or reli­gious beliefs).
The graphic that Mr. Chaudhary is explaining is plagiarised from a Facebook page known for propagating anti-Muslim conspiracy theories as traced by Newslaundry. In addition AltNews reports that the same image was originally shared by a propaganda site against minorities in 2014. Interestingly, this image was also shared by Payal Rohatgi in 2019.
February 2020 – Chaudhary's Infamous Monologue on Delhi Voters
No sooner exit polls predicted the win of Arvind Kejriwal led AAP party's win in Delhi than Sudhir Choudhary started his rant against Delhi voters calling them names. As bizarre as it seems, the Zee News anchor on his show went on with his infamous monologue on Delhi voters and said,
"Delhi voters do not care about the Ram Temple in Ayodhya, the Balakot Air Strikes or revocation of J&K's special status but only about their personal issues. They do not care whether the country is falling or dividing all they care is about their personal struggles"
Here, listen from his own mouth –
This didn't go well with people and soon there was a flood of tweets bashing him for his shameful reporting.
2019 Sudhir Chaudhary Controversies – Made False Plagiarism Charges against TMC MP Mahua Moitra
While Mr. Chaudhary didn't think twice about plagiarizing a jihad chart from an unknown dubious Facebook page, not long ago he was seen pressing plagiarism charges on TMC MP Mahua Moitra when she became an overnight sensation for pointing out early signs of fascism in India during her parliament speech in June 2019. He accused her of plagiarising Martin Longman's speech, however, Longman, himself denied of plagiarising his speech.
Mahua Moitra filed a defamation case against Chaudhary for his allegations on her.
January 2013 – Nirbhaya Case – His Name Appeared in a FIR Registered by Delhi Police against Zee News
In a FIR registered by Delhi Police against Zee News, Choudhary was named too for revealing the identity of the victim in the Nirbhaya case while conducting an interview with the sole witness of the crime, Nirbhaya's male friend. The case was registered under section 228 (A) of the IPC.
2012 – Arrested on Blackmailing and Extortion Charges + Forgery Charges
In 2012 Sudhir Chaudhury then editor of Zee Group was arrested along with Sameer Ahluwalia, his colleague after Naveen Jindal filed a complaint against them for trying to extort Rs. 100 crores from his company to drop stories that linked Jindal Group of companies with Coalgate scam. Both of them were sent to Tihar jail for 14 days and later were released on bail.
In the wake of these charges, Chaudhary was also suspended by the Broadcast Editors Association from his position as Treasurer.
Later in 2013 a fresh case was registered against Sudhir Chaudhary for showing forged reports by claiming them to be a part of CAG report on a show titled 'Media Ka Sauda' for airing his story on Jindal. The case closed as the Delhi Police was unable to file charges.
Besides, these Sudhir Chaudhary Controversies, there is also a list of his provocative tweets –
May 2020 – His Insensitive lockdown tweet on migrant workers
and Twitter couldn't control trolling him
Also Read: Deepak Chaurasia Controversies – A List
Also Read: A List of Rajdeep Sardesai Controversies