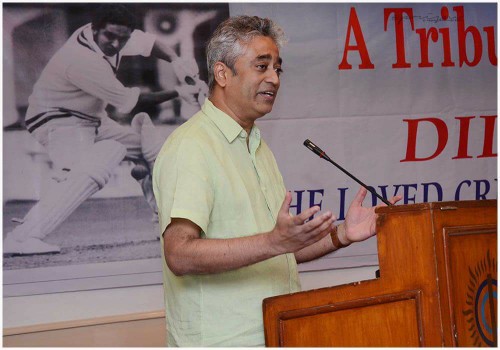 Rajdeep Sardesai is a senior journalist, anchor and an author. This is the reason why he is always surrounded by news and controversy, most of the time for his own views and opinions on the microblogging site Twitter.
Here we share Rajdeep Sardesai controversies from the past as well as present: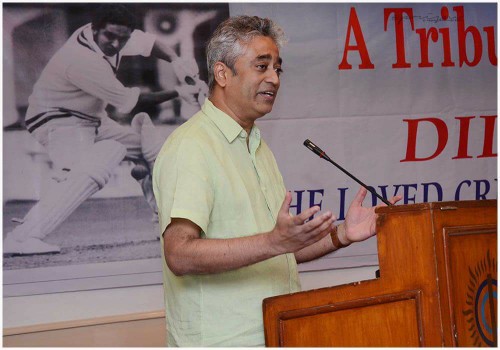 Image Source: Rajdeep Sardesai via Facebook
When Rajdeep Sardesai Was Slapped at Madison Square in 2014
Ahead of PM Narendra Modi's speech in Madison Square on 29th September 2014, Rajdeep Sardesai was manhandled by a crowd (allegedly Modi supporters) in New York. He was slapped by one of the supporters of Modi. While, some of the onlookers alleged Rajdeep for provoking the crowd, a senior journalist at Dainik Bhaskar defended Rajdeep.
Mob of people attacking an Indian journalist for being critical of Modi on the past. Accused if being a traitor pic.twitter.com/6xOJTWAxaO

— James FontanellaKhan (@JFK_America) September 28, 2014
Rajdeep Sardesai and the Infamous Tweet of NaMo and Nemo
In February 2014, ahead of the Lok Sabha elections, Rajdeep Sardesai in a way compared Mr. Narendra Modi, then a Prime Ministerial candidate of BJP with his dog. Here's the tweet that created havoc not just in India but around the world –
while Namo travels the country, my Nemo needs to be taken for a walk in the park! Different folks, different priorities! Enjoy the weekend.

— Rajdeep Sardesai (@sardesairajdeep) February 8, 2014
Though his friend Ronnie Screwala warned him about the aftereffects,
@RonnieScrewvala yes for that 'Oh so innocent tweet" >>> he has a record of 12 years of NaMo bashing – why not Sonia? @sardesairajdeep

— meena das narayan (@MeenaDasNarayan) February 9, 2014
The aftereffects as expected was beyond imagination. Here's what Rajdeep Sardesai then tweeted,
My friend @RonnieScrewvala was right. Should never have Namo and Nemo in same sentence. Apologies to those offended!

— Rajdeep Sardesai (@sardesairajdeep) February 8, 2014
When He Used the "F" Word in His Tweet
tonight time to say f off to those who call us 'paid media'. we are journalists, not sensationalists or elitists. gnight.

— Rajdeep Sardesai (@sardesairajdeep) February 4, 2012
A journalist using the "F" word? Well, that was enough! Even Amitabh Bachchan advised Rajdeep Sardesai not to use the "F" word in his tweets.
Rajdeep Sardesai's Twitter Spat With Anupam Kher – The Controversy after which Rajdeep Vowed to Tweet Less
In October 2015, Rajdeep had a Twitter spat with the uncrowned twitter spokesperson of BJP – Anupam Kher, after which he decided to tweet less. It all started when Rajdeep tweeted about Shiv Sena's hypocrisy. Post that the actor and husband of BJP MP questioned him back on his "desh bhakti".
Here are the tweets
How sad that you chose such an insensitive expression to justify your attempt of trying to be a messiah of truth. https://t.co/C6lnXST35O

— Anupam Kher (@AnupamPkher) October 12, 2015
What desh-Bhakti have u shown towards d mass murder & exodus of Your fellow Kashmiri Pandit Indians in so many yrs? https://t.co/k1mK5iU3Yb

— Anupam Kher (@AnupamPkher) October 12, 2015
What is d point of debating with you my friend! It is like trying to wake up a person who is pretending to sleep.:) https://t.co/PsOQJQCkgg

— Anupam Kher (@AnupamPkher) October 12, 2015
The debate then continued on Rajdeep's TV show where Anupam Kher once again started talking about Twitter and Rajdeep's action of deleting one of the tweets about Kher. However, Rajdeep apologized for the same and later also tweeted his apology.
You are right sir. deleted because it was personal and below the belt. Not done. Apologies. As for guts, I fear God. https://t.co/S2NMzYZpDI

— Rajdeep Sardesai (@sardesairajdeep) October 15, 2015
Post the entire episode, Rajdeep Sardesai Declared that He Will Be Tweeting Less from hereon. Here's the Tweet:
Will tweet much less now. Have learnt my lesson. I wish you all friends, the very best. Life is too short, this country too great. Bye.

— Rajdeep Sardesai (@sardesairajdeep) October 15, 2015
While, Rajdeep Sardesai decided to tweet less, popular TV anchor Ravish Kumar who hosts Prime Time on NDTV decided to quit Twitter in August, 2015 after being trolled heavily on Twitter.
Do Not Miss Reading:
A Tale of Barkha Dutt and Her Two Muslim Husbands
Nidhi Razdan and Omar Abdullah Love Affair : Everything You Wanted to Know About!
Editor's Note: NationalViews is a home for people with views and opinions that caters to the changing India. It is a place for the common men to articulate their views and opinions on any topic. A platform where you express and we publish. Mail us your opinion, views, and thoughts at editor@nationalviews.com and we will help you reach out to the masses.