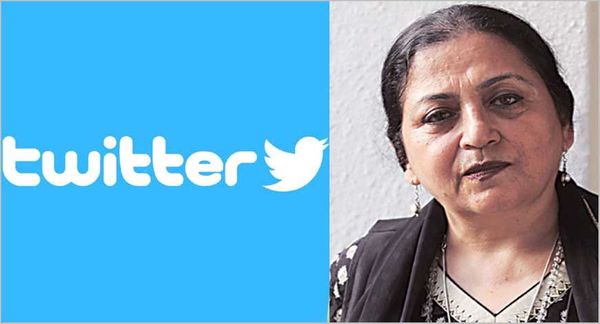 If anyone can surpass JCB in getting lower and lower with their khudaayi, it has to be Madhu Kishwar with her choice of words, metaphors, stories and imagination. If you are not aware of Ms. Kishwar then let me tell you she is a Twitter luminary undeterred by fact-checks of her wild-eyed conspiracy theories. A staunch supporter of WhatsApp University, her grumblings can sometime seem to be an innocence of a 5-year-old-girl. For starters, she believes that if two men sleeps on the same bed, they are gay. How cute!
As a spokesperson, neither appointed by Nehru nor Gandhi, I would like to express my agony at the Tsnumai of puns and criticism directed towards them almost always. No wonder, joblessness in our country is at 45-year high, but that doesn't mean you go mocking martyrs, freedom fighters and even social activists to garner few minutes of attention on social media as well as that of your sahab.  
Boy, as much as I scream nahiiiii in the Basanti style these days while sipping my Kent paani, I feel the pangs of FOMO (non-millennials, it means Fear of Missing Out) as I try to seek some great knowledge and history that my teachers never taught me back in school. Like for instance, if not for the culture crusaders like Payal Rohatgi, I would have never known that social reformist Raja Ram Mohan Roy, who I have been admiring as a kid is a traitor and a chamcha of the angrez log.
Had it not been for Madhu Kishwar on Twitter and people like Sadhvi Pragya Ji who gets her healthy high(s) by sipping gau mutra and her BP in control by patting gau mata, we would have never known that the upright officer Hemant Karkare, a martyr was dharma virodhi who got killed as an act of karma rather than fighting for the country.
In this era of social media and viral times, all it takes is two minutes, and voila, we have what is yet another startling controversy of the day that soon translates into 50 shades of debate. Interestingly, 'log kya khayenge' might have been the key force in making India top the charts with the lowest divorce rate of any nation in the world at just 1%, but it certainly doesn't take precedence when it comes to spreading fictions and conspiracy theories.
At times I feel Madhu Kishwar and her clan mistakes twitter as a society ka gossip katta just like Hardik Pandya mistook Koffee With Karan couch for the privacy of a locker room. This is the reason why she was so quick to join the Muslim witch-hunt when a school bus was attacked in Gurgaon against screening of Bhansali's film Padmvati. Not just naming and shaming them, she went ahead in spreading hatred against the entire Muslim community despite Police denying the involvement of any Muslim boy in the act. Then again, how can we forget her infamous 'free sex' crack about Rahul Gandhi over Minimum Income Guarantee.
Madhu knows it. If you look into her pattern of tweets, she has been at her game always. From sharing the craziest of WhatsApp forwards to spreading sinister rumours, she has done it all with consistency, hardly apologizing regardless of the bashing coming her way. Like your average desi fiction writer, she has even deluded herself into believing that the nation needs her more than Arnab Goswami, even if the nation doesn't know it yet.
Conspiracy theories and fantasy are the greatest virtues that a fiction writer needs to please her fans. Madhu Kishwar, no wonder has shown ample promise with both. Besides, she continues to be a repeat offender and was briefly suspended on Twitter in September 2016 for sharing objectionable images.