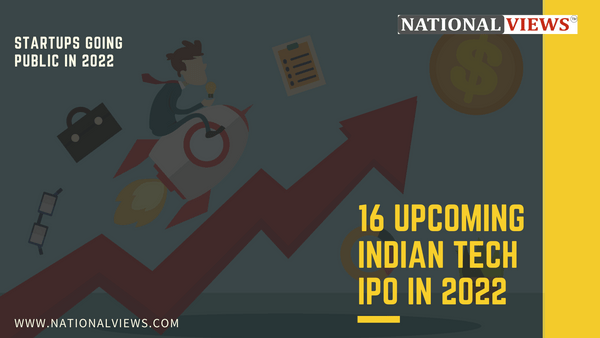 The year 2021 saw new-age tech companies (total nine) making their mark at the National Stock Exchange and raising funds to the tune of billion dollars. With a whole lot of unicorns in the line, here we share a list of upcoming Indian tech IPOs in 2022 that is expected to list on the stock markets –
OYO
Oravel Stays Limited, holding entity for Hospitality giant OYO filed its DRHP (Draft Red Herring Prospectus) with SEBI on October 1, 2021 to raise Rs. 8,430 crores (fresh issue: 7,000 crores + OFS (Offer for Sale): 1,430 crores). The IPO is expected in first quarter of 2022. Going by the DRHP, out of 7,000 crores, the company plans to use Rs. 2,441 crores for debt repayment. Meanwhile, Zostel and FHRAI (Federation of Hotel and Restaurant Association of India) have filed complaints against OYO to SEBI urging the body to suspend it's IPO process.
Delhivery
Logistics company Delhivery filed its DRHP with SEBI on November 3, 2021 to raise Rs. 7,460 crores. The primary issuance of Delhivery IPO is Rs. 5,000 crores and by offer for sale by existing investors is Rs. 2,460 crores. Like OYO, Delhivery too is backed by SoftBank. Going by the SEBI website, the application of Delhivery is under process and it is expected to hit the market in the Q1 of 2022 at the valuation of $5 billion.
MobiKwik
MobiKwik's parent company One MobiKwik Systems filed a DRHP with SEBI on July 13, 2021 that is 3 days before PayTM application. The company also got a nod from SEBI in October 2021 and was expected to hit the market in Diwali. However, things didn't go as expected due to many speculations. Buzz is that MobiKwik will go public in the first quarter of 2022 and is expected to raise 1,900 Crores (fresh issue 1,500 crores + OFS 400 crores). One of the most awaited upcoming Indian Tech IPOs in 2022, it would be interesting to see how it fares as compared to PayTM IPO.
Also Read: Know Why Many Retail Investors Stayed Away from PayTM IPO: Here's the 3 Questions they Asked
IXIGO
Online ticket aggregator Le Travenues Technology Limited that runs IXIGO is expected to list on the stock market in Q1 of 2022 to raise Rs. 1,600 crores (Rs. 750 crores as fresh issue of shares and Rs 850 crores by OFS) through its initial public offering. Interestingly, IXIGO recorded a whopping profit of Rs. 7.53 crores in FY21 despite giving a loss of Rs. 26.6 crores in FY20. It reportedly has given 8x returns to its early investor MMT (Make My Trip).
Tracxn
This Bangalore based tech company into data intelligence got its approval by SEBI to raise Rs. 3.86 crores share (totally offshore) and is expected to list on the stock markets in 2022. According to the DRHP the founders will offload Rs. 76.6 lakhs while existing shareholders (Flipkart founders Sachin and Biny Bansal, CEO of Delhivery, CEO of Fireworks, SCI Investments and Accel India) will offload theirs. The company has decided to list in India even though majority of its revenue come from international markets.
Droom
Automobile online marketplace Droom technologies filed it's DRHP with SEBI in November 2021. One of the upcoming Indian Tech IPOs in 2022, the promoters reportedly will hold 100% stake in the company after looking to raise Rs. 3,000 crores (2000 crore of fresh issuance and 1000 crore through offer for sale) through IPO. Again, droom is expected to hit the stock market exchange in the first quarter of 2022.
PharmEasy
API Holdings the parent company of PharmEasy filed its IPO a day before Nykaa debuted on Indian stock exchange in November. The company filed for an IPO of Rs. 6,250 crores. According to the news, the healthcare company won't be selling any shares in the Initial Pubic Offering but will opt for pre-IPO to raise funds upto Rs. 1,259 crores via private placements. Meanwhile, South Chemists and Distributors Association (SCDA) drags SEBI and CCI (Competition Commission of India) to the High Court after failing to respond against SCDA's concern over API Holdings.
SnapDeal
SoftBank backed Snapdeal filed DRHP to raise Rs. 1,250 crore. Going by the DRHP, this offer will include OFS of Rs. 30,769,600 equity shares of existing investors. Although most of the shareholders will be offloading their shares, the co-founders will not be taking part in offloading part of their stakes. SnapDeal has already converted to public company and is expected to come with it's IPO in the first quarter of 2022.
Ecom Express
Another courier company Ecom Express is all set to hit the market in 2022 with its initial public offering to raise a valuation of above $2billion. Although the start-up has converted itself into a public company it is yet to file it's DRHP with SEBI. Both, the DRHP and IPO is expected in 2022.
Also Read: 11 Top Dividend Stocks Whose Dividend Yield Is More than FD Interest Rates
Upcoming Indian Tech IPOs in 2022: Indian Startups that are Preparing to Get Listed in 2022
OLA
The Mobility giant is expected to come with it's IPO in 2022. Currently, in talks with bankers, the unicorn is set to go with a valuation around 12 to 14 billion dollars.
BYJUS
Another huge buzz is that edtech giant BYJUS is planning to hit the stock market with it's IPO. Going by the news the startup and its bankers are eyeing an valuation of $40 to $50 billion.
Navi Technologies
Founded by Sachin Bansal (Flipkart Co-founder) along with his Flipkart colleague, Navi Technologies is into lending and microfinance. The company currently is awaiting approval from RBI for a universal banking license and is expected to file DRHP with SEBI in Q1 of 2022.
Flipkart
The Ecommerce giant Flipkart too is planning to go public. The IPO of Flipkart is expected in the last quarter of 2022. Currently valued at $38 billion it is eyeing a valuation of not less than $50 billion.
Pine Labs
Indian fintech firm Pine Labs that raised $100million from US investment fund is eyeing a public listing in US. Also, the company is expected to go public at a valuation of $6 billion in Q3 of 2022.
Also Read: How to Use a POS Machine, Step by Step Explained
Capillary Technologies
All set to file its DRHP with SEBI this week, Capillary Technologies is gearing up to raise Rs. 1,000+ crore through IPO. Founded in 2008, the customer engagement solutions provider is backed by several international investors. As per the latest regulatory filing, the company has already transformed itself into a public company.
Swiggy
After the success of Zomato another food delivery giant is getting ready for initial public offerings. Valued at $10.5 billion, expect Swiggy IPO anytime between October to December 2022.
These are the upcoming Indian tech IPOs in 2022. Do you plan to buy these startup IPO? Let us know which ones are you looking to invest in?