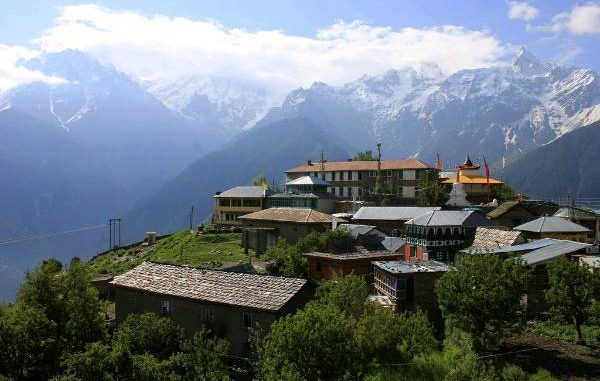 The beauty of the mountains with white streams cutting through and cascading into enormous rivers is definitely a mesmerizing view and the best way to rejuvenate one's soul. India is a home to numerous hill stations and in this article, we will talk about the ten best hill stations in India for a perfect getaway. 
Gangtok, Sikkim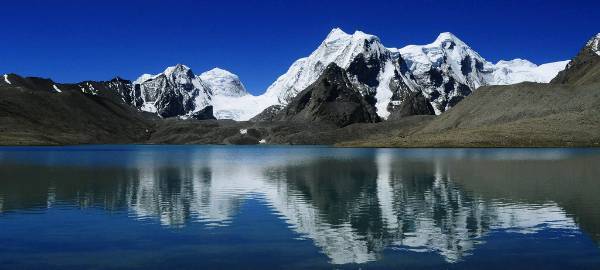 Gurudongmar Lake, Photo by soumyajit pramanick, CC BY-SA 2.0
Rated as one of the most beautiful cities in India, the city constitutes the eastern part of the mighty Himalayas and stands at 1650 meters above sea level. Not only is the city a home to Mt. Kanchenjunga, the third highest mountain range on this planet but also a significant centre for Buddhist pilgrimage.
Snow clad mountain ranges, valleys and rivers are the major attractions of Sikkim. In Gangtok, you will find these exotic varieties of flowers like rhododendrons, blue poppies, primulas etc. The famous D

eorali Orchid Sanctuary

has over 250 varieties of orchids and you can imagine the colors and how exquisite the view would be. 

The

Yumthang Valley

, also known as the

"Valley of Flowers"

is situated 11693 feet above sea level and is the birth place for around twenty-four species of rhododendron flower. Yumthang valley is two hours away from Lachung which is 125 Kms away from Gangtok. This comes in the northern region of Sikkim and highly recommended for its fantastic views from the top ridge.

Gangtok is also a home to

Gurudongmar Lake

, one of the highest lakes and the most sacred lake for the Buddhists and you must climb 17800 feet to take a glimpse of this captivating lake.

Bagdogra airport is the nearest place and

Gangtok is a four-hour drive

away from there and October to June is the most suitable period to visit and especially winters are really enjoyable as the weather is quite clear and you will simply love view of the mountains.  

Gangtok is a cosmopolitan city and the cuisine is a

mix of Indian, Tibetan, Nepalese and Bhutan.

Even the culture there is fun filled; you can shop, try a new cuisine, party at a local pub, play pool and mix with locals and enjoy their unique dance forms.
Srinagar, Jammu and Kashmir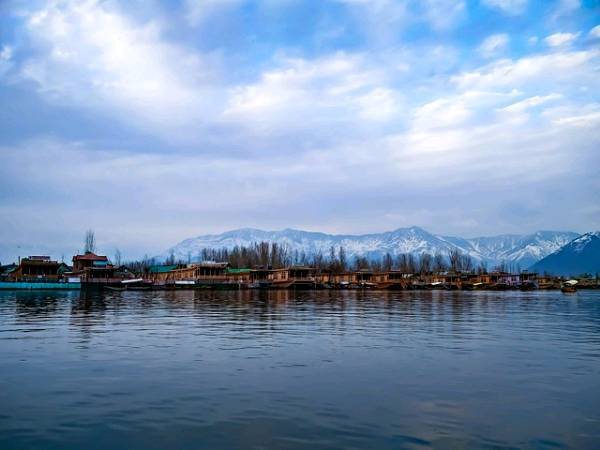 Dal lake, Photo by confused_me, CC0 1.0
Srinagar or often called as "Venice of the East" is located in Jammu and Kashmir and has been a pride for our country since its birth. Srinagar lies on the banks of the Jhelum River in the Kashmir valley and was once the ultimate shooting spot for our old Bollywood movies.    
Srinagar is famous for its gardens, lakes and not to forget the houseboats. Places you can visit in Srinagar and the fun filled activities you can indulge in have been listed below.
The colorful glory of the

Mughal gardens

is a must visit here and an awesome location for your photographs as well.

The famous Royal Fountain or Chashma Shahi, Pari Mahal, Nishat Bagh, Shalimar Bagh, Naseem Bagh, Dal Lake and not to forget the Shikara rides are extremely loved tourist attractions of Srinagar.

In and around Srinagar, there are many exhilarating hilly towns you can visit.

You must try

skiing in Gulmarg

or river water

rafting in Pahalgam

or a stroll amidst picturesque

landscapes of Sonamarg

.

I'm sure that once you are in Jammu and Kashmir, you will find a hundred more reasons to extend your holiday.
Shillong, Meghalaya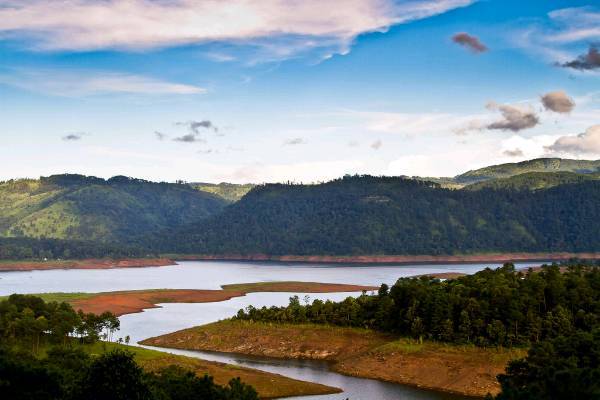 Bara pani lake, Photo by Masrur Ashraf, CC BY-ND 2.0
Meghalaya's capital or shall we say "The Abode of Clouds" is situated at 4908 feet above sea level. Shillong is the most loved Indian hill station and often referred to as the "Scotland of the East".
The hilly capital has a serene atmosphere with clean air with a quality of life which is extremely difficult to be experienced in the cities. You can

experience many adventurous activities

here and still party if you wish to know about the local night life.

Kynshi River is a popular

spot for Kayaking

and the best time to visit here is during monsoons. From Shillong it takes a four-hour drive from there and you come across these falls cascading from a height of fifteen meters.

Visit the Elephant falls

– Just 12 Kms away from Shillong, the magnificent falls can be spotted. Adventure junkies can go for water rappelling amidst the white falls.

Nongpoh has a beautiful lake known as the blue

Umiam Lake

surrounded by lush green woods. You can spend time in the calm lake by rowing a boat at the Water sports complex.

Ranikor is an amazingly gorgeous destination which is two and half hours away from Shillong. Rafting is highly recommended in the

Barapani Lake

which is 17 Kms away from centre of Shillong.
Darjeeling, West Bengal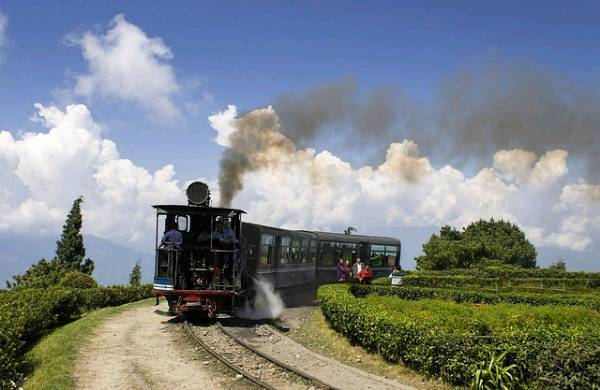 Himalayan railway, Photo by donvikro, CC0 1.0
Darjeeling is a hill station in West Bengal situated at 6700 feet in the Himalayas. Well known for its tea cultivations and the Darjeeling-Himalayan Railway, this British style town has some spectacular traveling experiences to offer.
The toy train or Darjeeling-Himalayan railway also recognized as

the UNESCO World Heritage Site

is a thrilling joy ride with breathtaking view of Mt

Kanchenjunga, tea estates and the Batasia Loop.
You can climb up the

Tiger Hill

and watch the sun rise over Khangchendzonga, what a beauty and no words to describe it.

Wilderness enthusiasts can make a trip to

Padmaja Naidu Himalayan Zoological Park

and see the Snow Leopards, Tibetan Wolves, and Pandas.

Tea tasting and shopping at

Happy Valley Estate

, the oldest tea garden here are the must visit places in

Darjeeling

.
Dharamshala, Himachal Pradesh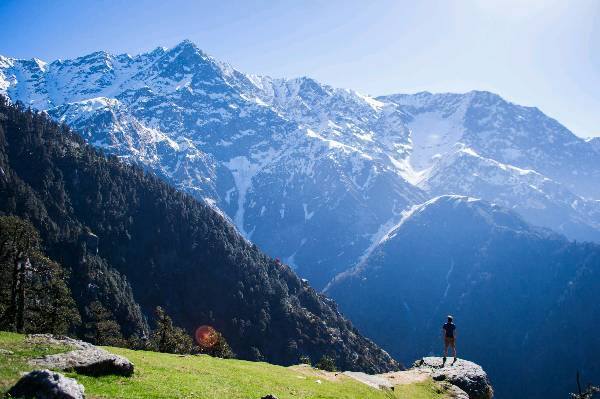 Triund Hill Photo by Rignam Wangkhang, CC BY 2.0
Dharamshala is situated in Kangra in Himachal Pradesh and extremely well known amongst Buddhist groups as His Holiness, Dalai Lama resides in this hill station.
In the upper reaches of the Kangra Valley, lies the wondrous Dharamshala blanketed by Dhauladhar Mountains covered by lush green forests filled with coniferous pine, cedar, deodar trees etc.

The hills have an extremely clean and healthy environment and this has a significant impact on the food stuff as well. Dharamshala receives many foreign tourists every year and various cuisines are served in good restaurants here including the

Kangra specialty food

which is a must try. Aforementioned popular places for sightseeing are highly recommended.

Triund Hill

: Triund Hill or

"Crown Jewel of Dharamshala"

is located in the Dhauladhar Mountains and the looks immensely beautiful. In winters when the snow covers the hills, it looks like paradise. Popular for trek activities, you can take a taxi from Mcleod Ganj to Gallu and trek from here or else you can hire a horse/pony to climb up.

Dalai Lama Temple

: His Holiness, Dalai Lama has his sacred abode in Mcleod Ganj which is 6 Kms away from Dharamshala. It is a beautiful and large monastery with an extremely serene environment and Monks will be seen meditating at peace.

Mcleod Ganj or

Little Lhasa

has Tibetan influence and which can be observed in their culture including the local cuisine and life style.

You can also visit Gyuto Monastery and learn the tantric style of meditation and is easily accessible from Mcleod Ganj.

It is a

spiritual little hill station

and you can visit monasteries, temples, forts and you need to have 1 at least week in your hand to enjoy a serene holiday in

Dharamshala

.
Kinnaur, Himachal Pradesh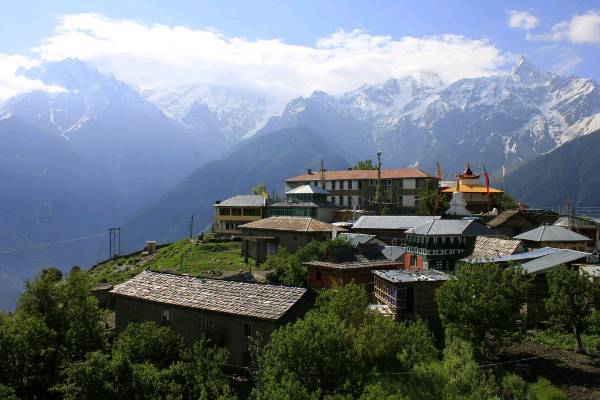 Kalpa, Photo by Nick Irvine-Fortescue, CC BY-ND 2.0
One of the offbeat hilly destinations in Himachal Pradesh, is Kinnaur which lies 146 miles away from Shimla and occupies the northeastern territory of Himachal and is bordered by Tibet in the east.
This

tribal district

is not only rich in natural vigor but also in its species of flora and fauna. The rugged town is lush green, blanketed by coniferous woods, vineyards, green valleys, snowcapped ranges of Kinner Kailash.

Kinnaur has the mesmerizing villages of

Sarahan and Kalpa

and a sightseeing here will truly be a memorable and beautiful journey.

Kalpa is located at 2759 meters from sea level and 260 Kms away from Shimla. This place is considered as sacred winter abode of Lord Shiva and is also a home to significant Buddhist monasteries like Hu-Bu-Ian-Car Gompa.

Kinnaur has many little

exhilarating villages

like Moorang, Ribba, Namgya, Nichar etc. and tourists not only love the beauty but also, it's a rejuvenating experience to holiday here away from the hustle bustle of the city.
Rishikesh, Uttarakhand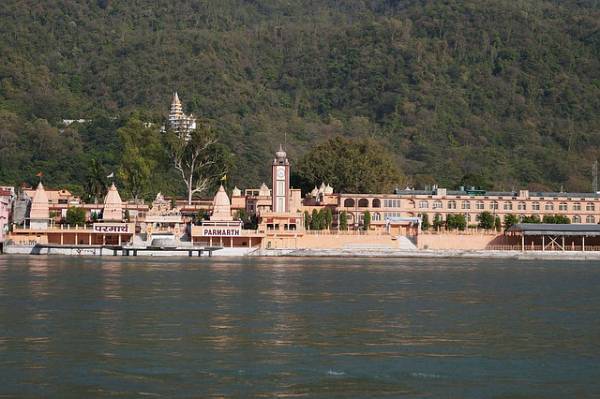 Ghat, Photo by shadsiddiqui, CC0 1.0
Alongside the Holy Ganga river in the foothills of the mighty Himalayas, is the spectacular town of Rishikesh. The spiritual city of Rishikesh has different colors of Indian culture and civilization. Not only this, the city is a national hub for learning yoga and meditation.
Rishikesh attracts lakhs of pilgrims every year and few loved attractions in the city are discussed below.
Lakshman Jhula:

Lakshman Jhula is a 450-meter-long suspension bridge named after younger brother of Lord Rama, Lord Lakshman. It is surrounded by many temples and also there is a temple devoted to Lord Lakshman.

Triveni Ghat:

 This is a bathing water body where pilgrims take a holy dip after praying and offering milk to the Deity. Prayers in the evening are a colorful view with numerous lamps and sound of the prayers or Aarti.

There are other

historical places of worship

such as Neelkanth Mahadev Temple, Bharat Mandir, Ram Jhula etc to know more about Ramayana and our colorful culture.

You can also visit in Rishikesh, the well-known Swarga Ashram to take short courses on yoga, meditation and spiritual studies.

Rishikesh is filled with vibes of positivity and our visitors take back lessons of positivity in life and not to forget a

relaxed vacation

in the hills of Rishikesh.
Munnar, Kerala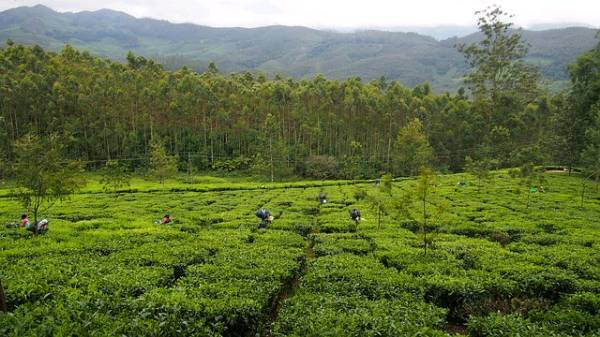 Tea plantation, Photo by rarestohanean, CC0 1.0
In the God's Own Country, lies a hill station filled with splendor and vigor, located at 1600 meters above sea level.
The main tourist attractions of Munnar include lush green mountain ranges covered by aromatic tea plantations, spice gardens, waterfalls and salubrious weather.
Munnar is famous for its rare species of blue

Neelakurinji plants

that blossom once in every twelve years. These plants grow abundantly Kannan Devan Hills and Top Station is the destination to take a glimpse of the beauty. You can visit the quaint little village of Kundala popular for the serene Kundala Lake.

Tata Tea Museum, Mattupetty Dam,

Chinnakanal and Anayirangal Waterfalls are great places for a

tour around Idduki district

near Munnar.

A

trek to the Anamudi peak

, situated at 8842 feet above sea level is an enthralling experience amidst the high ranged rugged mountains.

Do not forget to

shop

fresh spices and tea from the best known local markets.  
Mount Abu, Rajasthan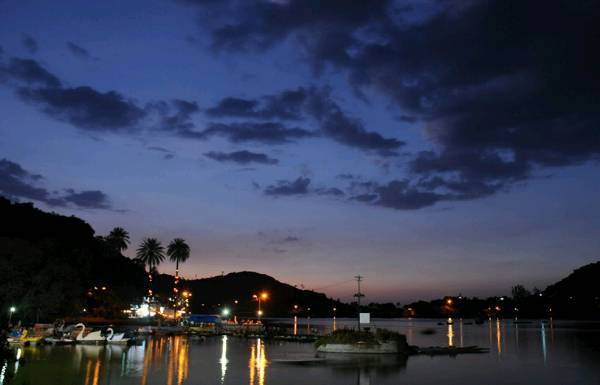 Nakki lake, Photo by Koshy Koshy, CC BY 2.0
Mount Abu, set between the Aravalli hill ranges in Rajasthan is located at 5650 feet above sea level. Also, known as "Oasis of the Desert", this hill station is green and the flora found here is evergreen, splendid lakes are found here with cascading white falls.
Let's take our readers through the loved destinations of Mount Abu and fun things to do there.
Rajasthan, the Royal state noted by its forts and beautiful lakes has a historical

Achalgarh

fort in the town of Jawai. The fort has Jain temples, Achaleswar Mahadev Temple and Kantinath Temple within the fort territory.

Adventure enthusiasts

can embark on a trek to the Vashtanji Temple through green forests in the Shergaon and get to see the natural beauty while climbing up the hills amidst the boulders and river streams flowing across.

People who visit to enjoy a royal vacation here can opt for

Helicopter ride

over Mount Abu and see the enchanting view from above.

If you wish to be pampered and feel like the Royalty, the

Palanpur Palace

is the perfect place to be. The palace rooms have an amazing view of the Aravalli range, lakes and the tranquil surroundings. The palace follows Rajasthani traditions and culture and

offers excellent amenities

combined with novelty. You can relish the traditional Rajasthani cuisine they serve with a view of the local folk dancers. You can mix with locals and enjoy an enthralling experience of our colorful Rajasthan.
Panchgani, Maharashtra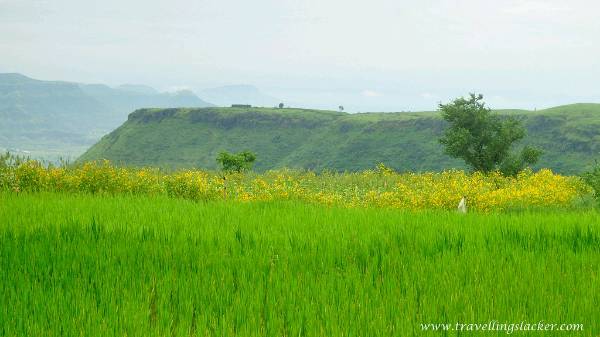 Kaas Plateau, Photo by Travelling Slacker, CC BY 2.0
Panchgani is a hill station in the middle of the Sahyadri Mountains at 4242 feet in Satara in Maharashtra. Panchgani is popular for its strawberry cultivations, sprawling hills and many residential schools.
The exciting town has some scenic places and thrilling activities to offer and let's get to them straight away.
Kate's point

: Just 15 Kms away from Panchgani, lays this huge rock from where you get to take a glimpse of the Krishna valley and the Dhom Dam. It is on the way to Mahabaleswar and easily accessible by road.

Mahabaleswar

: One of the most noted hill stations in Maharashtra is around 20 Kms away from Panchgani and has this invigorating view of the surrounding mountains. It is the most frequently visited weekend getaway especially during the monsoons as you come across numerous waterfalls on the way.

Kaas Plateau

: Recognized as the UNESCO World Heritage Site, the plateau spread over an area of 1,000 hectares has numerous varieties of flowers, Kaas Lake and you see these colorful butterflies all over.

This is my most favorite part i.e. shopping for strawberries and raspberries that grown abundantly in this region.

You can actually visit in Panchgani, the cultivations or local restaurants where they serve juices and ice-creams prepared from

fresh strawberries

and it feels like heaven.

Mapro has a factory near Panchgani, you can visit the clean factory and buy jams, squashes and juices prepared from strawberries and raspberries.
These were the best picked hill stations in India and do visit to get an enthralling and exotic views of the mountainous valleys across the country.
This post is written by Rohit Agarwal