India is famous for its mystical Indian heritage to such an extent throughout the world that it has come to be known as a kind of fairytale place in real time. We know both from novels and history books about the glorious Indian kings and their splendid kingdoms.
And while they remain no longer, their palaces exist still, helping the modern day traveller delve into the magic of old that was denied to him because he was born several centuries too late. Standing tall as epitomes of architecture, class, effort and beautiful lives, these palaces find place on this list as definitive go-to stops on the intelligent traveller's India bucket list.
Hawa Mahal, Jaipur
Perhaps the glitziest entrant on this list, it has one of the most romantic backstories as well to boot. Constructed by legendary Indian hero Maharana Pratap Singh, it was meant to provide the ladies of the palace watch the outside world preventing the vice-versa. Its name meaning translates to "Mansion of the Winds".
A fine specimen of Mughal architecture, it has a lot of souvenir shops very close to entertain tourists further.
Jai Vilas Palace, Gwalior

The British quit India, but left behind some good things. A lot of delightful history and architecture that looks straight out of colonial monarchy novels. Gwalior being heavily under British rule, this palace used to house the ruling king in British times, and now serves as adobe to the royalty of Gwalior. It was built by Jayajirao Scindia in Italian, Corinthian and Tuscan styles.
Photo by Gyanendrasinghchauhan, CC BY 3.0
Lake Palace, Udaipur
Here is a fusion of age old grandeur with new age adventure. Built by Jagat Singh II of the Mewar dynasty in 1746, this picturesque palace is a must visit tourist destination of Udaipur, it has now been converted to a hotel which was once featured in the global smash-hit James Bond movie franchise! The palace spreads out on 4 acres of land along the lake Pichola.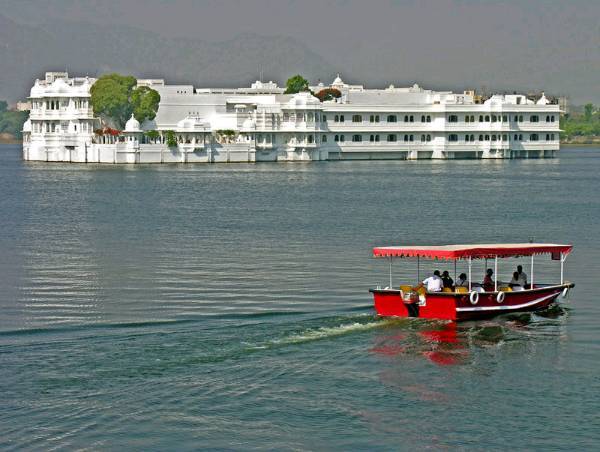 Photo by Dennis Jarvis, CC BY-SA 2.0
Amba Vilas Palace, Mysore, Karnataka
What could one expect from a premier palace situated in a city called the "City of Palaces"? Why, the very best palace, of course! It has been home to the ruling family of Mysore, the Wodeyars, who ruled Mysore for six whole centuries, quite a feat in a world with turbulent power relations. British architect Henry Irwin took on the task of construction of this palace.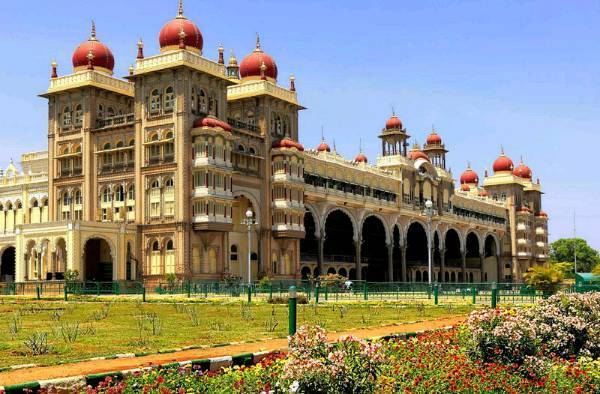 Photo by Ramnath Bhat, CC BY 2.0
Laxmi Vilas Palace, Vadodara, Gujarat
Well, it looks like all the talk regarding India being one of the global bests had some substance in them after all-because this palace, being not only one of the best and biggest in Gujarat, is four times as big as London's royal Buckingham Palace!
Photo by Natraj Ramangupta, CC BY-ND 2.0
A chain of palaces constitute the Maharaja Palace where the Gujarat royals lived, this being one of the most prominent. It was constructed by Charles Mant in Maratha and Saracenic styles. Laxmi Vilas Palace attracts thousands of tourists to visit Vadodara every year.
Also Read: First-timers Guide: 5 Things To Do in Dwarka
Umaid Bhawan Palace, Jodhpur, Rajasthan
A lot of palaces and old heritage sites are now being taken over to renovate, preserve and make accessible to the public by giant real estate groups, in a wonderful endeavour that touched even this palace.
Photo by Col Ford and Natasha de Vere, CC BY 2.0
Built for Maharaja Umaid Singh, and currently in possession of Maharaj Gaj Singh, this features among the largest privately owned properties on the globe and is one of the must visit places in Jodhpur.
Also Read: Anwal – A Plant of Aravalli Hills With Medicinal & Industrial Advantages!
Wildflower Hall, Shimla
We will end this list on a pleasant, of course, but more importantly, dazzling note. Continuing to reminisces of the sweet aftertaste left in the British wake, we will look at Wildflower Hall, Shimla.
Photo by Banshira, CC BY-SA 3.0
Constructed in true colonial architectural style, this quaintly beautiful house was a hit with every who's who of the Raj in India, from Lord Kitchener of Khartoum to Lord and Lady Dufferin, and Sir G H M Batten. This is a hotspot in the true sense of the term for anyone who wants to feel like Cinderella every time they look out of their window after nightfall while on vacation.
Also Read: Top 10 Famous Tourist Places in Shimla !

Palaces symbolise wealth, splendour and big dreams. India remains at par with global standards in these regards, true to legends of old. In a list exploring Indian heritage curated for a perfect holiday, we find palaces of all sizes, sorts, architecture and accompanying local stories.

The post is written by Rohit Agarwal
Buy Zocor Online
Buspar no prescription
Buy Levaquin online