The association between J Jayalalithaa and her associate Sasikala Natarajan has been documented well in the pages of Tamil Nadu affairs and politics. While, we know the importance of Sasikala in Jayalalithaa's life, here we share interesting facts about her: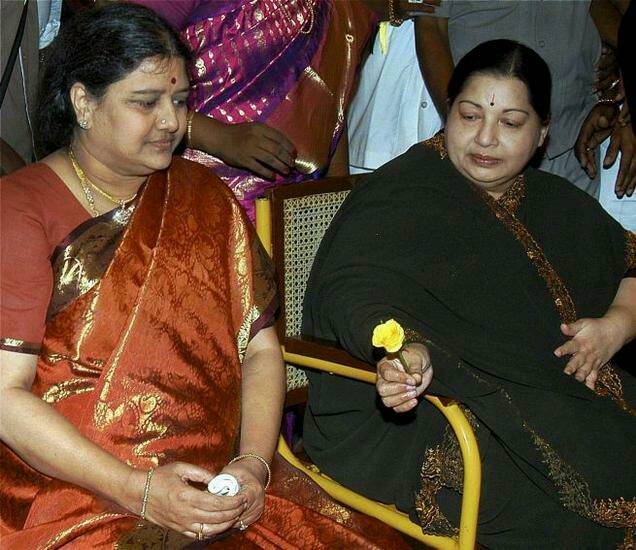 A School Dropout, she Had a Video Renting Business in the 80s
During the Emergency, Sasikala's husband Natarajan, a public relations officer in the TN government lost his job. So, in order to run the family and support her husband, Sasikala opened a video renting business.
Sasikala Natarajan was Introduced to Jayalalithaa by V.S. Chandralekha
Next, she also started recording videos of marriages and business. This is how Sasikala met Jayalalithaa when her husband requested V.S. Chandralekha (District collector) to introduce Sasikala to Jaya.
She Moved into Jayalalithaa's Home in 1989 and brought 40 servants from her home town
After shooting for all functions for Jayalalithaa, Sasikala become a close confidant. Later, she moved into Jaya's house along with 40 servants from Mannargudi, her home town.
Jayalalithaa Declared Sasikala as her "Udanpiravaa Sagodhari" i.e. Sister Not Related to Blood
In all the three tenures of Jayalalithaa as CM, Sasikala Natarajan has been a powerful figure. No wonder, she shared good relations with Amma, this is the reason why she is often called as Chinamma. Interestingly, Jayalalithaa declared Sasikala as her "Udanpiravaa Sagodhari" i.e. Soul Sister who is not  related to blood
She Was Expelled From the Party To
o
In December 2011, Sasikala along with her husband and 12 other relatives was expelled from AIADMK's primary membership and sent out of Jayalalithaa's residence. However, she was admitted back in March, 2012 after she severed ties with her family and relatives.
It was Sasikala's Nephew Whom Amma had Adopted
Sudhakaran, the foster son of Amma is Sasikala's nephew. Amma had set a lavish wedding of Sudhakaran in September 1995 where the soul sisters were dressed in a similar style boasting diamonds. However, Amma soon disowned her foster son.
Rahul Gandhi & His Two Love Affairs: Know the Relationship History!
She was Arrested Many a Times
Soon after DMK government won elections in 1996, Sasikala was arrested for violating FERA – Foreign Exchange Regulation Act. Next, Amma distanced herself from Sasikala but came to her rescue soon. She was also arrested in 2014 along with Amma in the Disproportionate Asset case and fined Rs. 10 crore by the Special court in Bangalore.
Rumours are Rife that She killed Jayalalithaa
Conspiracy theories suggest that Sasikala played a vital role in Jayalalithaa's death. Not long ago there was also a cover story by Tehelka that featured how Sasikala Natarajan was giving slow poison to Jayalalithaa. Interestingly, it was Gujarat CM Narendra Modi who had tipped Amma.
10 Sonia Gandhi Quotes You Must Read!
Stories suggest that Sasikala repeated the whole act during hospitalization as she controlled everything and didn't allow anybody near Jayalalithaa during her stay in the hospital.