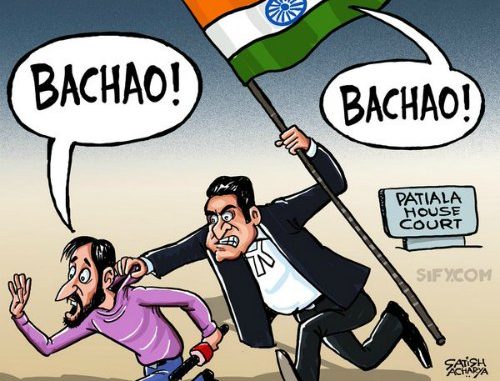 It is difficult to be a blogger, comedian and cartoonist in India in this epoch that has shown a disturbing fall in digital media freedom, social media liberty, and freedom of expression in general. Bloggers, comedians, and cartoonists face multiple vulnerabilities.
In conversations with fellow bloggers, comedians, and cartoonists, the two things they mention quite often is the risk of violence from 'big bosses' and the open harassment from the 'online trolls'. It is becoming harder to forecast which work of theirs might offend and even fetch legal retribution or procure threats from mobs, which are often fronted by religious fundamentalists or political parties.
Free speech and expression is suddenly a threat to India, so much that anybody who expresses their views and opinion is termed as anti-national. Communists, liberals, seculars and thinkers have suddenly become anti-nationals. No, you cannot question at all, questioning will directly lead you to banning.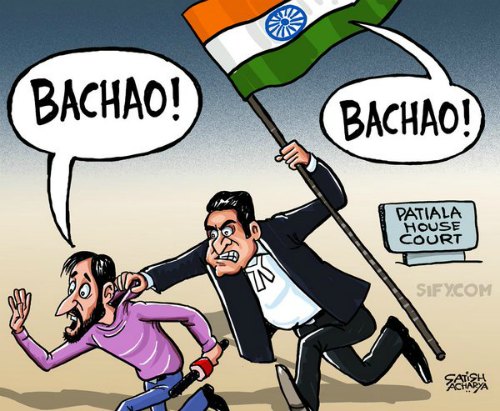 Anti-National: Routinized and Reconfigured
In this glorious two years of the BJP Government, if a terminology has been routinized and reconfigured and has threatened to pit an Indian against an Indian, then it is surely the term – anti-national.
Yes, the expression is gradually becoming a hazardous slur and I was traumatized to hear it out when my disabled friend (very much patriotic) was labeled as "anti-national" for not standing up for the national anthem in a movie theater.
Courtesy, the recent outrage on nationalism – empathy, compassion, affinity and understanding have been over-shadowed brilliantly by 'anti-national'. When NDTV bared a silent protest by flickering a lamp for an hour by protesting against the government's decision for prohibiting the screening of 'India's daughter' a documentary by Leslee Udwin, the channel was termed anti-national by none other than their own competitor 'Times Now'.   
Also Read: NDTV India Ban: Why the 1 Day Ban? Does the Law Permit Such a Ban? 
The term has been proudly used to shut down human rights activists, NGO, journalists, bloggers, comedians, cartoonist and even free thinkers and observers. Then there are Internet trolls that are often paid by several political wings and organizations to unleash venomous attacks on their rival only to disturb their thought processes and upset any logical discussions or exchanges.
The strategy of BJP in the 'national vs anti-national' dispute is a cynical tactic to exploit the emotive influence of symbols while snubbing logical argument. It is obsessed on an imagined 'anti' without letting the defendant the space to express their conception of the nation.
Also Read: Is Questioning the Indian Army Anti-National? 
To express dissent towards the status quo is 'anti-national'. If you aren't toeing the party slogan that asserts everything is right, then you are 'anti-national'. You are 'anti-national' even if you peacefully protest against the central government and criticize their judgment. 
And you are definitely anti-national if you criticize those who allow gender discrimination, caste politics, homophobia, Islamophobia and many such atrocities that exist in plain sight.