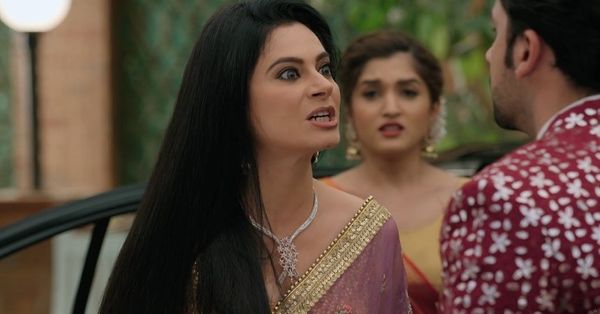 Every new episode of Anupamaa serial on Star Plus brings a lot of drama in the Shah household. The latest being Rakhi Dave (Kinjal's mom) demanding an apology from none other than Vanraj Shah (Paritosh's father). Knowing the nature and attitude of his father, Paritosh is aware that his father will never agree to this demand. Paritosh therefore decides to leave his home much to everybody's surprise. Going by Anupamaa Serial latest update, Paritosh will go straight to Kinjal's house.
Paritosh Requests Kinjal's Parents to Let This Marriage Happen
Paritosh enters Kinjal's house and both, Mr. and Mrs. Dave are shocked to see him there. After narrating his doings and all about the family drama, he tells them that he has left his house. Kinjal's father Mr. Pramod Dave tries to make Paritosh understand and asks him to go back to his house. However, Paritosh is adamant and requests Kinjal's mother to let this marriage. She, however, yet again puts a condition in front of him.
Also Read: 5 Factors that Will Help Anupamaa to Stand Up for Herself & Her Self-Respect in Anupamaa Serial!
Anupamaa Serial Latest Update: Kinjal's Mother Demands Paritosh to become Ghar Jamai if he Wants to Marry Kinjal
Yes, Kinjal's mom has no issues with Paritosh. Her only problem is his family. So, when Paritosh requests her to let this marriage happen, she cunningly asks him to become her 'Ghar Jamai.' Although both Kinjal and Paritosh are shock hearing this, it isn't much of a surprise to Kinjal's father or us as the audience. No wonder many of the viewers actually thought of 'this' when Anupama went to apologize Rakhi and Rakhi made a condition to her.
Now the question is – Will Paritosh accept Rakhi's proposal to become Ghar Jamai? Will he show some self-respect or will he continue to do whatever he is doing for the sake of getting his love? I'm wondering whether Kinjal would allow him to do so?
Also See: Checkout the Dance Photos of Anupama and Vanraj!
Moreover, isn't this strange that although Kinjal made it clear that she cannot go against her mother, Paritosh not only insults his mother but even leaves his family for this marriage to happen. No wonder, Kinjal is not only a sweet girl but also a sensible one unlike Paritosh.
What are your thoughts?
For more Anupamaa serial latest update watch the space – Anupamaa Serial on Star Plus or join the Facebook Fan Club for more gossip and spoilers alert.
Featured Image Source: HotStar