There are restaurants and there is Barbeque Nation! Well, all the foodies out there know what I'm hinting at. No wonder, it is a paradise for all those bon viveurs and gastronomes who find pleasure in 'Haute Cuisine' and of course there are gluttons like me who simply cannot resist varieties in starters and desserts.
Perhaps this is the reason why the aroma of the starters took me to Barbeque Nation CBD Belapur in its Mohammed Ali Food Festival. Well, its day 2 today and it is going to be till 18th October.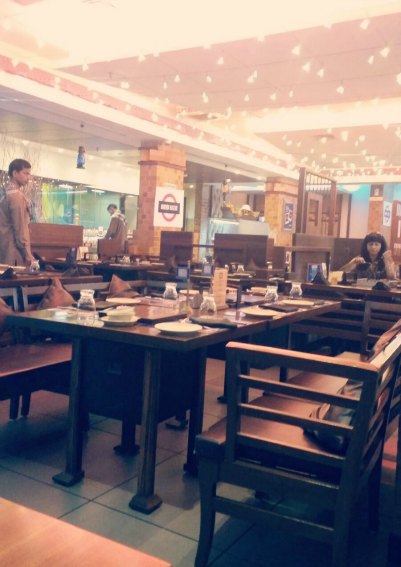 BBQ Nation Belapur – The First Impression
The restaurant opens at 12pm but like I said since the aroma took me there, I reached 10 minutes earlier. It is situated at Sector 11 next to State Bank of India and Kotak Mahindra Bank (Just being helpful in case you are look for some landmark J) Me and my friend Naaz rushed into the restaurant and were warmly welcomed by the staff.
Coming to the Main Topic – Well, let me go step by step….
BBQ Nation Belapur – Starters (4.5/5)
So, it was Paya soup, prawns, grilled chicken, fish pakoda and kebabs on the table along with 2 complimentary mocktails which complimented well with the starters that we were gulping in as and when it came. It was indeed enticing. 4.5 is what I'd like to give them for the starters!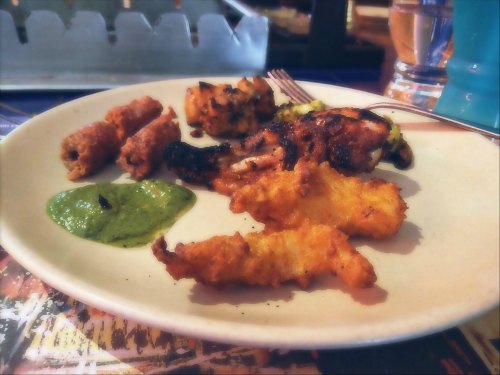 The additional 0.5 is of course to the staff Yogesh who ensured we remain as pleased as we can as we indulged actively in our platters – courteously asking us whether we would want some changes in it.
Barbeque Nation CBD Belapur – Main Course (3.5/5)
The Main course had plenty of stuffs – From Pasta, Chinese to good number of Veg as well as Non Veg Food items along with hell lot of Salads and Raitas. We preferred non-veg so filled our plates with a Fish dish (an imported one), Chicken Angari, and Mutton Dish. Our expectations rose seeing the gourmet. However, it wasn't as delicious as the starters. Interestingly, our attendant 'Yogesh' could sense our disappointed face. Taking our feedback, he did alter one particular dish and brought us to taste.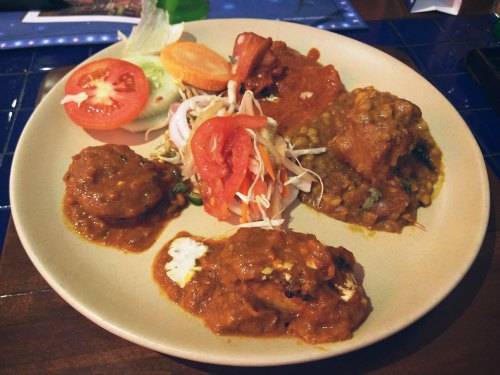 The modification was quite good. Though the main course deserves only a 3, I would give an extra 0.5 to the attendant who ensured we eat smilingly by modifying the dish. I appreciate his efforts.
BBQ CBD Belapur – Desserts (4.5/5)
There is everything in the dessert section and if you have a sweet tooth trust me you'll go at least thrice to fill your platters. From brownie, ice cream, gulab jamun, rabadi, fruit salad, cheese cake, firni to sweet kharris, they had everything.

I tasted almost everything and it was indeed worth it. We skipped kulfi but the attendant ensured we eat it and we couldn't so. That was the last thing I ate and yes, it was luscious and yummy!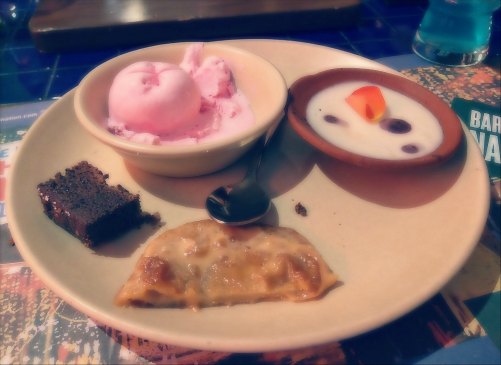 The Surprise – Oh La La!
Since the festival was on, the staff performed too on two songs. It was really a pleasant surprise and yes it did increase the fun quotient.
BBQ Nation Hospitality (5/5)
When it comes to hospitality, I think they deserve a 5 on 5. Besides, Yoges, there was one more person who was quite courteous but I forget his name – I think it starts with M. I think, you guys need to be as gentle, courteous and nice as you are. Trust me non friendly staff is a strict No-No for any person no matter how good the restaurant might be.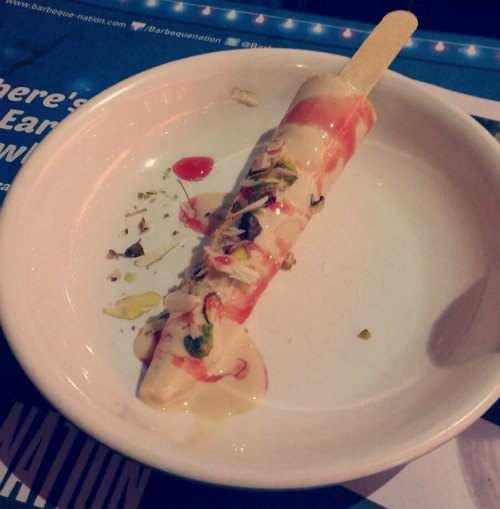 Overall rating – 4.5/5
Approx. Bill for Two (575 x 2 + Taxes in case you eat lunch (Non Veg) on Weekdays)
Do Not Miss Reading:
Don Giovanni Review: When in Pondy, Eat Italian – Felice Mangiare!
Reasons Why Every Indian Should Use Groupon for Great Deals on Travel, Food & Drink, Style & Beauty!