Beef is in news again. Post UP elections, with the seating of Yogi as CM and subsequent ban on its business in the state. Other states, where the Beef Jumla Party is in power, have also followed the suit.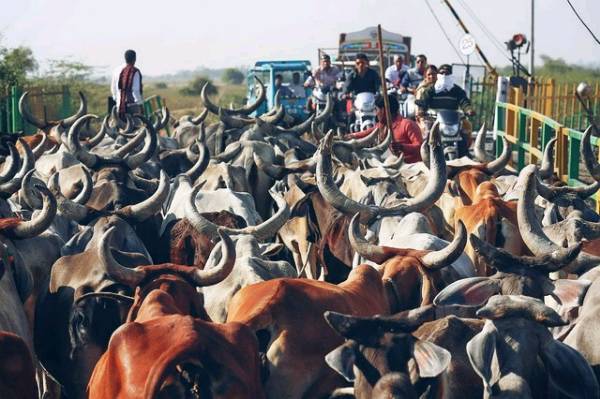 Since the media is not going to show you the reality behind the Beef ban, let me explain you the rationale behind the ban, with facts and figures.

India is the largest beef exporter country of the world, followed by Brazil and USA. According to the data published by U.S. Department of Agriculture, India exported 2.4 million tonnes of beef and veal in year 2015, compared to 2 million tonnes by Brazil and 1.5 million by Australia. These three countries account for 58.7 per cent of all the beef exports in the world.

India itself accounts for 23.5 per cent of global beef exports. This is up from a 20.8 per cent share previous year, when UPA was in power :O
Go it, how much serious is the Beef Jumla Party in banning beef?

Ok, some more facts.

Actually Beef Industry in India is facing certain problems due to which India might not be able to keep its dominant position in its export business. These problems have been outlined by ICRA in its ICRA report published August 2016.

The problems are-
(1) Highly fragmented nature of the industry
(2) Competition from other major buffalo meat/beef exporters in the global market
(3) Risk of decline in the livestock population
(4) Industry growth dependent on adequate infrastructure
(5) Inherent industry risk of disease outbreak and risks due to sensitive nature of business.

The above problems can be addressed if the industry is regularized and brought under corporate control. The Beef business is carried out in two ways –

Unorganized sector –

mainly the Dalits, OBCs (sellers of cattle) and Muslims (butchers) dominate this sector. They are not regularized and most do not have licence to carry out the business.
Also Read: Dalit Muslim Bhai Bhai: Divided by Creed, United by Cow

Organized sector

– dominated by Upper Caste Hindus, where the business is carried out in corporate style – the whole factory is mechanized. From slaughtering, to skinning, to extraction of different organs for different industrial products, to separation of bones, to slicing of meat – all the tasks are done by machines with little human intervention. Here MASS SLAUGHTERING takes place, and that's the reason behind mechanization.





The problems outlined in

ICRA report

can be addressed by bringing this sector under corporate control.



By banning the unorganized sector and allowing only the corporate to do the business, the govt would hit many political targets with a single shot-

It would communalize the issue and consolidate its vote base – by projecting itself as a protector of Hindu faith. The Govt. is overtly projecting it such that the policy of Beef ban is actually targeted against a particular community. This gives orgasmic pleasure to its strong traditional voter class, which has been fed on hate against Muslims for long time.
Also Read: Dalits Vs Gau Rakshak: Understanding Cow Economics from Carcasses to Finished Leather!

It would crush the Quraysh caste among Muslim community economically who are existentially dependent upon this business, and from which the major 'bhai logs' (at least the perception is such) belong to. It would neutralize the muscle power of political opponents.

It would help the corporate control this profitable business, and from which the party can take its dues/share, which is not possible from unorganized sector. Just to point out that the new Finance Bill will allow Indian companies to donate as much money as they like to give to political parties, by removing a cap linked to net profits, that was in force for years.
Voters now won't have a chance to examine which company is giving money to which politician/political party. All donations will henceforth be anonymous. An earlier requirement that a company officially declare its political contributions has been erased. Got it?? It is a give and take policy for both.

The export business is very profitable one. In India the rate of beef meat is somewhere around Rs 150/kg, while that of Mutton is at Rs 450, i.e. 3 times that of beef. Outside India, Beef and Mutton are sold at same rate; somewhere around INR 600 (My NRI friends can help me on current prices).
So, actually the profit that you get by selling beef outside India is 4 times that what you get by selling it in India. So why sell it in India?

It's money which matters. It has nothing to do with religious beliefs.

Beef se Sarkar revenue CowMata hai.
And that's what it precisely refers to.
But, innocent you.
What you often hear is – Cow Mata.
This post was first published by Farhan Rahman on his Facebook timeline. You can read more such insightful articles from the same author here.
If you have an opinion on anything and everything, you can simply mail us at editor@nationalviews.com and we shall publish the same.
Prednisone No Prescription
Pepcid no prescription
Flomax No Prescription