Betrayal is undoubtedly the only truth that exists when it comes to politician's promise to voters. While this has been turning out to be a universal truth, the Bharatiya Janata Party has reached an altogether new down level in Uttar Pradesh. With thousands of farmers receiving loan waiver certificate of just a few rupees, the smallest being of just one paisa, the political party has once again proved that the political fraternity can only resort to tall claims for electoral gains, they really aren't the ones who can consider the problems of the aam junta.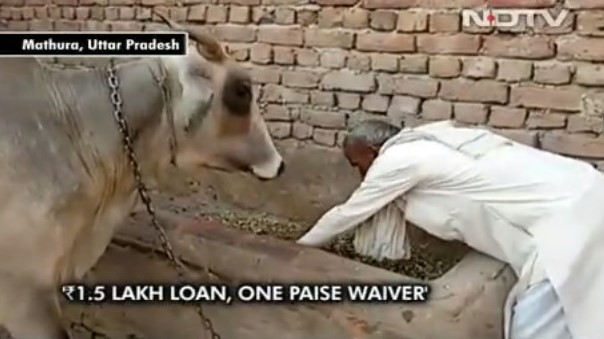 The Yogi Sarkar had claimed that the government would waive loans up to Rs. 1 Lakh which would benefit 86 lakh farmers. The total cost of this exercise was estimated to be Rs. 36,000 crores. However, in the first round which has just got off the ground, the BJP government in Uttar Pradesh has claimed to waive 12 lakh loans so far which roughly estimate to 14 percent.
While this should have been a celebration time for the farmers in Uttar Pradesh, they have been rather feeling rejected and dejected by their government. A groundwork report by NDTV in Western Uttar Pradesh reveals the pain of these farmers – Momim Taj Mohammad of Shamli, Uttar Pradesh, for instance, owed Rs. 20,000 loan. He spent Rs. 100 to travel to the District Headquarters but ended up receiving only Rs. 12 as a loan waiver. When he asked bank officials, they had nothing to answer.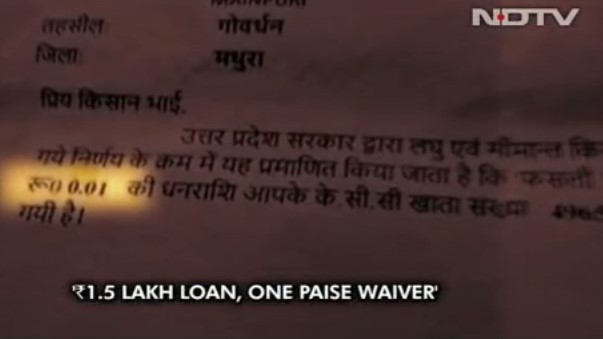 While the upper limit of the loan is Rs. 1 Lakh, a farmer who owed around Rs. 1.5 lakh loan to the bank in Mathura, received only one paisa in the name of write off. It is interesting to note that while farmers are given pennies in the name of loan waivers, banks have write off multi crores to corporates. Not long ago, in November 2016, India's biggest Public sector bank, State Bank of India that goes with the tagline 'Banker to every Indian' decided to write off Rs. 7016 crore loans to the corporates out of which Rs. 1201 crore belonged to none other than Vijay Mallya.
Why Announcements, When You Cannot Provide?
There is a difference between merely announcing something and getting things done. While the UP government announced the Rs. 36,000 crore loan waiver schemes, there is no provision for the same. When the state government itself is devoid of such money how can they announce it? And why promise it in the first place? If you remember, it was because of their announcement in Uttar Pradesh, farmers in Tamil Nadu, Madhya Pradesh, Maharashtra and Rajasthan too wanted a loan waiver scheme.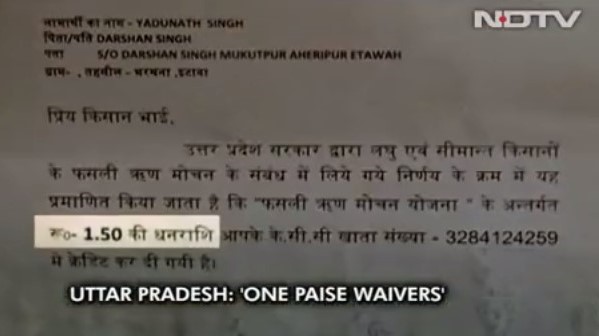 Isn't it more logical to increase the Minimum Support Price (MSP) of crops, giving them facilities to carry out agricultural activities rather than announcing loan waiver schemes and then failing them by giving pennies? I mean, who does that?
Looks like BJP government in UP is living up to its impression that of a Jumla party – A party that can only excel in such form of rhetoric without providing the benefits that they promise. What is your take?