In the serial Chandra Nandini, Bindusar hates Nandini. The reason being, he thinks Nandini killed his mother Durdhara. Apparently, this is the reason why he pushed her from the cliff.
Now that Nandini is alive and back in disguise, we wonder when and how will Bindusar know that Nandini is innocent.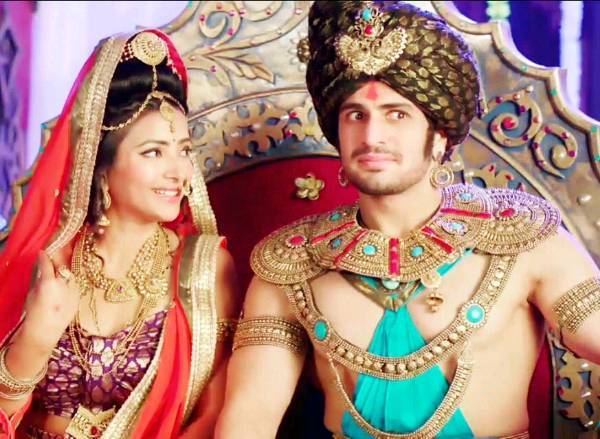 Bindusar Is Clueless about Durdhara's Murderer
Bindusar assumes Nandini to be the killer of his mother Durdhara. Helena brainwashed him completely and when he got enough evidence he trusted her completely.
Still he wanted to reconfirm with the family but neither Chandragupta nor any of the family members proved Nandini's innocence. They didn't utter a single word against Helena or her mother Apama.
Now isn't this strange? After all, Nandini was framed. It was the responsibility of the family to clear the misunderstanding of Bindusar by proving Nandini's innocence. But no, Apama became more important. How convenient.
The same Nandini who saved Bindusar not just once but many a times, the same Nandini whom Chandra loved so immensely once again had to face the brunt, this time of her son whom she adored so much. And the son became so cruel that he planned his mother's attack. Brilliant!
Looks disgusting, isn't it? Strangely, even after a decade, Moora hates Nandini.
Chandra Nandini Latest: Nandini is Alive and Bindusar Still Hates Her
Nandini is not dead. She has lost her memory. Though Chandra is searching her, he has no idea that she is alive. However, fate has once again brought them together as she is the foster mother of Dharma.
Now that Dharma and Bindusar have crossed paths,  looks like, through her Nandini too would come in direct contact with Bindusar and Chandragupta. And somehow this association will reunite the family.
We assume Bindusar himself would try to know everything and things will fall in place where he will know who was the real culprit. He will surely repent, making him go against Apama.
Regarding Helena and Apama, well, it is time that the serial expose them soon. What do you think?