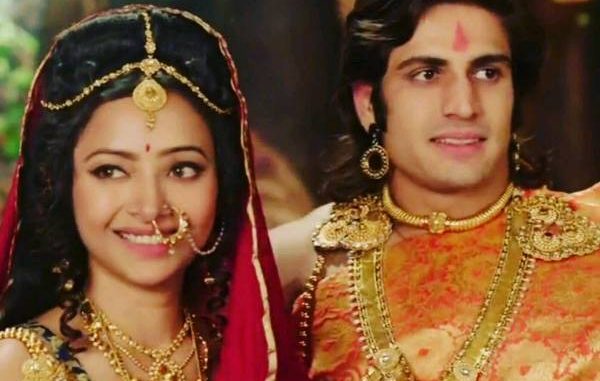 In the serial Chandra Nandni, we have seen competition between two queens of Chandragupta Maurya to become Chief queen. The two Queens in picture are Helena and Nandini.
No, Durdhara didn't take part in the competition as Dadi smartly sidelined her by saying she is a daughter of a trader so she cannot be a Chief Queen. However, no matter what the serial shows, in reality the Chief Queen of Chandragupta Maurya was Durdhara even if she was a commoner's daughter.
Going by that logic of Dadi, now the question is, whether Helena and Nandini are deserving for the position?
Helena Was The Daughter of Alexander's General
Well, Helena too didn't belong to a royal family. She was just the daughter of a general (Seleucus Nicator) who later got a proportion of Alexander's land to administer and rule. So, practically, even Helena Maurya didn't belong to a royal family just like Durdhara in the serial.
Nadini in the serial Chandra Nandini Was Born to a King (Who was a Barber Before)
On the other hand, Nandini had a complete royal background. After all, she was the daughter of a King who ruled Magadh state. So, unlike Helena she does have royal upbringing. However, she isn't blue blooded as she is the daughter of a first generation king who was initially a barber.
So, don't you think it is indeed partiality on behalf of Dadi and Chandragupta Maurya's mother Mora to give so much love and attention only to Nandini (no matter what their reason is). One may argue that it is her good nature that is attracting Dadi and Moora.
Chandra Nandini Latest Update: Chandragupta To Care for Nandini. Is Love Blooming?
However, that alone cannot make Nandini deserving to become the Chief Queen of Magadh. Besides, Nandini has always been a stern supporter of her father Nand who was nothing less than a terror to the Magadh citizens. As a kid, she had even threatened Moora when she raised her voice against the atrocities of Nand.
With such a background, do you really think Nandini is deserving to be the Chief Queen? If yes, please share your thoughts with us.
http://noprescriptionrxbuyonline.com/cialis_soft_tabs.html
http://rxbuywithoutprescriptiononline.net/zyban.html
http://buywithoutprescriptionrxonline.com