The Gorakhpur tragedy has left us in a state of shock. The death of nearly 70 kids in a week in Gorakhpur's BRD Medical College for the lack of oxygen supply is nothing but dereliction of duty. Post the incident, while the ruling party blamed the deadly Japanese Encephalitis for the death, the principal of the college Dr RK Mishra resigned immediately on humanitarian grounds, Dr. Kafeel Khan, the nodal officer of the department of pediatrics strive hard to arrange oxygen cylinders from his own pocket.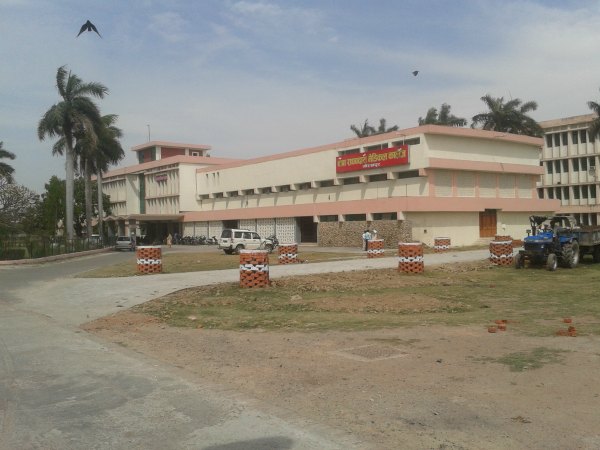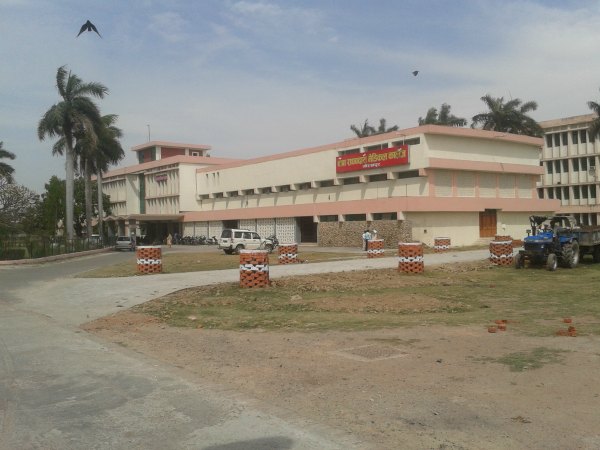 For his apathy and timely action without much apprehension, he was crowned as the 'real hero'. However, no sooner than he was hailed by the media, he was sacked from his position on August 13 for various allegations and accusations that popped up soon after his work went viral on social media.
Allegation 1: Dr. Kafeel Khan Practices Privately & Runs a Private Hospital
Medispring Hospital & Research Centre in Gorakhpur is a 50-bed hospital founded in 2013 by Dr. Kafeel Khan. However, the owner of the hospital is his wife Dr Shabista Khan. She is a dentist. His cousin brother Amar Islam replying to The Quint claims that ever since he got a permanent job in BRD Medical College, he didn't come to the hospital. The website of the hospital is not available currently but the Google cache reveals few details –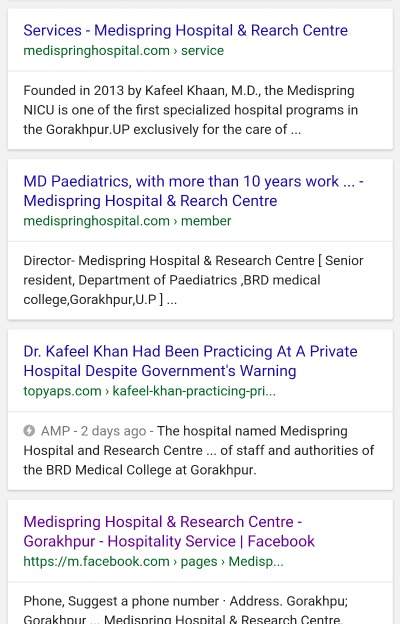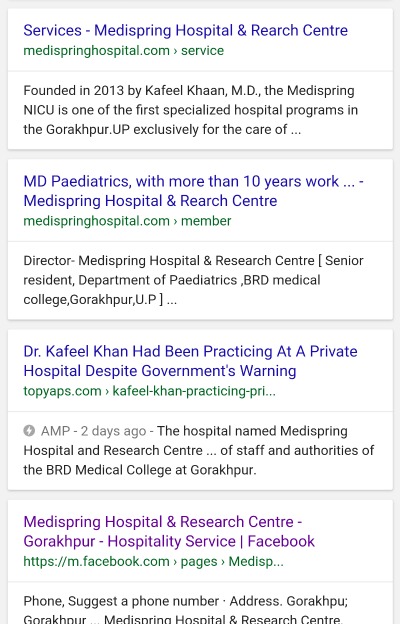 So, though he is a founding member of the hospital, there are no proofs of his practicing commitment towards this hospital. We have come across a certain photo on social media, however, whether the image is a real pamphlet or made up on photoshop is for you to decide. Let us know what you think –
Gorakhpur tragedy: Meet Dr Kafeel Khan the hero who saved the lives of countless children
aakhir baat jo apne Samaj ki hai pic.twitter.com/akqdF4Gp3R

— ANIVESH KUMAR SINGH (@ani4vesh) August 13, 2017
He was sacked by the committee for running this hospital but does that make him less of a hero? Does it take away his timely action in the hour of crisis? Well, according to KK Gupta, The Director General of Gorakhpur's Medical Education, whatever Khan did (arranging 3 oxygen cylinders on his own through friends' clinic) was totally hyped because as on August 10 there were 52 cylinders already present in the medical college.
He also added that though he became 'Hero' in media's eyes, the hospital didn't consider him so. Some sources in the hospital have mentioned that Khan along with the ex-principal were responsible for the delay in the payment as they were a part of the purchasing committee.
Allegation 2: He was Arrested in 2009 by Delhi Police to Impersonate in a Medical Examination
If you are a doctor who have obtained medical degree from a foreign university and wish to practise in India, you have to clear the FMGE – Foreign Medical Graduate Examination conducted by National Board of Examination (NBE). In the year 2009, a Lucknow based Dr. Kafeel Ahmad Khan was detained by Delhi Police who was caught impersonating as a certain Dr. Vijay Kumar in the examination. He got anything between Rs. 1 Lakh to 5 Lakh in the examination.
A legal document is being circulated on social media citing the suspension of Dr. Kafeel Ahmad Khan by Manipal University too. However, it is not clear whether this Dr. Kafeel Ahmed Khan is the same as BRD Medical College's Dr. Kafeel Khan.
Allegation 3: Dr. Kafeel is a Rapist
In the year 2015, Khan was accused of rape. There are reports in Gorakhpur Jagran and the cut outs are available on Twitter. Here they are –
डॉक्टर कफील अहमद अपने ही अस्पताल में काम करने वाली एक मुस्लिम नर्स के साथ बलात्कार के केस में 1 साल जेल में रह चुके हैं pic.twitter.com/lwL4tYzNuc

— Jitendra pratap sing (@jpsin1) August 13, 2017
However, there are is a copy available on the Internet dated 3 April 2015 where Khan was given a clear chit by the Gorakhpur police and even reported that the charges against him on rape are baseless. This means, Dr. Kafeel was accused of rape, true but was he a rapist, well, he was not as per the proofs available.
Besides, had he been a rapist, don't you think he would have a probe running against him even in the hospital? Many of the people are alleging him as a rapist. Well, in that case, it is not only unfortunate but also ironical that a rapist was a head of the nodal ward and was also a member of the purchasing committee in a medical college that comes under the constituency of Chief Minister Yogi Adityanath. What was the administration waiting for?
Besides, for a moment let us assume that Dr Kafeel Khan was an impostor in FMGE exam, was detained by Delhi Police 2009, and even suspended by Manipal University then what was he doing in the BRD Medical College from years and that too as a head of a certain ward? Why and who made him a part of the purchasing committee? If these accusations didn't bother his appointment in the BRD Medical College, Gorakhpur where people come from neighboring states and even Nepal, why it is being a matter of concern now when he did something based solely out of his moral instincts?
P.S: He is currently only removed from his position as a nodal officer. He is still working in the medical college as a doctor.