Summer has arrived, the season that moves us to escape the four walls of our homes and get out to enjoy the outdoors. These months we're left gasping to take a dip into the sea, climb some mountains, breathe in fresh air, and appreciate nature. It's also the perfect time for us to visit that city we've always wanted to, walking through its winding streets without fear of an impending downpour.
During summer we also have to go to work, but this task becomes a bit more pleasant when we wake up and open the window to sunshine. While in winter we can be found curled up in a blanket on our sofa while watching a movie, summer invites us to do the complete opposite: dine on a terrace, go out for a drink(s), or just a stroll through the streets with an ice cream in hand. Basically, summer makes us happy.
Another one of the best things about the summer season is that it opens the door to creativity and innovation for our outfits. As the temperatures begin to rise, we're able to get more out of our wardrobe than in winter – the options multiply: dresses, skirts, tops, swimsuits, caps…and the best thing is there's no need to cover up this cute clothing with a coat.
When it comes down to choosing your summer clothes, the most important thing is to stay true to your style, as well as following some basic guidelines like sticking with fresh and comfortable clothing. To guide you on your summer wardrobe quest, we've put together a list of four different looks for four different occasions that are sure to help you dominate this summer in style.
Beach look
Whether you live on the coast, or you like to take advantage of the weekends to escape the hustle and bustle of the city, the beach is the perfect paradise to unwind, cool off, and escape the rising heat. Choosing a beach look is not as simple as it may appear, so let us give you some tips. You don't need to have a matching two-piece bikini, you can perfectly combine a different top and bottom to create a much more original look. We've opted for two pieces that include ruffles to accentuate curves; a dark gray top paired with a yellow bottom to highlight your tan (both from H&M).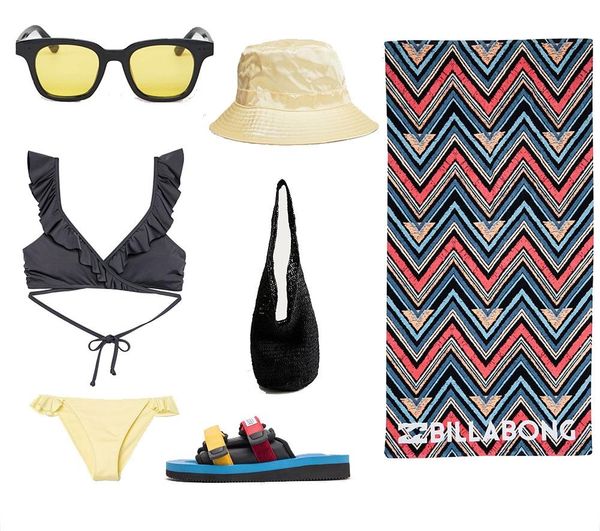 Sunglasses for the beach are just as necessary as the swimsuit itself, we've picked out a pair from Asos that match the entire set. To protect you from the sun the Asos fisherman hat fits the bill, it also ups the coolness factor of your look. Pair everything with some sandals by Suicoke and a black tote bag from Urban Outfitters. Need to dry off? Lie down on a comfortable beach towel by Billabong, like this one featuring an Aztec print.
Party look
These hot nights invite late nights, having drinks at the latest popular terrace, and dancing until dawn. For nights out, we recommend that you go as comfortable as possible. Fortunately, as athleisure continues to triumph this summer, there is no greater designer to take you through the season than Alexander Wang. His command of the trend, allows you to combine his latest adidas Alexander Wang mini dress with classic style heels, and a feminine fanny pack to nail the look. Top it all off by accessorizing with a pair of hoop earrings (Pull & Bear), and don't forget a red hued lipstick (Givenchy) to match the dress!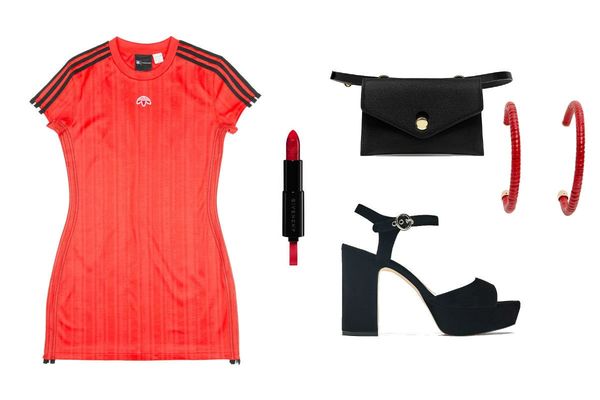 Sightseeing look
If this summer you're traveling, then we're here to give you the perfect outfit for your sightseeing adventures. Without sacrificing breathability or comfort, our proposed look is both urban as it is cool. We've mixed a graphic tee from Dreamers Not Allowed, featuring the message "Amour Propre", a statement suited for any self-confident woman, with a pair of vintage-style shorts by Levi's.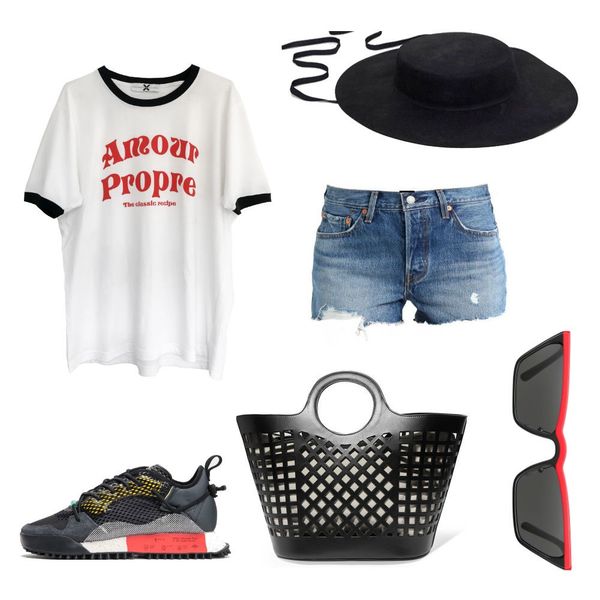 Stealing the show are a pair of adidas Originals designed by Alexander Wang that will have you turning heads as you traipse through the city making it your own. Continue to exude attitude and personality by completing the look with a black wide-brimmed hat (Asos) and minimalist sunglasses (Prada). Last but not least, Hereu's black handbag is on trend this season, and its size makes it ideal for you to fit everything you need in it for a long day of sightseeing.
Office look
It's no secret, getting up early is made easier in the summer. We're able to detach ourselves from our bed covers and head out into the world. We walk, train, or drive to our workplace in a good mood all the while the sun hits our face. The office look for summer is much more relaxed and versatile, so for it we propose this feminine two-piece set (midi skirt and matching top by Stradivarius) in sand tones.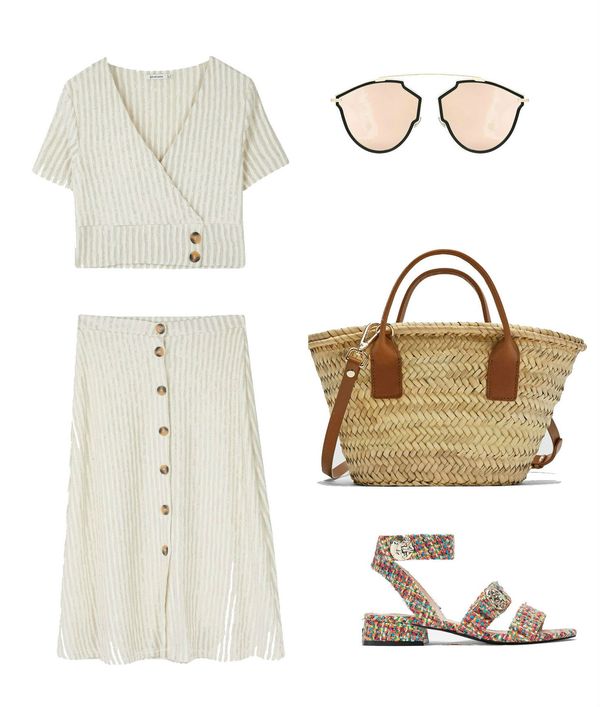 Replace your purse with a woven bag (a huge trend this season) to get a more summery and rustic effect; this one is from Zara, but there are plenty to choose from at many shops. Switch up the flats for a slight heel, this pair of multicolored strappy sandals by Uterque add a further feminine touch. Don't forget a good pair of sunglasses, we love this pair by Dior in gold and rose to complete the look.