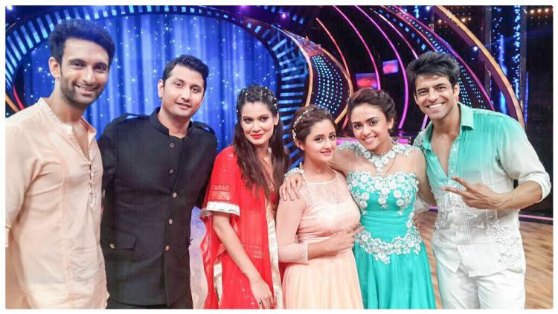 Now that Payal Rohatgi and Sangram Singh are out of the game there remains only 5 couples on Nach Baliye 7 – Sharad and Mrunal, Aishwarya and Rohit, Rashami and Nandish, Upen and Karishma, and then Himmanshoo and Amruta.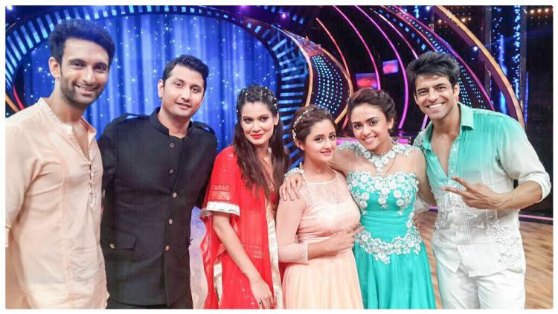 Image Courtesy: PinkVilla.com
However, soon we will see two more wild card entrants in the form of Parag Tyagi (Shariffuddin of Jodha Akbar) and wife Shefali Zariwala (of Katta Laga fame), Mayuresh Wadkar (the choreographer) and his girlfriend Ajisha Shah. There is a huge speculation that even Sana Saeed and Dipesh Patel will enter as wild card entrants.
No matter, who all will come and go, we seriously think this year's Nach Baliye trophy will be lifted by Himmanshoo Malhotra and Amruta Khanvilkar.
Here are the reasons why:
Himmanshoo and Amruta Have Been Consistent in their Performance
Starting from the very first day, both Himmanshoo and his baliye Amruta has been consistent when it comes to mind blowing performances. While, other couples had their lucky and unlucky days, this dhaasu couple has been giving kaamal, dhamaal and bemisal performance right from the very first episode. This is the reason why they have received Nach Power all this while.
Only They Have the Power to Get 29 and 30 out of 30
When almost all the couples have seen their worst nightmare i.e. low scores in between 20 and 25, Amruta Khanvilkar and Himmanshoo Malhotra is the only couple who have been riding high on scores. In fact, they are the only couple to get 30 out of 30 in this entire Nach Baliye season. And let me tell you nobody can challenge their scores because they deserved the numbers what they got. What's more, in the opening episode, the couple received a standing innovation from all the three guests.
They are the one with the Cleanest Record
Wondering what do we mean by the cleanest record? Well, Upen and Karishma has been accused of cheating in the Daily Punchama, Rashami made fool of everybody when she went to Los Angeles by claiming she is in hospital, Mrunal – Sharad has been too bitchy as well as judgmental and Aishwarya – Rohit has the habit of cribbing. 
On the other hand, happy go lucky Himmanshoo and Amruta has always played the game fairly without any complains or issues. Nobody ever accused them or had problems with the couple.
We Can't Stop Appreciating Them Individually and as a Couple
Amruta Khanvilar is just awesome. A true performer, she knows what she is doing. In addition, in personal life, she is a sweet girl who knows to laugh on her miseries. Even her answers in the daily punchama revealed how well natured the girl is. Himmanshoo Malhotra, on the other hand, is the most matured guy on the sets. Well behaved, he is also the most sorted person on the sets. Though Nandish and Upen are more or less like him. But, they both have been accused of cheating. So, our heart definitely goes out to Himmanshoo. No wonder, we love his smile, especially when he is clueless in the Daily Punchama. Besides, together, Himmanshoo and Amruta is just a killer pack, and that's precisely what the Nach Baliye winners should be, don't you think so?
Now I shall reveal why the other couples cannot win in front of Amruta and Himmanshoo
Because Mrunal Thakur and Sharad Tripathi are Cry Babies
They have been cribbing from day 1 complaining about other couples. They could not stop talking ill about Nandish when there was no need too even express their opinions. Crying, sobbing, they are the most boring couple of Nach Baliye 7. Besides, they came on a national platform to gain sympathy for their relationship which was a shocker to their parents and is not going well with them. Such couples cannot win the trophy of Nach Baliye 7 who act as if the dance reality show is an extended part of Bigg Boss. Moreover, they are just average dancers who are nothing when it comes to Upen – Karishma, Nandish – Rashami and Himmanshoo – Amruta.
Because Aishwarya Sakhuja and Rohit Nag are not Good Dancers
Frankly, Aishwarya and Rohit are in the race till now only because they have been acquiring Love Power for several weeks. In the first elimination round, they had a major fallout in their performance. However, they only survived because of their love power. Average dancers, they do not deserve the title, though we love Rohit's antics in the Daily Punchama.
Rashami Cheated By Her Injury Story, So Logically Nandish – Rashami Has No Right to the Trophy
Although my first choice was Nandish and Rashami for Nach Baliye 7, I now think how can somebody win, when they have already cheated everybody by a false story. I, agree Rashami had her own reasons but considering her fault, I don't think so they can win this season even if they give outstanding performances. If they win, it will only send wrong signals. So, I think, even if they survive till the last they will not win the title. With the whole chaos around them even they don't deserve the trophy.
Upen Patel and Karishma Tanna Does Have a Fair Chance and They are the Only Competition to Himmanshoo and Amruta, But….
Besides, Himmanshoo and Amruta if someone really deserves the Nach Baliye 7 trophy, it is Upen Patel and Karishma Tanna. They are not only good dancers but great performers. What's more their relationship is great and so is their chemistry.
While, the world mocked, teased and made fun of them by terming them as a 'Reel Couple'. They proved their real love more than thrice in the show. What's more, the couple even got engaged on national television. The second best Jodi, they have chances to win the title but somehow I think they cannot beat Himmanshoo and Amruta because going by the records they have never crossed their score in spite of giving some mind blowing performances.
Lastly,
Himmanshoo and Amruta Is a Complete Package to Win Nach Baliye 7
Personally, I had no clue who is Amruta or who is Himmanshoo when I first saw them on the sets of Nach Baliye 7. My eyes were all glued at the known faces, Upen-Karishma, Rashami-Nandish, Sangram-Payal, Aishwarya and her husband, Mrunal and her bf, Duryodhan and his wife. In fact, I even skipped their performance, but as the show moved ahead week by week, they simply startled not only me but everyone by their acts. By now, nobody can deny that they do not deserve to win.
A complete package, I guess Himmanshoo Malhotra and Amruta Khanvilkar will lift the trophy of Nach Baliye 7. Our second choice is definitely Upen Patel and Karishma Tanna.
Do Not Miss Reading:
Why Mrunal Thakur and Sharad Chandra Tripathi Don't Deserve to Win Nach Baliye 7
Everything You Wanted to Know about Upen Patel and Karishma Tanna's Live Engagement