Remember those special plates and glasses that your mother gave you to store carefully and use only on special occasions? From cups and saucers to bowls and plates – every piece of the family china crockery is often stored away for years to ensure their preservation.
Despite best efforts, there may be a few practices that you are doing wrong, read on to ensure that your family china crockery is kept in the best shape!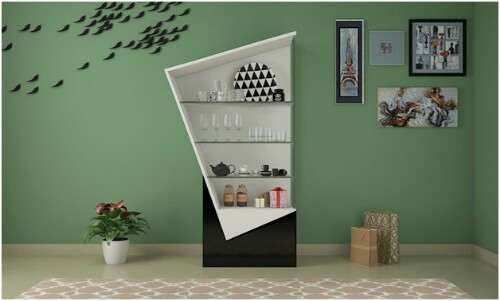 Image Source: Via MyGubbi
Crockery Cabinet – Open vs. Closed Shelves
While smaller spaces often have open shelving in order to make the area seem larger, it is always better to opt for a crockery cabinet design that will allow you to store granny's china in a closed environment. This way, there are fewer chances that a piece will get knocked over accidentally. A closed environment also means they'll be kept safe from dust. Longexposure to dust often leads to discolouration.
Stacking them up:
When it comes to china plates and saucers, the easiest way to store them is to stack them one on top of the other. This method for is perfectly acceptable for steel plates but when china is concerned, this method could lead to cracks. Another danger is that the plate on top might leave an unattractive mark on the one placed below it. So, while stacking up plates, one needs to add a protective layer between each one. A square patch of felt is a good thing to use but this can get expensive. Instead, consider using paper or paper napkins.
All in a Row:
It is tempting to hangteacupson a set of hooks in order to display them properly but you should refrain from this practice. They are more exposed and so are more likely to get broken. An accidental brush of an arm or shoulder is enough to send them flying. It is even possible to stack up teacups but remember to use a paper napkin as a divider between two tea cups.
The Teapot:
Thanks to its irregular shape, a teapot needs a little extra room for storage, so make sure that crockery unit design that you pick out has enough shelf space for it. Line the inside if the teapot with bubble wrap and place the cap of the teapot upside down on it. You can use a cardboard roll to cover the spout.
Bowled over?
A comprehensive china set often contains a variety of bowls – from soup bowls to sugar bowls and even dessert bowls. The best way to store bowls in a limited space is to stack them up – again one must remember to place a divider between each bowl and not stack up more than four at a time. Just to make sure that the entire stack doesn't become unstable and collapse.
Glasses:
Many crockery cabinets also have glasses to store. Whether they are daily-use glasses or special-occasion glasses, you're likely to be tempted to stack them up to save space. But it would be wise to keep each stack to three or less as a stack of glasses can get unstable and fall over. Especially if they are frequently used and one is not careful while taking the first one off, then the entire stack could tip over.
While it may seem appropriate to store china in your kitchen, if it is a prized family collection that you only use for special occasions, it is recommended that you keep your crockery cabinet in a space that is less busy.
With several modular kitchens being fit into apartments, and considering the space constraint in these spaces, a corner of the living room is a good alternative. Choose a cabinet that will go well with your living-room décor and slip it into a suitable position.
Do Not Miss Reading:
What is Vaastu Shastra? Is It Relevant in Modern India?
11 Things to Consider While Purchasing your Dream House