Kaurwaki is a real character in Ashoka serial. Queen Kaurwaki was Samrat Ashoka's wife and the mother of his son Tivala (Tivara). Her name is immortalized on the Allahabad edicts illustrating how influential she was during the rule of Samrat Ashoka.
While, the story of Kaurwaki is known, there is little information about her family. Interestingly, though Kaurwaki is a real character, her father shown in the serial is purely fictional.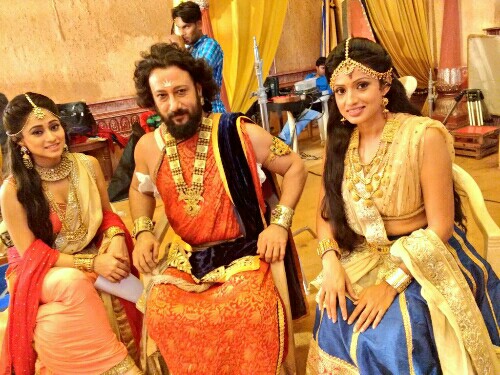 Image Source: @Somya_SethFC via Twitter
Kaurwaki was not the daughter of a King Called Jagannath
According to the historians, Kaurwaki was not a princess but a daughter of a fisherman. There are no facts available about her family. Going by the information available, it is clear that neither Jagannath was Karuvaki's father nor her father's name was Jagannath.
During Mauryan Empire, Kalinga Was a Democratic Nation
During the reign of Chandragupta Maurya and his son Bindusara, Kalinga was an independent and separate state. It was democratic though it is unknown whether it had any democratic form of government. The state was quite rich and prosperous unlike other states although it is not known whether one king or a group of kingdoms handled the administration of Kalinga. Jagannath surely wasn't the king unlike shown in the serial.
There Is no Record of a King Named Jagannath
The people of Kalinga broke away from the Magadh empire post Chandragupta Maurya rebelled against the Nanda king. This showed how powerful and strong was the Kalingans. However, there is no record of a king or a kingdom present during this phase. Moreover, in the history of Kalinga, there was no king named Jagan   nath. Looks like, the writers of Ashoka serial were inspired by Jagannath Puri in the present day Kalinga i.e. Orissa and named Kaurwaki's father as Jagannath.
Everything Shown about Jagannath in Ashoka Serial is Fictional
Kaurwaki's father Jagan nath in the serial is not a real character. His wrath, cheating, revenge and his devious plans against Ashoka and Magadh is purely fictional. In fact, his role in the serial is to spice up things to enhance the love story of Ashoka and Karuvaki – so that we know despite facing all the odds they stood true to their love.
Do Not Miss Reading: 
Real Reasons: Facts Why Samrat Ashoka Wanted to Conquer Kalinga!
Who Was the Real Love of Samrat Ashoka – Devi or Kaurwaki?