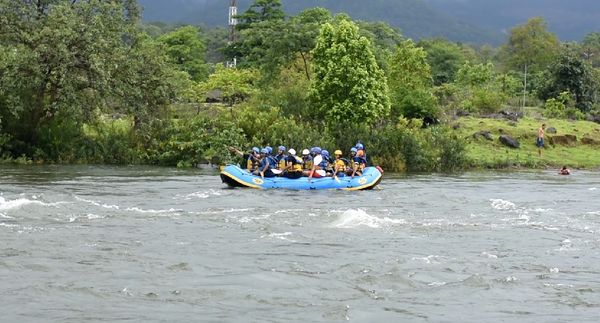 Enchanting Sahyadri, cascading waterfalls and captivating lush green scenery makes Kolad, a major traveler destination in Maharashtra, especially during the monsoon when the most thrilling of water adventure awaits you to kick start your excursion.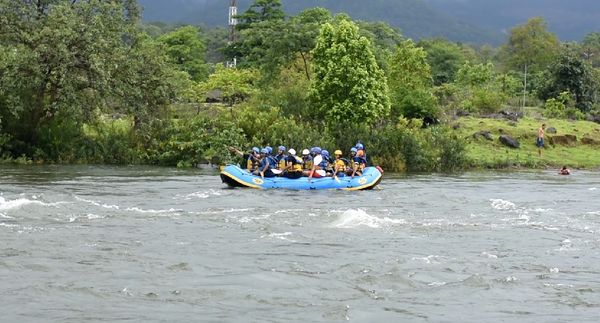 Yes, a potential white water rafting destination right after Rishikesh, Kolad rafting promises you with an exhilarating stint as you employ your adventure spirit and witness the adrenaline pumping experience in the most pleasant, Kundalika river.
Kundalika Rafting – Perfect Weekend Getaway near Mumbai and Pune for Adventure Seekers!
Located at an easy distance of approximately 121km from Mumbai and 114km from Pune, Kolad is the perfect weekend getaway for all the rafting enthusiasts looking for a nerve thrilling experience. While here, you will be rafting between two dams under the direction and control of specialists who have a credible amount of rafting experience at Rishikesh and so are professionally well qualified to supervise your 2-3-hour rafting in Kolad.
Kundalika rafting is done over a stretch of around 12-13km by taking you through different levels of grades. However, with experienced guides there is nothing to worry about even if it is your first time or you are someone who doesn't know how to swim. The two grades that you'll encounter are:
Grade III: The fun just begins! So, gear up your oars and glide your raft through the rough flowing waters as per the instruction of your guide. Ensure that you are prep up with all the safety gears (like tighten your floats, helmet and ensure you are rightly holding your oar) while rowing through these grades because the river expedition is about to get a little bumpy from here.
Grade IV: This grade welcomes you by raging white water as you joyfully advance amidst the gorgeous lush green milieu of the Kundalika river. This level makes for an exciting as well as thrilling rafting experience. We had a blast especially now that our gang (10 travel bloggers) was full of adventure enthusiasts looking to seize all the thrill and fun
River Rafting at Kundalika: You Can Stand, Jump, Roll and Swim Too…
Kundalika river rafting is not just about sitting, roaring and enjoying the thrill of bumpy rides as you move from one rapid onto another. Courtesy, the management and the experts, you get to jump into the river water and also swim in it, so, what if you don't know swimming or are afraid of water.  I did, despite the fear of water.
Thanks to the cheering guide Rajesh and my encouraging team members – Jiten, Abhishek, Aakash, Roshan, Nishant, Bharat who ensured that I will have a lifetime experience and won't drown, which is anyways not possible as your float can easily carry a 120kg weight but the inner scare let's you think the least possible at times.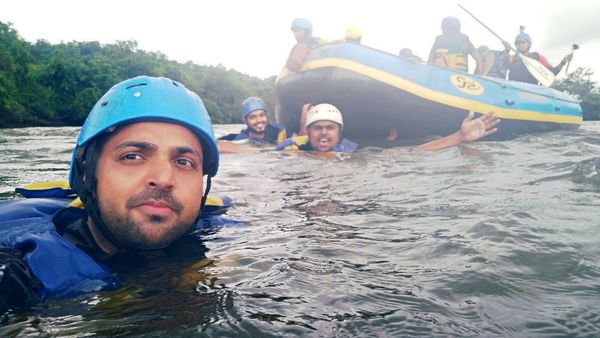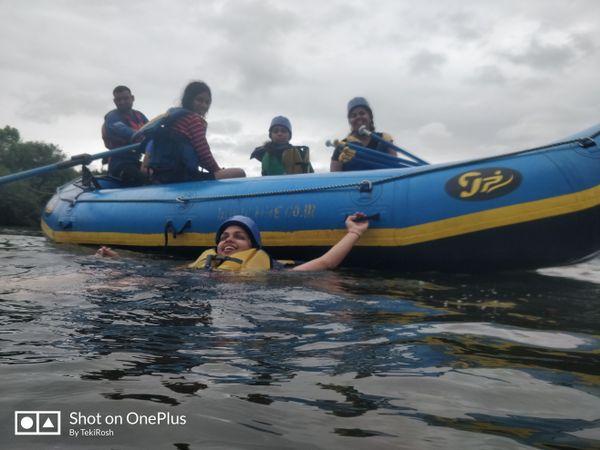 One of the best weekend getaways from Mumbai and Pune, Kundalika river rafting is an adrenaline pumping experience that works like a magic on your adventure spirit.
Look at the happy and content faces post the 3-hour ride 🙂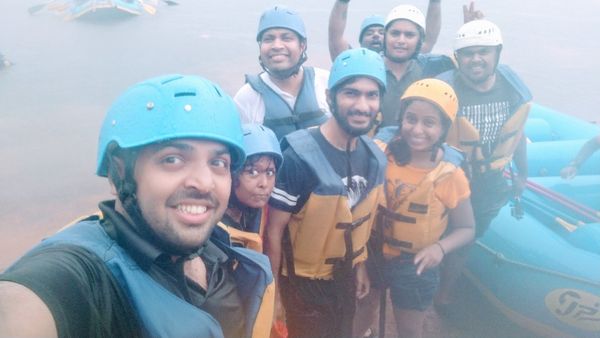 Wondering how do you embark to this riverside destination? Well, look for Kundalika Camp Resorts by Nature Trails Resorts. They not only offer you river rafting in Kundalika but also offer nature and adventure-based weekend breaks that involves Trek, Treasure Hunt, Kayaking, Zipline, Tarzan swing, Camp fire etc. What I liked about this resort was getting to stay in super deluxe tents while enjoying nature at its best.
Coming this July, they have book reading sessions by some renowned adventurer cum authors/wild life experts including Milind Soman and Milind Gunaji. Besides, during December they have special Sufi Nights, not to forget the New Year Party.
Interestingly, Nature Trails Resorts also have a forest property nearby to Kolad (hardly an hour drive towards Mumbai) – Durshet Forest Lodge where you can soak in the pleasure of some wild activities around the year with your family and friends.
Catch the combined fun here as filmed by The Moonchasers
Photo Credits: Roshan Gupta
Video Credits: Jiten Soni