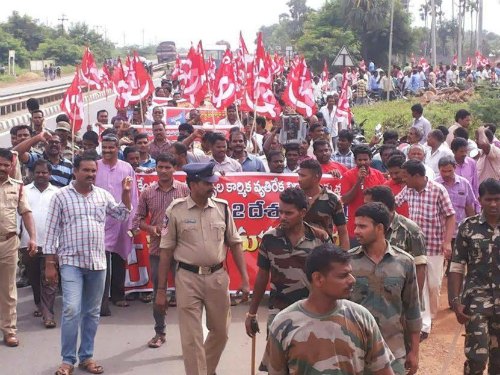 Now-a-days people of India are receiving SMSs (Automated) from Government of India about the Government's new plans and initiatives. Recently, many of us received a SMS in the name of Bandaru Dattatraya, labour and employment Minister stating –
"Government announces 43% hike in the minimum wages for unskilled non-agricultural workers for 'C' category areas: Wages fixed at Rs 350/- per day. (Pro- worker initiative)"
– Bandaru Dattatraya,
Labour and employment Minister India
Dated: 31st Aug 2016, Time: 10:22 PM
Although the SMS was to calm the labour union, it didn't work out as the union remain unconvinced and dared to go on the strike as scheduled to protest against the labour reforms, disinvestment in profit-making public sector undertakings, contractualization of workforce, and demand a monthly minimum wage of at least Rs.18, 000 (the latest hike given to them is near about Rs 10,500/- per month.)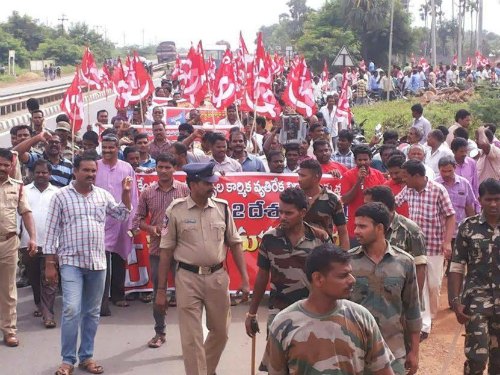 Interestingly, though the Government has been publicising its pro-worker initiative across India, it is not at all accepted by the labour union for whom the decision has been taken.
Now look into the below picture – An advertisement by the BJP government to publicize government's achievements, schemes etc. Please note that these advertisements come from the taxpayer's money.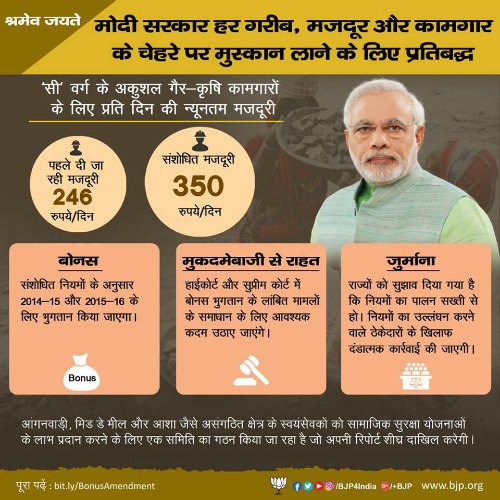 Our question is – When the Labour Union didn't accept the Government's proposal, then why are they printing advertising and sending those SMSs? This is a sheer example of how the Modi led Central Govt has been spending taxpayer's money unreasonably. It is high time that the party come out of the advertising and publicity mode and stop fooling the common man. As far as the pro-worker initiative is concerned, PM Modi led Central Government is still mulling on Labour Unions demands.
Labour Union demands were very genuine which will impact middle-class family hugely. Here are the demands, the DEMANDS FOR A DIGNIFIED LIFE.
Urgent measures for containing price-rise through universalisation of public distribution system and banning speculative trade in commodity market.

Containing unemployment through concrete measures for employment generation.

Minimum wages of not less than Rs 18,000 per month with provisions of indexation.

Stoppage of

contractorisation

in permanent perennial work and payment of same wage and benefits for contract workers as regular workers for same and similar work.

Strict enforcement of all basic labour laws without any exception or exemption and stringent punitive measures for violation of labour laws.

Universal social security cover, for all workers.

Assured enhanced pension not less than Rs.3, 000/- Per Month for the entire working population.

Removal of all ceilings on payment and eligibility of bonus, provident fund; increase the quantum of gratuity.

Compulsory registration of trade unions within a period of 45 days from the date of submitting application; and immediate ratification of ILO Conventions C 87 and C 98.

Stoppage of disinvestment in Central/State PSUs and against FDI in Railways, Insurance and Defence.
We might be in pain seeing the plight of the workers and Labour Union but being an opportunist, the Government, here too could nothing other than advertising. It is time for the PM Modi led Central Government to reveal their real nationalism by putting a pull stop to advertisements & publicity and start accepting  the demands of 'We The People of India, We the labours of this Nation.'
Do Not Miss Reading:
The Story of PM Modi Calling an IAS Officer of Tripura in Night Is Made-up! Bhakt Tales Busted!