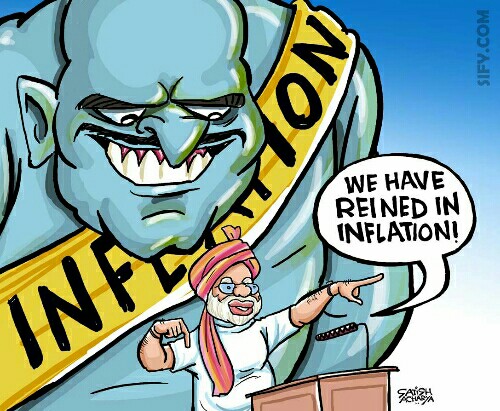 Many Indians de facto BJP's own Minister and people who are having dissent of opinion in India and abroad are angry with the present political system. They post social media statuses surrounding corruption and also about the much required 'need for change'.
These posts reflect their unconditional backing for Narendra Modi and their absolute hate for INC's Vice President Rahul Gandhi even if most of these people have no clue what PM Modi has done good or what Rahul Gandhi has done bad.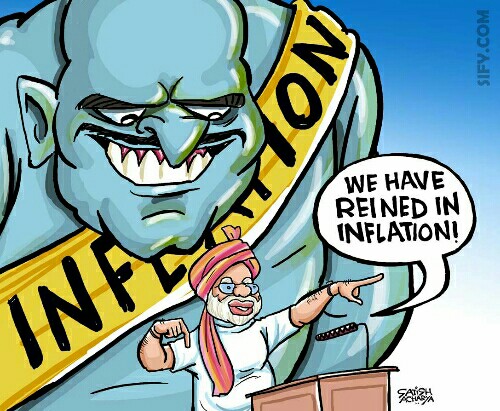 Image Courtesy: @satishacharya via twitter
The Election Commission of India has taken special note of social media. EC is now closely monitoring the activities of political parties, politicians and advertising expenditure on social media. However, this is done only when the elections are nearby but even then nobody has been charged for the aforesaid.
The Information Technology Act, 2000, mentions few points worth noticing regarding the Retention of electronic records –
Where any law provides that documents, records or information shall be retained for any specific period, the, that requirement shall be deemed to have been satisfied if such documents, records or information are retained in the electronic form, if:
(a) The manner and format therein remains accessible so as to be usable for a subsequent reference;
(b) The electronic record is retained in the format in which it was originally generated, sent or received or in a format which can be demonstrated to represent accurately the information originally generated, sent or received;
(c) The details which will facilitate the identification of the origin, destination, date and time of dispatch or receipt of such electronic record.
Almost all the Ministry and Ministers have their official twitter account. While chairing a meeting of the Union Council of Ministers, PM Modi even stated how ministers must be active on social media platforms like Facebook and Twitter, sharing his concern that several ministers are not active in this regard.
However, when the Prime Minister of India itself is spreading lies and false report, we wonder what are his untrained ministers doing on social media.  Well, PM Modi during his 90-minute Independence Day speech from Red Fort talked in length about a village called Nagla Fatela, not far from the national capital. In his speech he quoted, "It takes only three hours to reach Nagla Fatela but it took 70 years for electricity to reach there." Though the statement has both power and force it is sad to realize that whatever PM Modi mentioned in his speech was absolutely false. This has been proved by the villagers themselves. Later, after the villagers expressed their anger on PM's statement, the Ministry of Power too confessed about the aforesaid. Here is the confession: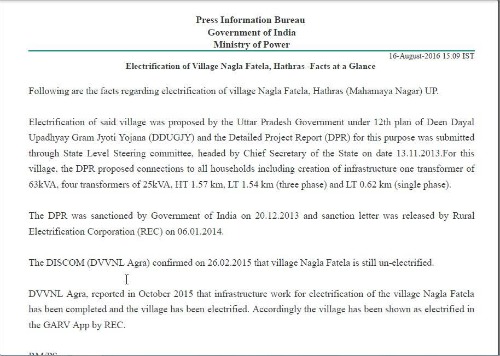 PM Modi is tweeting anything without having any cognizance what is going under his hegemony, is it really acceptable by the people of India? No, it is certainly not. PM Modi has been breaching laws but no action has been taken on him under Information Technology Act, 2000.  Likewise, there are many other Ministers as well, they tweet anything without checking with the facts, and if it stir any controversy they delete the tweet but they seldom apologise about the wrong information they spread.
If Prime Minister of India is tweeting wrongly which is misleading people of India then there is no iota of doubt that other Ministry and Ministers too are misleading people of India via Twitter, Facebook or the whole of social media. Why there is no apology from Prime Minister of India if it is a fault at his end? With the recent incident, the Modi model in India along with the Gujarat Model is fully exposed. Now, it is up to the people whether to believe in tweets of PM Modi and his Ministers or to go to the semantic of development from the grass root level.
Do not Miss Reading:
Nagaland & Kashmir: A Tale of Dubious Nature of BJP led Central Government
An Open Letter to PM Modi On His Independence Day Speech!