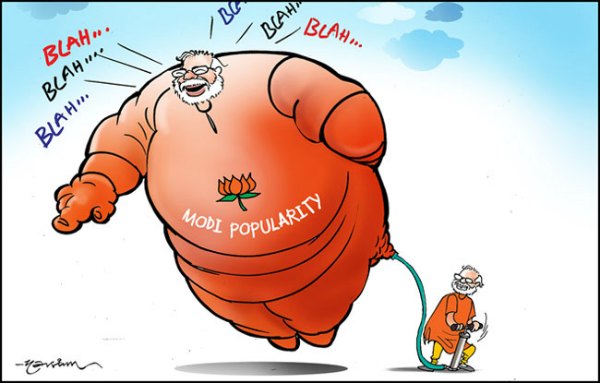 There was an article in Quora by a member of BJP IT about how PM Modi called up an IAS officer posted in Tripura in the middle of the night (10 PM) asking his help to repair NH208-A.
Soon, the story was shared by many FB pages and Media without verifying facts.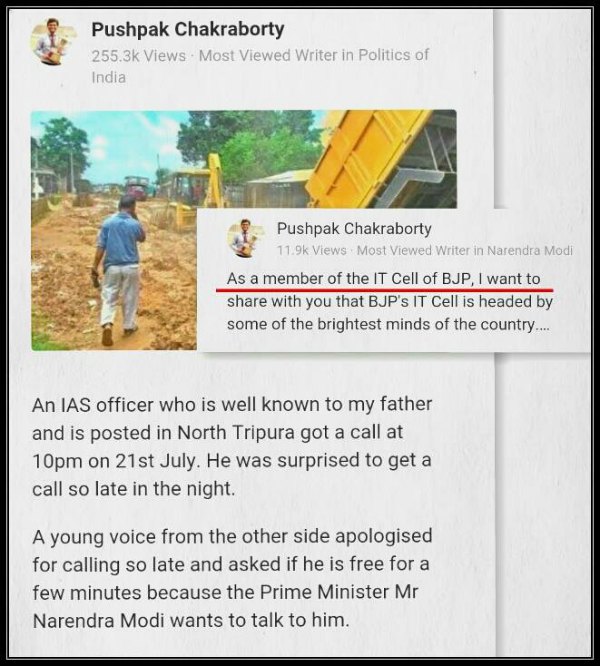 Image Courtesy: Facebook Page – Unofficial: Subramaniam Swamy
The day I heard this news, I could sense something fishy in the story projected. Here is my analysis on the same, probably that might be the truth.
Did PM Modi Really Call IAS Officer of Tripura?
An IAS officer Sandeep Mahatme in charge of North Tripura District has done an excellent job by repairing 15kms. of National Highway 208 on an urgent basis in the interior Assam within just 6 days with the help of 360 truck load of materials and 8 JCB's round the clock to ensure supply of fuel to the entire state of Tripura whose main lifeline NH 44 is in poor condition. This massive repair work was applauded and supported by local people of Assam.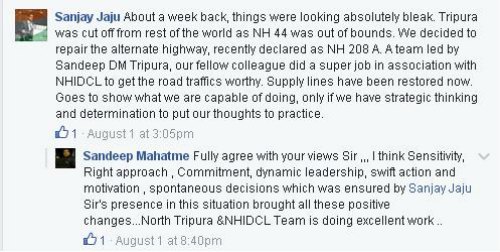 In his Facebook post, the IAS officer in question Sandeep Mahatme mentioned how North Tripura District Administration is taking all possible measures to supply fuel and essential commodities to the landlocked state of Tripura. He also thanked Senior IAS Mr. Sanjay Jaju for his support and commitment for his spontaneous decisions and swift actions that brought all the possible changes. However, it is worth noticing that nowhere does he mentions about how PM Modi called him personally at 10 PM in the night to take care of the project.
Then here comes this story on July 30th which has entirely different news by ABPLive. In a press conference, the Tripura PWD minister released copies of all the state government's letters to the central and Assam government, clearly stating that the central government has not been showing its due responsibility toward the people of Tripura.
Did PM Modi Really Call The IAS Officer?
Now if PM Modi really called the IAS officer and even apologised to him which is something contrary to Modi's track record (Check out : "Blast from the past"), then, here are some of the questions which he must answer:
Firstly, Why PM, Modi is talking directly to a District Collector and not the concerned minister Nitin Gadkari or the Chief Secretary of the state? Should the people of India assume the fact that PM Narendra Modi doesn't have any kind of trust in his own ministers and they are nothing but nominal heads as everything is done by Modi alone? Or should the people of India accept that PM Modi's ministers are not at all loyal to him.
Secondly, the story seems to be inspired from the news reported by The Indian Express, which talks about Highway connecting Tripura which was blocked for more than 6 weeks. The DM talks about NHIDCL allocating 50 lakhs and his department carrying out the works. However, the article does not mention anything about PM Modi or Nitin Gadkari calling the IAS officer for his help. Nevertheless, there is no iota of doubt that BJP IT Cell has yet again cooked a terrific new story, feeding hundreds of Modi Bhakts who support and promote him blindly.
Sometimes I feel that Narendra Modi's image is degraded by his own supporters and workers online. I would suggest PM Modi not to spend crores of money in PR to grab attention. Here is the tender for the project which was called by NHIDCL for the urgent repair of the highway on July 1st with last date on July 15th for 18 Kms.
Thirdly, If PM, Modi is so active, what stopped him from repairing the Highway which was blocked for more than 6 weeks? Also, if it is indeed a true story, then the IAS officer would've proudly talked about the same to the media. However, he didn't mention a single word about PM Modi and the same can be verified from the Facebook page of Sandeep Mahatme.
PM Modi Should Warn BJP Supporters From Spreading Lies
I would request PM Modi to keep an eye on BJP supporters, BJP workers and BJP Ministers and warn them against using Photoshop, cooking fake stories, and/or spreading lies. After all, it is an embarrassment not only to the Prime Minister of India but also to the Nation.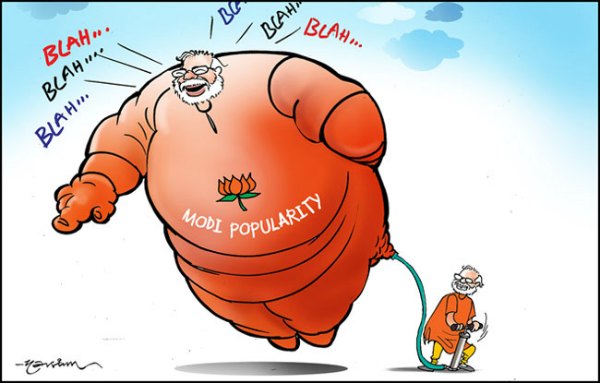 Image Source: INDIA TODAY
Besides, it is such a shame to see how even the leading newspaper journalist in India is posting and publishing such stories without any verification or authenticity. I would sincerely urge our entire journalist lobby to find out the facts before publishing the same if they want people to believe them and their sources. 
Do Not Miss Reading: 
The Vibrant Vijay Goel: Things Only the Indian Sports Minister Can Do! 
Social Media Is Not An Authentic Source Of Modi Development Model For India 
Yogi Adityanath Vs Anupam Kher – The Battle of The Biggest Sanghi!
5 Good Things Done by IAS Officer Tukaram Mundhe in Navi Mumbai
Editor's Note: NationalViews is a home for people with views and opinions that caters to the changing India. It is a place for the common men to articulate their views and opinions on any topic. A platform where you express and we publish. Mail us your opinion, views, and thoughts at editor@nationalviews.com and we will help you reach out to the masses.