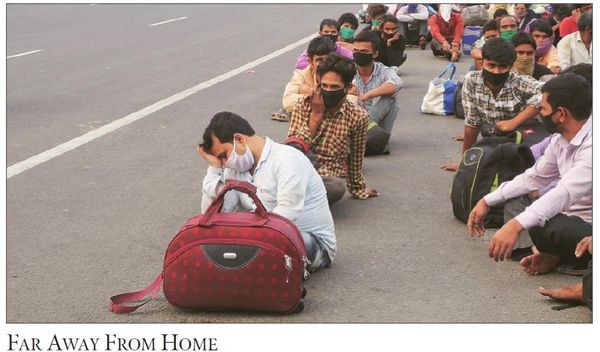 (Corona count 1251 cases and 32 deaths )
Corona virus 2019 (Covid-19 aka 2019-nCOV), has created havoc all over the world. India with its huge population is at the risk of being entering into the third stage (community transmission). This is the reason why the entire nation is in 21 days lockdown as we combat this massive war against corona.
With the end of the 6th day, migrant workers are the worst hit, some being denied entry into their home states. Government of India informed all the state governments to block the state borders and control the migrant flow.
21 Day Lockdown: Woes of the Migrant Workers!
Migrant workers are in dire need of food and shelter. With no work available laborers heading to villages on foot are stopped by the authorities and are being told to stay wherever they are with food also provided. But this is not the case as laborers speak lack of food and hygienic shelter.
Government is planning for more testing including the hotspots in all the major cities. And the government informed India is still in local transmission. With news spreading about the further extension of the lockdown, cabinet secretary informed of all such rumors are baseless.
Gautam Buddha nagar District Magistrate was transferred, as he had applied for leave after the CM of UP took a hand on all the officials for blame gaming in time of crisis.
21 Day War Against Corona: Woes of the Farmers
Farmers are worried about the procurement of the crops. With the harvesting season for the rabi crop, absence of labor is posing a major challenge for small farmers. With supply chain affected, transport of necessary goods (vegetables and milk) has been impacted.
The Massive Slip in the Economy:
PSU banks has been told to work full hours. The cost of the 21 day lockdown has been pegged at 9 lakh crore(4% of) GDP of India. New investors have started to invest in the market, which is said is because of the fall in the market.
International Lockdown:
Spain saw 812 death in 24 hours on Monday. US president announced further lockdown as top scientist informed around 20 lakh people would die because of corona virus. Russia has told its citizens to be indoors. Italian officials have informed its citizens to be prepared for a lockdown for extended period as the war against corona continue both nationally as well as internationally.
Also Read: Coronavirus Myths vs Facts Straight from WHO – World Health Organization