According to the press statement released by Lt Gen Ranbir Singh, Director General of Military Operations (DGMO), there has been increasing infiltration by terrorists across LoC in Jammu and Kashmir on a continual basis. The terrorist attacks on Punch and Uri on 11 September and 18 September 16 are an example of the same. Moreover, the Indian army foiled almost 20 infiltration attempts at or close to the Line of Control during this year.
Cheers and salute to our Brave Soldiers and Indian Army! To the rest, especially the right wing enthusiasts, this is not the first time India has conducted such operations. Many Covert ops have been conducted in the past, but this is the first time that the Indian Army has publicized it.
Spreading Objectionable Map of India and Objectionable Tweet
It is interesting how hard core right wing people like Minhaz Merchant is spreading made-up news on social media and the same is being  exaggerated by others. Hope this doesn't turn out like Myanmar Covert Ops. Whatever the reasons, Indian Army has done a fantastic Job here. Hope it doesn't escalates into full blown war. 

Meanwhile, when the whole India is celebrating Armed forces retaliation in a befitting manner, BJP's Facebook Page is showing all sort of wrong Map of India. Unfortunately, it dismisses the region for which our soldiers are staking their life.
According to a draft bill 'The Geospatial Information Regulation Bill 2016', it will be mandatory to take permission from a Government authority before acquiring, publishing, disseminating or distributing any geospatial information and material of India. Illegal or wrongful acquisition or depiction of geospatial information (including wrongful depiction of map) could land the violators in jail with a maximum term of seven years and fine ranging anything from Rs. 1 crore to Rs 100 crore. 
Also Read: Post Surgical Strikes: India Should Apply These Theories of Chanakya Against Pakistan
Now have a look at this objectionable image which has been posted by the official Facebook page of Bharatiya Janata Party (BJP).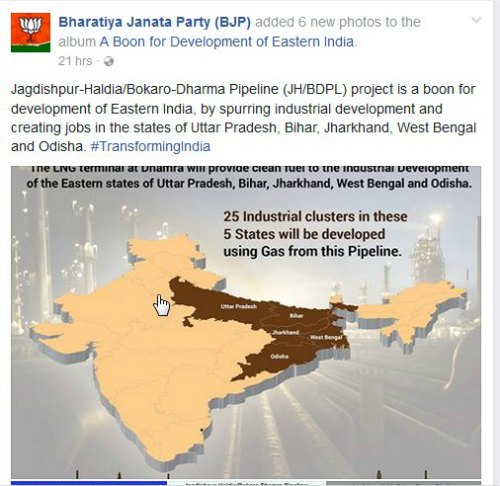 It is quite ironical how the ruling party drafts a bill and goes against it by posting such a map on it's social media account. It is high time the ruling party and opposition parties stop spreading objectionable tweets and map of India. As far as the above map is concerned, I guess BJP must tender an apology on social media. No wonder, they would not want to set a wrong example.
Jai Hind..!!
Editor's Note – Have a counter view on the same? Do share it with us on editor@nationalviews.com and we shall publish the same with credits