Looking into the recent surgical strikes in POK, the war has just begun. Prior to it, the Indian government has adopted policies like isolating Pakistan in world diplomatic map, boycotting SAARC summit which was likely to be held in Pakistan now postponed, gathering supports from countries like Bhutan, Afghanistan, Russia, Bangladesh in the process, social media campaign called "intellectual terrorism", Sushma Swaraj as spokesperson in UN conference, cutting down economic relations, withdrawing MFN status, filing petition in the USA against Pakistan and many more.
Somehow due to economic interdependence and bilateral trade, China has also kept mum because India is a huge captive market for the country now.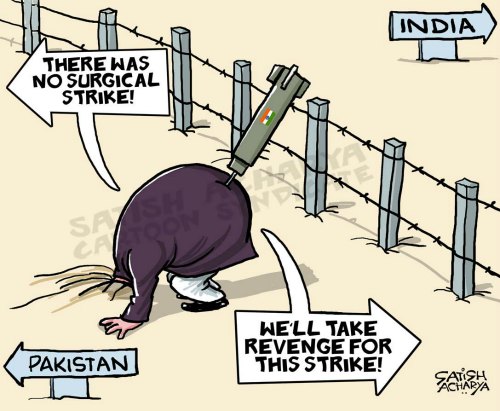 Post Surgical Strikes – Will There Be India VS Pakistan?
I feel all these circumstances are indicating – the future war between the two countries. But if war happens, around 200 crore people would instantly suffer. All of a sudden the world economy would suffer because 100s of nuclear weapons would be utilized and suddenly we would face a drastic climatic change which in turn is going to affect agriculture which is a major shaping factor. Many people would die due to food scarcity which would occur aftermath. It's now highly crucial to think diplomatically because India was/is never intolerant.
Also Read: India vs Pakistan War post Uri Attack? This Is Not Bollywood! 
We have to bring back Chanakya into warfare. Kautilya is never obsolete – he is forever in maturity when we talk about Arthashastra. Everything is possible in immortal love and global war zone. We need to think smart to avoid massive collateral damage of the possible war.
Since intelligent nations have no enemies, few strategies of Chanakya are suggested below-
India needs to enhance its foreign relations with Americans and Chinese because these two countries would be the major influencers in the war against Pakistan. It is important to remain safe distance from kings or market leaders says Vishnu Gupta.
This can happen economically. We need to share with care. Indian market to be made more lucrative. Kashmir denizens will be majorly affected who are like sandalwood trees of the soil. We have to mobilize them into nation building projects.
As far as technological exchange is concerned, we have to modify our war weapons first. Yep, India is likely to get some radar invisible fighter planes in future if it happens. Moreover, Russian dependency has to be reinforced because we enjoy a healthy support since World War -I & II.
We need to convince the west that terrorists are not freedom fighters. India should opt for more intelligence and intellectual capacity building –which can optimize the Indian life. Bad political management should be neutralized along with continuous anti-terrorism campaign in global social media.
Also Read: India is tired of Mann Ki Baat & Show Your Gun Ki Baat and Real Visionary Outlook 
Together we have to act as one because enemies target you weaknesses. It's an urge all political tycoons. Strategic leadership to be adopted in the armed forces. Defensive and offensive tactics to be used. Narendra Modi to think positive even if there is a risk of failure. In the end, I would be recommending for a limited war game because we have to think rational.