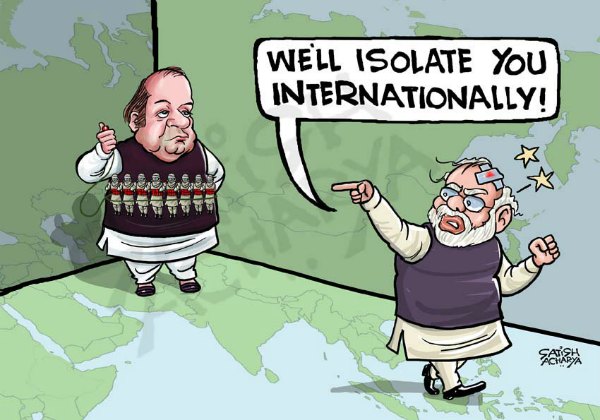 Post Uri attack, India as a nation has stressed to isolate Pakistan globally by emphasizing its alleged support to terror groups. Labeling it as a terrorist state, Home Minister Rajnath Singh tweeted that the nation should be isolated by India completely. 
This is not the first time India is wanting to adopt the 'isolation' strategy. In 2008 too in the wake of the Mumbai terror attack, India had tried to implement a similar strategy. However, isolating Pakistan internationally is a task in itself because it might easy to announce but difficult to practice. Here are the reasons why: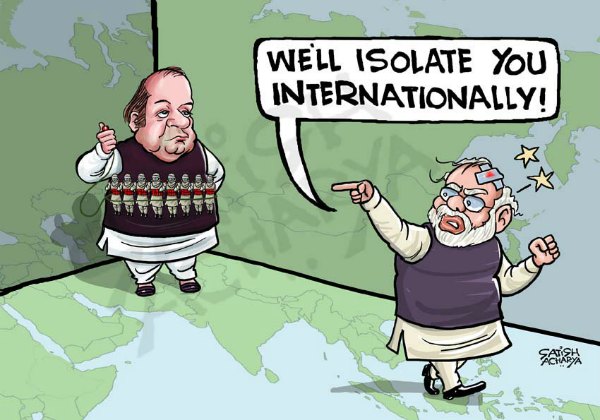 Image Courtesy: @SatishAcharya via Twitter 
The US Continues to Support Pakistan
Pakistan has strategic ties with almost all the superpowers including China, US and Russia. Somehow the United States do not cease to aid Islamabad. Even after the huge fallout due to counter terrorism, United States funds as much as $320 million as security aid to Islamabad. Besides, the United States have always been two-timing as far as Indo-Pakistan associations are concerned. And now that the US didn't mention about Pakistan in the Uri Attack message, looks like it will continue to play at both the sides by performing a balancing action.
Also Read: India vs Pakistan War post Uri Attack? This Is Not Bollywood! 
Isolating Pakistan after Uri Attack? They Have The Great Wall of China
Attempts to isolate Pakistan internationally will straightaway make China more protective towards Pakistan. No wonder, Beijing has invested heavily on an infrastructure project that connects its Western regions to the southern coastline of Pakistan. Interestingly, an important part of the project passes from PoK (Pakistan-occupied Kashmir). Besides, China also voted against India's appeals at the United Nation to scorn Pakistan. This is indeed a "all-weather" alliance like India shares with Russia.
There is Hardly Any Global Condemnation of Pakistan post Uri Attack
India has openly blamed Pakistan-based Jaish-e-Mohammed for Uri attack. However, except Russia none of the countries openly mentioned Pakistan in their statement while condemning the Uri Attack. The US referred the Uri Attack as an attack in the valley and the UK referred Uri as a part of "India-administrated Kashmir." With none of the countries showing their solidarity against Pakistan that harbors terrorists (Osama Bin Laden was found in Pakistan territory by the US soldiers) in spite of getting an opportunity, there is hardly any hope of their co-operation against Pakistan.
Issues of Control
Since Pakistan is a beneficial ally to most of the super powers including the United States and the United Kingdom, it gives it a substantial leverage on the global pitch. Besides, it is clear that US will continue to aid Islamabad until the US troops are stationed in Pakistan's neighboring country Afghanistan.
Also Read: Reasons Why India Shouldn't Be Helping Balochistan Against Pakistan
The Support from Organization of Islamic Countries (OIC)
Pakistan over the years has always used OIC as a platform to garner support on the Kashmir issue and the nation have always enjoyed the backing of OIC – Organization of Islamic Countries even if many of the member countries share India's worries in private.