India has now become a key driver of universal poverty alleviation because of its fast developing status but still is lagging behind as far as the performance of other Asian countries like China is connected.
With rising Indian lifestyle, the extreme poverty eradication by 2030 is slowly growing as an acute problem of modern centuries. Narendra Modi has to work like a short gun. We want "Gun Ki Baat", Mann Ki Baat is obsolete and we the people are tired because we have to check global terrorism which is again a crusader of development.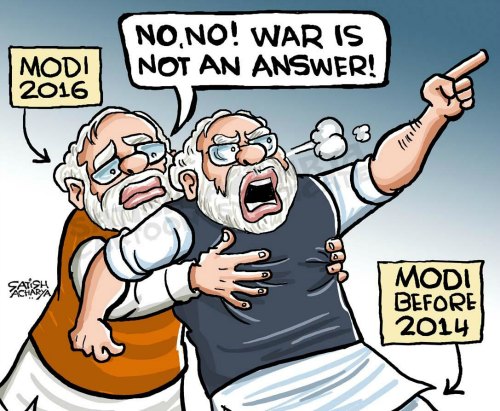 It's very shameless – Pak actors not showing any reaction on the recent Uri attacks. We have to fight from every front. It's just a bottleneck to Indian sustainable development and livelihood and in turn affecting the global economic progress of Indian soil.
We need to find out a roadmap to escape this curse which has made our GDP blindsided. In BRICS, India is now ranking last.
No Mann Ki Baat, It's now action time. The framework is penned below:
We need to put certain barriers on the fast pace of poverty upheaval for better prosperity. First of all, we have to strongly focus on the poor and downtrodden communities who have no access to modernity. Only developing agricultural economy is not strong enough. We have to plan something bigger to secure them by providing better facilities like food and nutrition.
If malnutrition can be checked, then we have own 50% of the battle. For this the government should pay attention on building better connectivity. Because if your neighbor is rich, the richness waves would automatically transmit into your territories.
Other sectors like services & manufacturing should keep their promises as far as rural hiring is concerned. These people are laborious and may prove as better employees than novice freshers- if well trained and certified and can even be more productive in long run since the ROI gets automatically better after certain period of time due to their fewer expectations. Hence, it is an urge to create more jobs and better circle of life.
Above all, we have to give them stability, security, and dignity. Although there are lots of happenings in world skills, it's now time for India to revisit its policies as far as persons with disabilities, women and other under-privileged communities like S.C., S.T. and OBCs are concerned. They should be given right incentives at work. We have to bring them back to mainstream and education to play a vital role in this conversion process.
As far as my knowledge is concerned "Smart Work multiplied by Skills can bring Success". But if we add these two factors we have to add many skills within an individual which is again like hell of work. Addition is almost prohibited, only we have to multiply to get the magnitude higher.
Also Read: Skill India: A Panacea to the Wounded Indian Civilization 
It's again suggested to create a large number of corporate hubs at many good locations. It's time to create infrastructural development, more income opportunities, and better human development index –this will lead to gigantic success when we talk about "Poverty Eradication through Education".
All we need is to carry out a comprehensive census of the beneficiaries so that government help goes to right pockets.