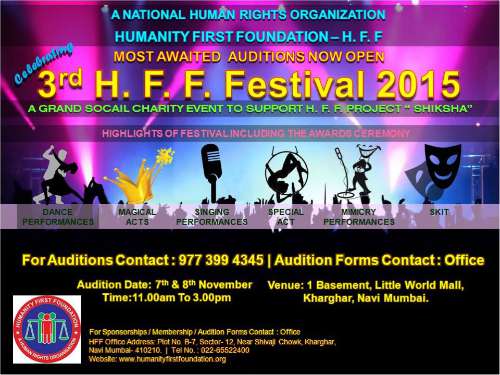 Most of us have seen unprivileged kids in Indian Society working as a child labor either on the construction site or a tea stall or as a car mechanic, and we all know how it affected us to see such a sorry state of these kids.  At times nobody forces them to do so, but being responsible they have an urge to help their parents.
If you notice these kids are quite intelligent, making us wonder what if such brilliant kids are trained in right direction, what if they too attend the normal classes, and what if these kids get education too? Perhaps instead of helping their parents by working on a construction site they can take tuition and increase the standard of living. What's more, they too can motivate others, multiplying the process – Just imagine, what a difference we'll end up making!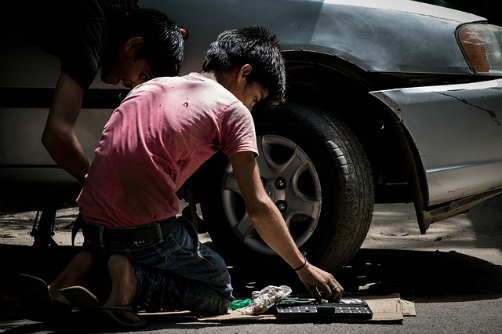 Image Courtesy: suvajit via Pixabay
11 November is a National Education Day in India. It is the birth anniversary of our first education Minister Maulana Abul Kalam Azad. We all feel strongly about this cause because we know 'education' is one of the very basic rights of human being and it should not be determined by 'monetary' status of an individual. It has to be independent of one's financial status. No matter how rich or poor you maybe, you get education, that's how India will revolutionize socially, economically and politically as well – Don't you think so?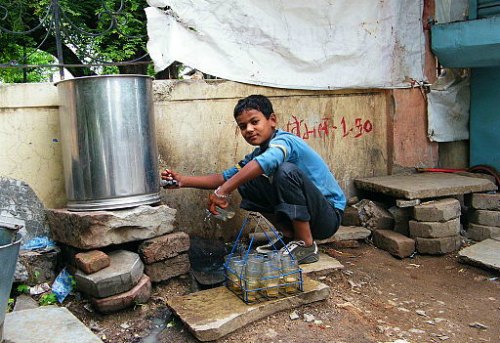 Image Courtesy : By Abhishek727 Abhishek Mishra (Own work) [CC BY-SA 3.0 (http://creativecommons.org/licenses/by-sa/3.0) or GFDL (http://www.gnu.org/copyleft/fdl.html)], via Wikimedia Commons
Perhaps this is the reason why Project Shiksha by Humanity First Foundation (HFF) is closely being launched to the Education day. Good news is that this Human Rights NGO is giving all of us a platform. Yes 'individuals' and 'groups' with various backgrounds, skills and efficiency can go for the auditions on 7th and 8th November in Little World Kharghar, Navi Mumbai from 11 am to 3 pm.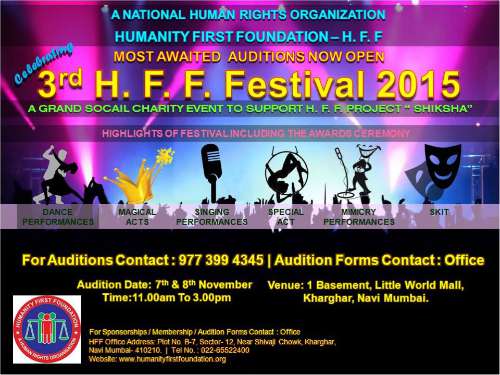 Here is our list of top 5 ways to perform for Project Shiksha Awareness
If you are a dancer,
Let your dance have a theme that gives out a message how each and every unprivileged as well as Economically Backward kid has a right to education like every middle class boy or a rich kid. Whether you perform solo or in group, you can definitely give out a strong message to everyone how they can encourage any education cause. This is how you can perform for a cause, this is how you can perform for education and Project Shikha.
If you are a Singer/Musician,
Remember the Michael Jackson song 'Heal The World' that he had sung for UN. The lyrics "Make a better place for you and for me and the entire human race" gives us all Goosebumps. No wonder, the song became a national anthem for all the human rights organization. You can certainly do a similar thing for the Education Cause – Project Shiksha.
If you are into Skits
Well, dramatize everything that you have seen in everyday life – That moment which pinched you hard, and compelled you to motivate 'Free Education to Every Child'. Let the world see how painful is their life, bring the reality on the stage, inspire the thousands in the audience section, motivate them to be the active participants in Project Shiksha and not just silent spectators. Skits are the biggest motivation – One particular skit changed Mahatma Gandhi forever. Come forward and be the inspiration, be the voice of the kids who are devoid of education.
If you are a Mimicry Artist
Mimicry is fun, and people enjoy it the most. Being creative artists, I'm sure you all can make people laugh as well as cry by enlightening them with the sorry state of education in our country and how every individual can contribute to bring the change.
If you are a Magician
Magicians, you guys know the best – You guys are excellent when it comes to convincing and making people 'believe'.  You can definitely be an asset to this noble cause in your own unique way.
And here are the ways to indirectly be an active performer
If you are a Parent
Simply encourage your kids in these activities, let them come forward and contribute in their own way. Let them participate. You never know how the process can modify him/her as an individual as well.
If you are an Active Person Online/Offline on Social Media/Social Media Groups/WhatsApp Groups
We know you spread happiness by sharing jokes and funny memes that brightens up our day. Don't be a silent spectator share the word, let it reach out to as many performers so that they come and motivate others, so that more and more people come to watch them and Project Shiksha gets a right start.
So what are you waiting for, start preparing – The auditions will be from 11 am to 3 pm on 7th and 8th November. Venue – 1 Basement, Little World Mall, Kharghar, Navi Mumbai. Auditions are completely free.  For the audition forms contact 9773994345 or the HFF office – 02265522400
Do Not Miss Reading
HFF Festival – Not Just an Event But a Hope for the Unprivileged Kids & India's Bright Future!
10 Reasons Why You Must Join HFF – Humanity First Foundation