On this precious day, I would like to remind you, PM Modi that how you have betrayed the people of India on every aspect. Before the election, you chanted and preached people of India about "Ache Din", but now that too is denied by the BJP led Central Government.
As per your so called vision 9th June 2014 which is endorsed by Bhakt Jan and your social media army, who were well versed with the lexicon of abuse, you became a visionary leader. However, you are no way a visionary leader. The reason being, you started developing a nation on a false foundation with all sort of platitude and rhetorics.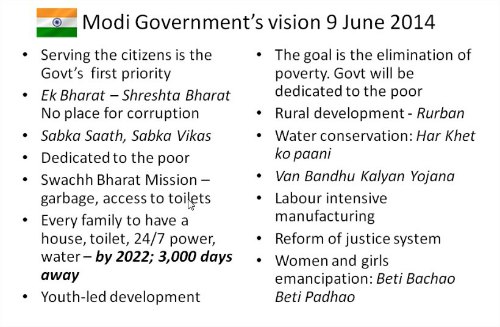 PM Modi said, serving the citizen is the Government's first priority and in addition to that you said "ours is a government that is dedicated to the welfare of the poor, the marginalized", but then why the farmers and the poor of our country are going through a lot of pain under your hegemony? You started Jan Dhan Yojna but nobody knows how it is working, functioning and/or serving the poor of our nation. Why don't you say that the bank officials are quietly making one-rupee deposits, many from their own allowances and some by keeping the money aside for office maintenance? Their ostensible goal is to reduce the branch's tally of zero-balance accounts. Is this your Jan Dhan Yojna?
Ek Bharat, Shreshta Bharat?
You, PM Modi mentioned Ek Bharat, Shreshta Bharat to tackle the problem of corruption. However, there are not one but many scams surrounding BJP. Why don't you talk about Vyapam Scam, NLUM Scam, Modi Gate, Maharashtra Scam (wherein Pankaja Munde is involved), Land for Nano plant at low rate, Land sold cheap to Adani Group, Essar Group's encroachment, Cattle feed fraud, GSPC Scam, Rs500 crore SSY scam, Swan Energy and likewise many more scams? Interestingly, you sack your own member for exposing a scam.  BJP member Kirti Azad who was against Arun Jaitley and the DDCA Scam is an open example. Is this your strategy to curb corruption in India?
PM Modi Talked About Sabka Sath Sabka Vikas
You preached our farmers about Sabka Sath Sabka Vikas, something dedicated to poor. However, you are neither with the farmers, poor nor are you with the middle-class family. You are only with the elites of our country like Reliance, Adani and some of your friends abroad. If you had stuck to your own words then perhaps Supreme Court wouldn't have reminded you to take action on drought hit areas. Strangely, you are not writing off farmer's loan but you are willingly writing off loans of elites. Is this your Sabka Sath Sabka Vikas model? Perhaps it's only about the development of crony capitalist.
You talked about Swachh Bharat Mission and access to toilet to all, but why don't you talk about the wrong figures highlighted by Smriti Irani about making of Toilets.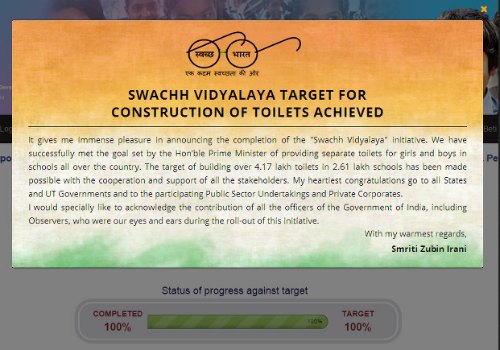 According to CAG, the country's sanitation programmes have failed to achieve the desired targets due to planning weaknesses, large-scale diversions, wastages and irregularities. Besides, we have still not heard about Rs 2,958 crore that was spent on Ganga 'clean-up' without visible results.
PM Modi you talked about Youth-led  Development and about startup India but why didn't you mention that getting tax benefits under 'Startup India' programme is tougher than cracking IIT? Just 1 out of 728 gets the benefits i.e. 0.13% success rate. Why don't you talk about Jobs (which still does not exists) what you had promised before 2014 general election? Meanwhile, when you are celebrating your birthday, the Gujarat Police arrests Dalit leader Jignesh Mevani. Is this the way you celebrate your Birthday PM Modi…!! Is this your agenda towards youth led development?
Labour intensive manufacturing was one of your agenda but then you are not accepting Labour Union demands which are very genuine and will impact middle-class family hugely. Have you given Universal social security cover to all the workers? Have you controlled price-rise through universalisation of public distribution system and banning speculative trade in commodity market? Have you taken any step towards unemployment through concrete measures for employment generation? Have you accepted Minimum wages of not less than Rs 18,000 per month with provisions of indexation? Have you taken any steps towards compulsory registration of trade unions within a period of 45 days from the date of submitting application; and immediate ratification of ILO Conventions C 87 and C 98? Is this your way to betray the labour class of our nation?

Reform in justice system is the biggest lie ever as Chief Justice of India had to hit out on you PM Modi for your silence on judicial appointments. The Chief Justice of India T S Thakur openly expressed his disappointment over your silence on judges' appointment in the I-Day speech. Even Supreme Court is now compelled to teach the Central Govt about the meaning and definition of democracy and you PM Modi talk about Reforms in justice system.
Beti bachao Beti padaho was said many a times by Narendra Modi before 2014 general election but then Operation #BetiUthao happened wherein Sewa Bharati, an organization affiliated to RSS Sangh Parivar trafficked as many as 31 young tribal girls from Assam to Punjab and Gujarat to 'Hinduise' them.
Lastly, I wish PM Narendra Modi on his birthday, a good health reminding him what he promised!!!
Do Not Miss Reading: 
With PM Modi as Brand Ambassador, Know What to Expect from Reliance Jio Connection! 
Open Questions to PM Modi by a Common Man after His interview to CNN-News 18