Gorakhpur, the bastion of BJP from 1989, where Yogi Adityanath was elected for five consecutive terms (starting from 1998) slipped away rather very tragically yesterday when SP candidate Praveen Kumar Nishad could emerge victorious by 21,881 seats. A saffron citadel for nearly three decades, this combined victory of SP-BSP in Gorakhpur is a major win especially now that BJP's popularity is at its peak.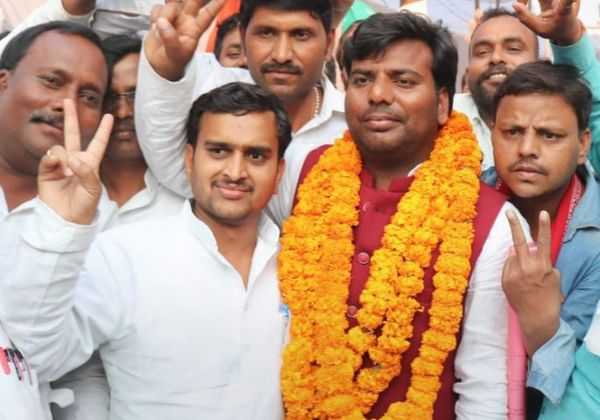 With a change so different in Gorakhpur politics, let us dig into the details of the man of the moment – Praveen Kumar Nishad, the new MP from Gorakhpur constituency.
Praveen Kumar Nishad urf Santosh Nishad is only 29!
Praveen lovingly called as Santosh is only 29 and that's precisely the age of BJP's hold in Gorakhpur constituency. Interestingly, he has never seen anybody else but BJP in his constituency and has brought the much-awaited change he and the others wanted to see. What makes his profile all the more interesting is the fact that he is a first timer.
The New MP of Gorakhpur is a Mechanical Engineer
Nishad did his schooling from Gorakhpur's Air Force school and went on to become a Mechanical Engineer from the Noida Institute of Engineering and Technology. Post that, he also worked in a firm in Rajasthan during which he enrolled for a distant MBA from Manipal University. So, unlike earlier times, the new Gorakhpur Member of Parliament is well-educated.
Praveen's father Dr. Sanjay Nishad is the President of NISHAD Party
A former member of Bahujan Samaj Party (BSP), Praveen's father Dr. Sanjay Nishad launched the NISHAD (Nirbal Indian Shoshit Hamara Aam Dal) party in 2016. Praveen was appointed as the spokesperson. However, his tryst with politics started much earlier when he was called from Rajasthan to campaign for his father ahead of the Lok Sabha elections in 2014. Dr. Sanjay Nishad contested for both 2014 Lok Sabha and 2017 Assembly seat but lost on both the occasions.
Praveen Kumar was Handpicked by Samajwadi Party Leader Akhilesh Yadav
With 3,50,000 votes of the community in Gorakhpur, Akhilesh Yadav approached the NISHAD party for an alliance. He specifically chose Praveen instead of his father, the party President, as he wanted a young and emerging face to represent the alliance in order to win the by-poll elections. And what a correct decision it was!
The Family Life
The 29-year-old MP lives in Padri Bazar area of Gorakhpur city along with his family. He is married to Ritika Sahani (a government servant) and has two kids. His elder brother Dr. Amit Kumar Nishad is a practicing doctor in Delhi while younger brother Shravan Kumar Nishad is an engineer and quite active in the Youth wing of the Nishad party. His mother's name is Malti Devi. Praveen's grandfather was a subedar in the army who fought all the three wars that waged post-Independence.
Praveen Kumar Nishad Has No Criminal Records
Unlike his predecessor, the new MP of Gorakhpur has a very a clean record. There are no complaints registered against him. Being a first-timer, he is completely controversy-free as well.
Young, educated with a clean record, it would be interesting to see how this David who could beat the Goliath move ahead in bringing both, peace and progress in the Gorakhpur constituency which till now have been deprived of many things that even small cities in other state have.