Mahira of Kundali Bhagya is that unwanted character that nobody wants in the TV serial. After all, she is someone who is coming in between Karan and Preeta. In addition, her wicked ideas and plans are so gross that even the super villain Sherlyn seems less in front of her. No wonder Mahira's day by day obsession for Karan and her new wicked plans are irritating fans to altogether different heights so much that almost everybody dislikes her to the core.
Here are 5 reasons as to why #PreeRan Fans Hate Mahira of Kundali Bhagya so much
Mahira Is Evil
She was introduced as a sweet girl who is in love with her childhood friend Karan who turned out to be the famous cricketer Karan Luthra. However, off late, she is no more that sweet girl but an evil soul who can go to any extent to gain Karan's attention and sympathy. Continuously scheming against Preeta and tricking Karan, Mahira in Kundali Bhagya seems to be evil more than the malicious Sherlyn.
The Way Mahira Has Been Planning and Executing against Preeta
From planning Preeta's murder to pushing her in front of a moving truck, Mahira did every possible thing to get rid of Preeta from Karan's life. When all her plans failed, she formed conspiracy theories against Preeta and even created a scene in the hospital to show how Preeta is responsible of her accident. (And she even bribed the doctor). The way she has been continuously scheming things against Preeta and acting innocent in front of everybody is now irritating fans massively.
And Then She Acts all Innocent in front of Karan and Luthra Family
Mahira is fooling everybody especially Karan. The girl acts all goody two shoes in front of Karan, even assures him that she would bail out Preeta from the case by speaking in her favour in the court but when the time comes, she plays smartly. Mahira not only gets herself kidnapped to run away from the situation but even tries to seek sympathy from Karan and the entire Luthra family. Sad part is, nobody including Preeta, Rishabh, Kritika Sameer or even Srishti Arora has any doubt on her.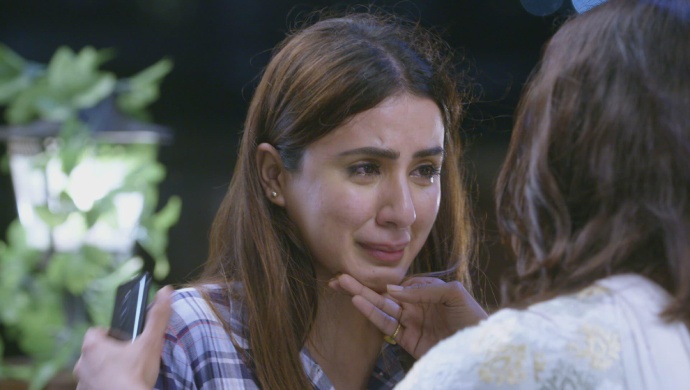 Mahira of Kundali Bhagya Is Using People to her Own Advantage
From acting all bechari in front of everybody including her mother and ladies of the Luthra family to misleading the Luthra brothers in her gimmicks, Mahira has become an expert in using people to her own advantage. Interestingly, she even used Sherlyn much to her surprise. The only hope of #PreeRan is Sherlyn exposing Mahira so that Karan gets to know the real face of Mahira. But, why would Karan believe Sherlyn?
Mahira Knows Karan Loves Preeta and Is Married to Her Yet She Is Desperate to be Karan's Wife
Everybody can see that Karan is madly in love with Preeta and no matter how angry he is on Preeta he can go any extent to save her or even care for her. Mahira too is aware of this fact and she also knows that it would be very difficult to make Karan love her, still, she has been a constant pain for both Karan and the fans.
It is high time that Kundali Bhagya's story stop running around the bush and expose Mahira. That reminds me of Mahesh Luthra. Please get him out of the coma and let everybody know the real truth of Sherlyn. Come on, it's high time you unite Karan Preeta. Whar say #PreeRan fans?