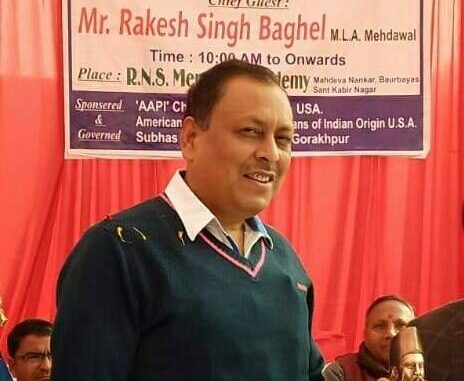 Rakesh Singh Baghel the BJP MLA from Sant Kabir Nagar was recently hit with a shoe by a BJP MP Sharad Tripathi in a meeting that was conducted primarily to discuss about the development projects of Sant Kabir Nagar district, Uttar Pradesh. Baghel who retaliated with a slap has an interesting background as well.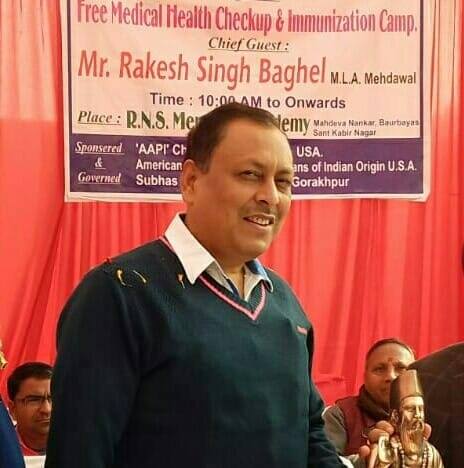 Here we share everything about the BJP MLA from Sant Kabir Nagar who was hit with a shoe by Sharad Tripathi, the BJP MP
Rakesh Singh Baghel is the BJP MLA from Mehdawal
Approximately 250km from Lucknow and around 50km from Gorakhpur, Yogi's bastion, Mehdawal (also Menhdawal) is a small town in Sant Kabir Nagar district, Uttar Pradesh. Baghel won the assembly elections of 2017 defeating BSP's candidate Anil Kumar Tripathi by a margin of 42,914 votes. Interestingly, Baghel revived BJP in this constituency after a gap of more than two decades.
BJP's Chandra Shekhar Singh remained MLA of Mehdawal from 1989 up till 1996 elections after which Samajwadi Party's candidate took over till Baghel won the assembly elections of 2017.
Early Life and Background
Born on February 13, 1967 in Medrapar village, Bakhira, Sant Kabir Nagar district, Baghel did his Diploma in Civil Engineering from Government Polytechnic in Gorakhpur. He belongs to the Kshatriya community and his father's name is Mukund Singh Baghel. His wife Sheela Singh is a housewife and the couple together have two daughters and a son. The family resides in Vishalkhand area of Gomti Nagar in Lucknow.
Baghel is a Former Member of Yogi Adityanath's Hindu Yuva Vahini
Hindu Yuva Vahini (HYV) is a prominent Hindutva group founded by Yogi Adityanath in 2002. The group has been infamous for all the wrong reasons especially for its far-right Hindu nationalist views. MLA Rakesh Singh Baghel is a former member and was quite actively involved in its activities including that of communal violence and riots in and around the area which today seems to be his own constituency. Because of his association with HYV, he is also believed to be close to Adityanath who is now the CM of Uttar Pradesh.
Controversies and Criminal Charges Against Rakesh Singh Baghel
In 2010, he was part of a communal violence in Belhar village in Bakhira area where the question raised over the measurement of a land next to a Kabristan.  A case was soon registered (382/2010) and there are criminal charges against Baghel under several IPC sections including 147 (Rioting), 189, 323 (Voluntarily causing hurt), 332 (Voluntarily causing hurt to deter public servant from his duty), 336 (Endangering life or personal safety of others), 341 (wrongful restraint), 353 (criminal force to deter public servant from discharge of his duty), 427 (Mischief causing damage to the amount of fifty rupees), 452 (House-trespass after preparation for hurt, assault or wrongful restraint) and 504 (Intentional insult with intent to provoke breach of the peace).
Allegations on Rakesh Singh Baghel
According to BJP MP Sharad Tripathi who trashed Baghel with his shoe after he hinted him to talk to his shoe, the Mehdawal MLA is involved in illegal activities. While talking to the media Tripathi said,
"Baghel resorts to pressure tactics which is why all the contracts including that of road construction and sand mining are either awarded to him or his men. Why only he or his men are getting the contracts, are other contractors dead?"
In December 2018, Akhil Bharatiya Braham Ekta Parishad alleged that Rakesh Singh Baghel passed objectionable remarks on the Brahmin community.
History of Rift Between Rakesh Singh Baghel and Sharad Tripathi
The rift between Baghel and Tripathi has been going on from quite some time now especially after Tripathi choose to ignore and avoid all the three MLAs from the Sant Kabir Nagar district during certain events that even saw the presence of PM Narendra Modi and CM Yogi Adityanath.
Read More: The Background Insight & History of Rift Between Sharad Tripathi and Baghel