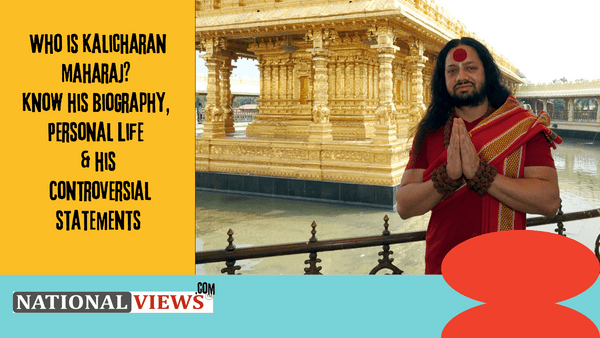 So, a saffron clad seer Kalicharan Maharaj with big red dot on forehead is in the news for using abusive terms for Mahatma Gandhi.
Who is Kalicharan Maharaj?
Well, for starters his real name is Abhijit Dhananjay Saraag. He is from Akola, Maharashtra and his father Dhananjay Saraag owns a medical shop in the same area. He is 48-years old and have studied only till 8th std. interestingly, he claims himself to be the son of Maa Kali. He shot to fame with a YouTube video (2020) where he is seen singing Shiv Tandav Strotam.
Kalicharan Stayed with Bhaiyyuji Maharaj in Indore
Going by the sources Kalicharan was sent to his aunt's place in Indore when he was young. This is how he is associated with Indore. Apparently, during one of his stays, he started visiting Bhayyuji Maharaj's asharam and even became close to him. It is after his association with Bhaiyyuji Maharaj, he started getting popular amongst people.
Abhijit Dhananjay Saraag has Even Contested Elections
In 2017, Abhijit aka Kalicharan Maharaj had contested the Akola Municipal Elections and was defeated. He also tried to get a ticket for the State Elections in 2019 but was denied ticket.
Why He Calls Himself as Kaaliputra?
Well, Kalicharan Maharaj has an interesting story to tell. He met with an accident in which his legs almost turned into 90 degrees. He claims he even broke his leg bone. However, Maa Kali visited him, pulled his legs and immediately his legs started recovering and he didn't have to undergo any surgery. According to him, he could see Kali Maa and post which he became her param bhakt.
What was the Abusive Comment that Kalicharan made against Mahatma Gandhi?
Well, this Maharaj got on the stage hailed Nathuran Godse, the murderer of Mahatma Gandhi as a great person and called the Father of our Nation as a "Maha Haraami Mohandas Karamchand Gandhi". This is not the first time this Maharaj was caught giving hatemongering speech. In fact, in the last 2-3 months, this same Maharaj has been making several hatemongering speeches against the Muslims in the Kolhapur Satara belt.
What are the Cases Registered against Kalicharan Maharaj from his Controverial Remarks against Mahatma Gandhi?
After his statement, Congress leader Pramod Dubey registered a complaint against Kalicharan under IPC section 505 (2) that is promoting hatred, enmity or ill-will between classes and IPC 294. His statement didn't go well with Mahant Ramsundar Das who not only expressed his anger on the comment but also walked away from the podium.
Kalicharan also went on with how we should elect a staunch Hindu king (leader) along with his opinion and views on Islam, partition, Godse and Gandhi.
Also Read: Know About 99 Cases Filed Against Baba Ramdev's Patanjali (Yogpeeth & Patanjali Ayurved)
Also Read: Lesser Known Facts about Radhe Maa & Her Scandal