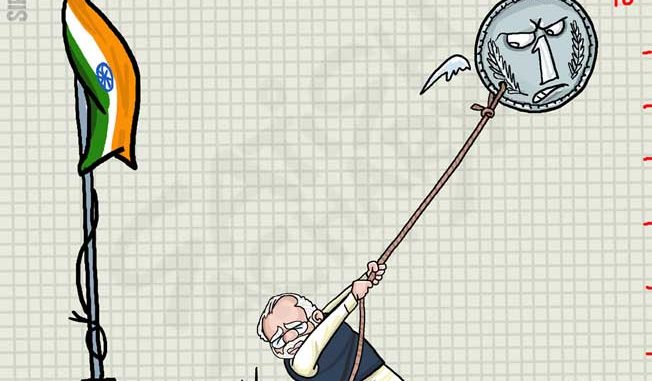 Yet again rupee is on ventilator while dollar seems to be rolling on an escalator! Now, if you are wondering how can rupee stop falling further down, you need to both, chill and relax. Yes, because our gormint with plethora of juggads and guanxi will not only bring back the STREANH of rupee but will definitely get into the root cause of the problem – 'Pt. Nehru!'
And then there is the sinking Turkish Lira ofcourse which is acting like Titanic, khud toh doob rahi hai, saath mai humne bhi le doob rahi hai…! However, being Indians we know that we will sail it through anyhow. After all, ours is an extraordinary incredible nation where cows exhale oxygen, pehens get impregnated by the tears of the peacock, ministers acquire degrees from Yale in 6 days and then the chaiwallahs make tea with the 'gutter gas.' Yes, yes, 'pipe lago lo naale mai, chai bana lo pyaale mai!'
Being a believer, I know Acche Din is around the corner. No, not because listening to bombastic speeches while sipping on my shikanji gives me a high but because I know if the right amount of gau mutra reaches the ailing rupee in the ICU with adequate amount of oxygen that is exhaled by the gau(s), the rupee will start rolling 'up' like never before. If gau mutra can cure the wicked and dangerous cancer then why not the cute innocent round faced rupee? You go Mutra!
Don't believe me? Ask Baba Ramdev or for that matter some great economists and astrologer of our times like Sri Sri and Swamy who are an expert when it comes to predicting the rupee. But if only they knew that if ever the rupee get the colorful pinky makeover it will start behaving like a typical woman. And can anybody predict us women, hell no! However, good thing is, all the NRIs have started sending money to India, bringing a huge cash flow in the country. Going by the rumours, Vijay Mallya, and Nirav Modi too are thinking to take advantage of the situation and return to India soon. Now if this isn't acche din, what is? Hai na, masterstroke!
In the interim, Rahul baba plans to give a huge soft jaddu ki jhappi to the hospitalized rupee and Sambit Patra too (with the wink ofcourse) so that they both feel better. Kejriwal who is still waiting for the gutter to emit gas in his pipe cannot be of any help at the moment as his cough syrup dosages have been swapped with doses of alcohol. If sources of my daarubaaz punters are to be believed then he will only be back with his dharna on the falling rupee once he watches and reviews the upcoming film, "Mitron."
However, me along with the billion of Indians have full faith in Modiji. And if it all amidst his busy schedule flying from one nation to another, he doesn't get time to address the issue of the tanking rupee, I'm sure Pallavi Joshi will come to his and our rescue by her easy sa chotta sa video or who knows even Akshay Kumar with his desh bhakt film!
Meanwhile, while, I'm trying to cheer myself and all the pennies in my torn wallet by listening to the song, Sabse Bada Rupaiya on repeat mode, my mother updates me that the padosi Shah saab ka beta Vikaas in US is busy making paper cups out of the colourful rupee notes in his aloo ki factory. No wonder, this is the same guy who fooled me twice by saying, 'Hindu khatre Mai Hai' when in reality it was the 'Rupee!' As Gaitonde rightly says, 'Duniya ke baazar mai sabse badda dhandha hai dharam!'
Now if you are the braveheart who is eagerly waiting for "Acche Din," all I pray is , "May your Joy Increase Like the Price of Petrol and Sorrow Fall Like the Indian Rupee." To the rest, '2019 aane waala hai, desh badalne waala hai'
Kabhie Kabhie Lagta Hai, Apun Hi Bhagwan Hai… 😎
Happy Independence Day!
buy Doxycycline online
buy Kamagra online
buy super Cialis