Delhi has been hit with a fresh new corruption case and this time the person in question is DCW (Delhi Commission for Women) chief Swati Maliwal.  A FIR has been registered by ACB (Anti-Corruption Branch) by a complaint was filed by former DCW chief Barkha Shukla Singh over illegal appointments in the staff of DCW.
While, you wonder who is Swati Maliwal and why is she trending, here we share everything about the lady –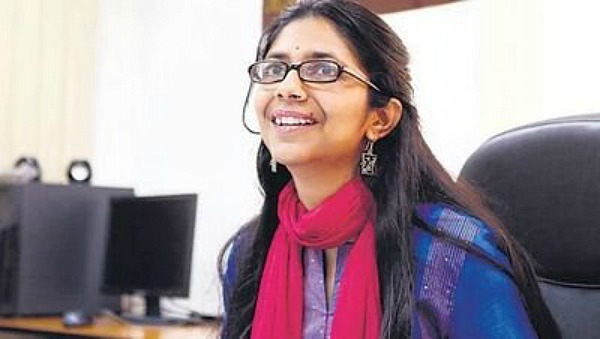 Swati Maliwal Education Qualification
Born on 15th October 1984, in Ghaziabad, Uttar Pradesh, Swati Maliwal completed her Class 12th (CBSE) from Amity International School, Noida in 2002. In the year 2006, she then completed her B.Tech (Information Technology) from JSS Academy of Technical Education, UPTU. According to her tweet, she is the daughter of an army officer. Her mother was a Chemistry teacher in the school she went to.
मै फौजी की बेटी हू फ़ौज में पली बढ़ी हू देश के लिए काम करना देश के लिए जान देना सीखा है मुझे दुनिया की कोई ताकत डरा नही सकती|

— Swati Maliwal (@SwatiJaiHind) September 20, 2016
She Chose Social Work Over a Corporate Job
Post her engineering Swati got a job offer from software giant HCL. She had her offer letter but she decided to take the road less traveled. At the age of 21, Swati decided to work for Parivartan – a NGO.
Swati Maliwal Profile in PCRF – Public Cause Research Foundation
From 2006 to 2013, Swati worked in PCRF and looked into various issues including women empowerment. Meanwhile, in the year 2011, she joined Anna Hazare's India Against Corruption movement and was the head of the mobilization team.
Personal Life – She is Married to AAP and India Against Corruption Member Naveen Jaihind
Swati Maliwal's husband is current Haryana convenor Naveen Jaihind. Naveen and Arvind Kejriwal have been together from Anna Hazare's India Against Corruption Movement.  He was a member of the core committee of IAC and was also arrested along with Anna Hazare and Arvind Kejriwal against their fight for corruption. Naveen also played a key role in drafting the Jan Lokpall Bill. Interestingly, he is known for unearthing several scams by filing RTI.
Swati Maliwal is a Social Activist and Participated Actively during the Jan Lokpal Days
31 year old Swati Maliwal before becoming the chief of DCW was prominently known as a social activist involved in various RTI campaigns and also for organizing several campaigns on women issues.  She was the youngest member of the core committee of India Against Corruption, out of which the political party AAP was born.
She Is Associated With a NGO co-founded by Arvind Kejriwal
Her association with Arvind Kejriwal has many branches. Not just IAC and AAP, Swati Maliwal is also associated with a NGO called Parivartan which was co-founded by Arvind Kejriwal and his deputy Manish Sisodia.
Swati Was Also Appointed as an Advisor to the Delhi CM for Public Grievances
 Before being appointed as the chairperson of DCW, Maliwal has been advisor to Delhi CM Arvind Kejriwal on public grievances. She is the one who handles his Janta Samwad. Post her appointment, she not only got a monthly salary of Rs. 1.15 lakh but an official vehicle and an office in the Delhi secretariat.
AAP was Charged With Nepotism post her Appointment as the DCW Chairperson
Some sources claimed that Swati Mailwal is Arvind Kejriwal's cousin (mausi's daughter) and this was the only reason why he appointed Maliwal as the DCW chairperson. However, Kejriwal denied such allegations and maintained that Maliwal's appointment was purely on the basis of merit. It is interesting to note that Delhi's governor Najeeb Jung first rejected her appointment but then approved the same after 11 days.
Do Not Miss Reading: 
Interesting Facts About Sonia Singh – NDTV Journalist! 
India News Editor-In-Chief Deepak Chaurasia Controversies!
Editor's Note: NationalViews is a home for people with views and opinions that caters to the changing India. It is a place for the common men to articulate their views and opinions on any topic. A platform where you express and we publish. Mail us your opinion, views, and thoughts at editor@nationalviews.com and we will help you reach out to the masses.