In the serial Chandra Nandni, love got easily transformed into hatred. Chandra hates Nandini because he believes that she killed Durdhara and it is because of her that Bindusar his son is so much in pain.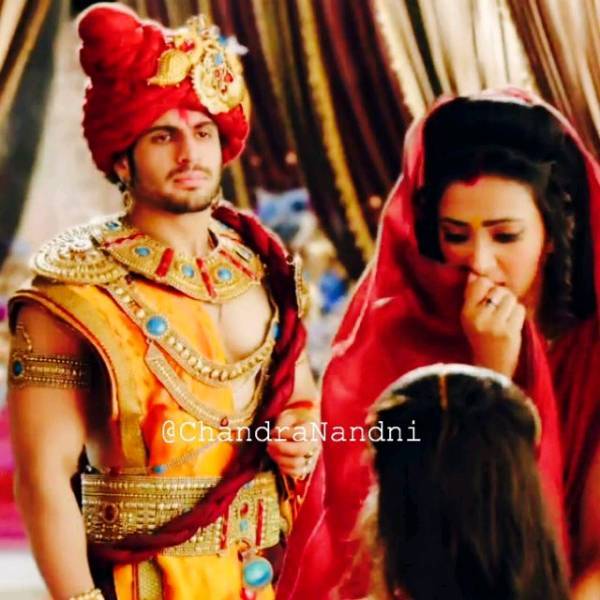 Nandini on the other hand still loves Chandra but is hurt that Chandra didn't believe her at all. Post a year of separation they both will face each other in Kalinga once again. While, there will be confrontations, there are enough reasons for them to reunite again as per Chandra Nandni latest spoilers.
Nandini is Chandrika – The Woman Who Has Remedy for Bindusar's Health & Happiness
From the very start it is shown that Bindusar gets happy with everything that is connected to Nandini. He smiled for the very first time when he saw Nandini's anklet.
Next, she was the one who saved him from the dacoits sent by Nand. Besides, she was the one who through her medicines could relax Bindusar.
With Nandini being an angel to Bindusar, Chandra won't be able to distance Nandni from Bindusar. Even if he does, Nandini won't step back.
After all, Durdhara had asked her to watch out for her son in her absence. This will compel Nandini to take care of Bindusar in spite of Chandra's restriction and Helena's warning.
Chandra Nandni Latest: Chandra Will Get Clues About Nandini's Innocence
We are not sure whether Chandra will know that Helena is a culprit after all it is a TV serial and the culprit cannot be exposed so early. However, we are sure that Chandra will know about Nandini's innocence.
How? Well, we are sure he will get clues and hints that will make him realize that all Nandini wanted was Durdhara's good health. You never know if Durdhara has left a letter or Acharya Chanakya gets some information from his secret sources.
Anyhow (depending on the script writer's taste and thoughts) Chandra will surely know about Nandini's innocence and the two will soon get close. What are your thoughts?