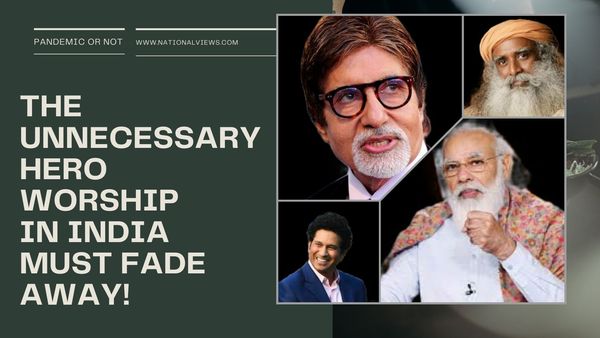 Our Indian genes are so much obsessed with 'idolizing' that even human figures are worshipped as God by us. This is the reason why, sports personality that makes us proud are God, Larger than Life On-Screen Actors are Super Heroes (even King/Badshah), Self-styled Godmen are Saint/Guru and even Politicians are Vishnu Avatar. The bhakti and devotion are so deep-rooted that our cricket, cinema, guru and neta crazy nation start considering the reel life heroes as a real-life hero by putting them on a pedestal.
However, when the same God, Super-Hero go against the people of the country and/or ignore the plight of the very bhakts/fans/followers, it hurts. The recent events in India – from farmer's protest, pandemic, second wave of Covid19 and humanitarian crisis is a realization that it is time we recover from celebrity hero worshipping syndrome.
Actors, Politicians, SportsMen are Achievers, Skilled in their Profession but are they Really Worthy of Being Worshipped?
When Maria Sharapova said she didn't know who Sachin Tendulkar is, the five-time Grand Slam champion was trolled big time as she faced the wrath of Indian cricket fans. Some Tendulkar fans even called her atheists for not knowing their 'God of Cricket'. However, the same Sachin Tendulkar didn't show an iota of remorse against the Indian farmers dying.
On the contrary, Tendulkar along with other Indian celebs shared identical tweets and hard-pressed against International pop icon Rihanna who expressed her solidarity with the farmers' protest.
Sachin is the same person who wanted import duty waiver of Rs 1.5 crore for his gifted Ferrari 360 Modena from Schumaccher – which he did get. However, as annoying as it may sound, he sold off the same Ferrari a few years later.
Covid19 Pandemic in India showed how Irresponsible & Meaningless Bollywood Superstars & SuperHeroes can be!
Superstar Amitabh Bachchan has always been a revered figure in India and been admired for his knowledge in various fields – cinema, literature etc. Little did we know he is similar to our Family WhatsApp Groups' Uncles. Yes, just like them, he too without any responsibility was peddling fake news, unverified and ill-informed superstitious posts. While our uncles can do little harm, the superstar has followers in millions.
In his (now-deleted) tweet numbered 3481, Bachchan wrote, "A study in @TheLancet shows that coronavirus lingers on human excreta much longer than in respiratory samples. Come India, we are going to fight this! Use your toilet."
He deleted the tweet after Health Ministry rubbished the claim.
In one of his another tweet which he later deleted, he shared,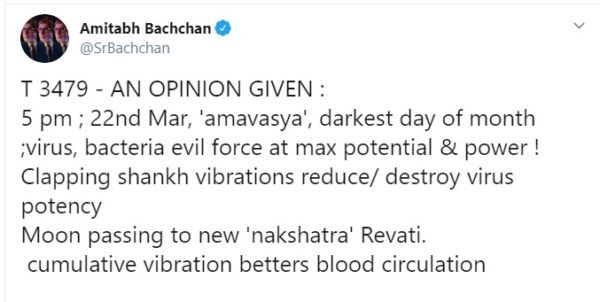 which was again termed as fake by PIB Fact Check
While entire India including common influencers was constantly using their influence to extend aid and help under the second wave of Covid19, several Bollywood bigwigs including Ranbir Kapoor, Alia Bhatt was seen flying out to Maldives. Several others (including Tiger Shroff, Shraddha Kapoor, Jhanvi Kapoor and Sara Ali Khan) amidst the health emergency in India were busy showing off their sun-kissed abs and bodies from their beach vacation.
Besides, a quick introspection of super talented Kangana Ranaut on-screen and Kangana Ranaut on social media/real life is a great warning as to why one must finally put an end to the unnecessary hero worship in India.
It is also High Time We Bid Adieu to Self-Proclaimed Babas, Gurus and Gyaani(s)
India constantly sees the emergence of new self-proclaimed Baba(s), Guru(s) and Gyaani(s). Although time and again, most turn out to be fraudsters, hoaxers or mere promoters of their business to mint money, our attraction towards them never ceases to exist. Self-styled godmen like Ram Rahim, Asaram, Rampal etc have been accused and jailed for their illicit crimes yet we see people falling prey to new and emerging self-proclaimed baba(s).
Time and again Yoga enthusiast and founder of Patanjali Ayurveda Baba Ramdev have been in controversy for several misleading claims as well as objectionable remarks to promote his business/products. Yet, he enjoys a great amount of fan base across India.
Also Read: Know About 99 Cases Filed Against Baba Ramdev's Patanjali (Yogpeeth & Patanjali Ayurved)
So, when recently he called 'allopathy a stupid science and IMA wanted a strict action against him, several of his bhakts including educated ones came out in his defence. This is where the problem lies with us Indians, we do not know where to draw the line.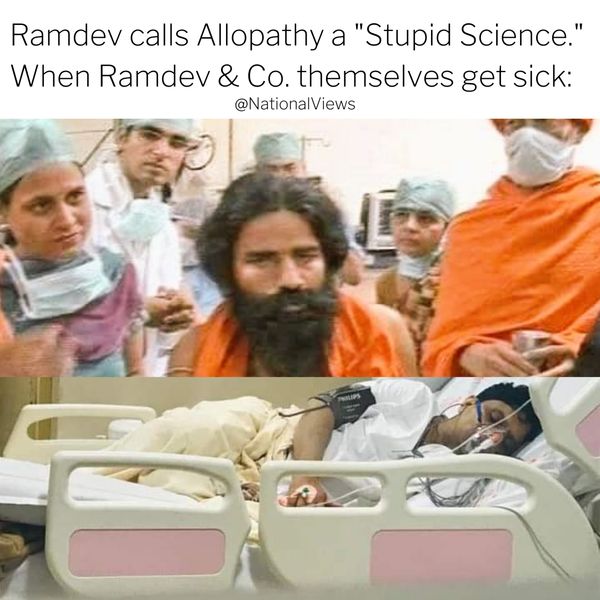 Similarly, many of us are ardent listeners of Jaggi Vasudev aka Sadhguru. I used to listen to him until of course, he started talking about things that he had/has no clue about, like feminism, science and CAA. For instance, in one of his videos, he talks absolutely nonsense about the consistency of breast milk when a mother delivers twins, one girl and one boy. In another video, he takes Science for a ride by claiming that water has memory (Watch the video) and the worst comes when he talks about Yashoda (Lord Krishna's foster mother) being a lover of Krishna and jealous of Radha (he defends his claim by trying to explain but even his explanation seems vague.)
And finally, we need to stop unnecessary hero worship in India of our political netas
From calling Narendra Modi, the 11th Avatar of Vishnu to projecting him as messiah and addressing him as the messenger of God, many of the Indians often forget that our honourable Prime Minister is an elected representative of the world's largest democracy. Yet, the over-the-top bhakti and devotion towards him is something beyond our imagination.
Here check out a bhajan on PM Modi –
Despite being criticized globally for mismanagement during the pandemic, Narendra Modi fans and bhakts are so indulged in his devotion that they see nothing wrong even when the unemployment is all time high, economy has taken a battering and despite the Acche Din promises, India is downgraded to where it was in 2003 (according to Ratings agency Moody).
But his fans are not only in denial but are ready to defend him right, left and center – forgetting that as Indians their loyalty, devotion and allegiance lies towards the nation and not towards the elected representative or government that is voted to serve the nation.
Yes, hero worship is endemic in India and personality cult simply flourishes. However, it is high time we realize that unnecessary blind hero worship in India (whether of actors, sportsmen, baba(s) and/or politicians) must stop and let them be mere humans, just like you and me.
Also Read: Everything You Wanted to Know about Sadhguru Jaggi Vasudev's Wife Vijaykumari