According to State-Level Performance under Economic Reforms in India published by Planning Commission, Gujarat had the best GDP rate (8.15%) from 1991-1998. Maharashtra stood second with 8.01%. 
Let us now compare the GDPs of various states from 2004-14. According to the below details, it is interesting to note that, Maharashtra, Tamil Nadu, Uttarakhand, Bihar, Delhi, and Karnataka have far better growth rate than Gujarat.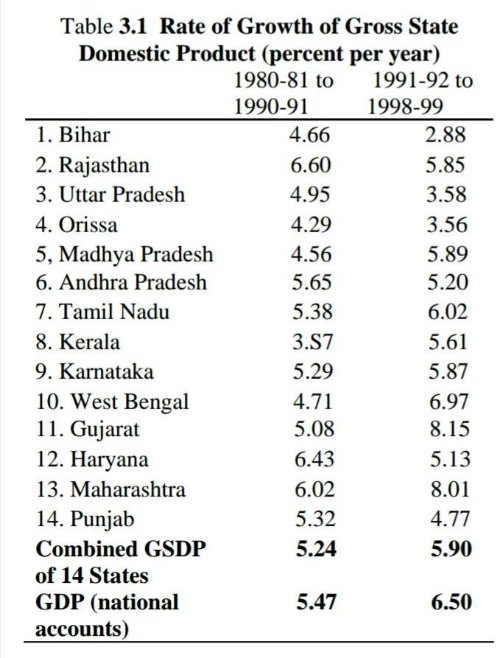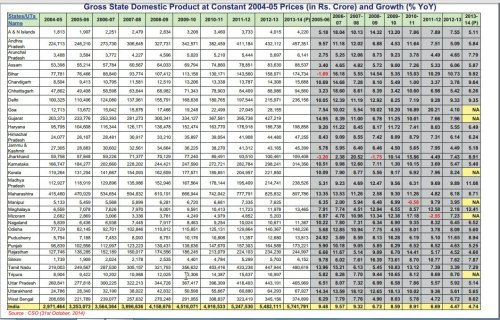 Narendra Modi Brought Gujarat from No. 1 to No. 5 Position
Before Narendra Modi took over, Gujarat was No-1 State but now it at No-5, below Maharashtra, Tamil Nadu, Delhi, and Karnataka. According to Narendra Modi, he made Gujarat no-1 but factually, he brought down Gujarat from No-1 to No-5. Unfortunately, nobody questioned Narendra Modi over this not even Indian media
Now let's have a look at the Human Development Index. Kerala clearly tops the chart followed by Maharashtra, Tamil Nadu and Karnataka. So the moot question arises, how PM Modi claimed Gujarat Development is the best Model for development when Kerala has the best figures as per the indexes.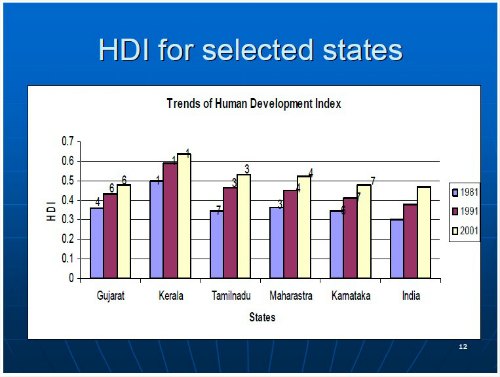 There is no iota of doubt that BJP ruled Gujarat is not for common people, rather it is for elites and crony capitalist.
Gujarat Development Model Is Full of Loops
If Narendra Modi's policy is pro farmer, pro poor, pro middle class then why did Supreme Court recently slapped Gujarat with a statement, "Do you want to break away from the Union?" Further elaborating, "Does the Gujarat government think itself so 'unique' that it can say 'no' to a law passed by Parliament?"
Yes, this is how the Supreme Court verbally thrashed the State government as well as the Centre for not implementing the National Food Security Act passed by Parliament in 2013 till date to ensure that the poor in the nation do not go hungry.
"Do you want to break away from the Union of India? Can a State say it cannot implement a law passed by the Parliament? Are you saying you are not part of India? What is the Government of India doing about this," a Bench of Justices Madan B. Lokur and R.K. Agarwal asked Solicitor-General Ranjit Kumar, who appeared for the Center.
This straight away highlights the fact that 'Gujarat' during the times of Narendra Modi and BJP regime was/is surely not for poor, middle class and/or even farmers. This is the reason why the most affected people are coming on roads for their demands. PM Modi might be well versed with business, but his policies and work was never in favour of the weaker section. He can only feed us with his rhetoric and platitude.
Moreover, it is rather very astonishing to notice how our Journalists and leading media houses have been showing 'Gujarat as the best development model' when in reality it has nothing to do with the development of the downtrodden. 
On the contrary, the states of Kerala, Karnataka and Tamil Nadu were in a better situation even before Narendra Modi became the CM of Gujarat. It is however very surprising that none of the Media houses ever researched on the above things to prove Narendra Modi wrong whenever he claimed that Gujarat development model is the best model.
That compels me to say, "Gujarat is not India & India is not Gujarat".
Do Not Miss Reading:
Kapil Sharma to Narendra Modi, "Ye Hain Aapke Acche Din?"
The Story of PM Modi Calling an IAS Officer of Tripura in Night Is Made-up! Bhakt Tales Busted!
Social Media Is Not An Authentic Source Of Modi Development Model For India