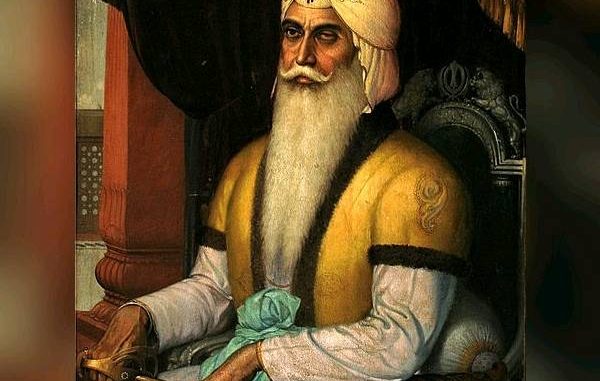 Sher-E-Punjab Maharaja Ranjit Singh is one personality that everybody is proud of in Punjab. His strength, valor, courage and humanity is still revered.
While we already know about his contribution towards the welfare of Punjab and it's people, here we share everything about his family life – his 20 wives, 8 sons and 26 concubines.
Mehtab Kaur – The First Wife of Maharaja Ranjit Singh (1796)
Ranjit Singh married Mehtab Kaur the granddaughter of Jai Singh of the Kanhaiya misl after Sada Kaur, Mehtab's mother insisted on the alliance. The couple together had their first son named Ishar Singh (born in 1802) but he died at the age of two.
Soon the couple separated and Mehtab started living with her mother Sada Kaur. Post the separation, she gave birth to Ranjit's twin sons – Tara Singh and Sher Singh (born in 1807).
Datar Kaur – The Second Wife and Mother of Ranjit Singh's Heir Kharak Singh (1798)
Originally Raj Kaur, Ranjit Singh's second wife was the daughter of Ran Singh Nakai of the Nakai misl. She changed her name to Datar Kaur since Raj Kaur was also the name of Ranjit Singh's mother.
She married Maharaja Ranjit Singh in 1798 and gave birth to their son and heir apparent Kharak Singh in 1802.
Moran Sarkar – The Muslim Nautch Girl that Ranjit Singh Married (1802)
Born in a Muslim family, Moran was a nautch girl who resided in Makhanpur, a place near Amritsar and Lahore. She used to dance for Ranjit Singh and became his wife, a year after he became Maharaja.
However, this marriage was revolted by the highest political institution of the Sikhs – the Akal Takht and they ordered him to be punished with public flogging. Ranjit Singh appeared and humbly bared his back for the lashes. Seeing his humility, the punishment was reduced to a fine.
Also Read: Everything About Maha Singh aka Mahan Singh – The Father of Ranjit Singh
He Married the Two Widows of Sahib Singh Bhangi (1811)
In the year 1811, the Maharaja married Rani Ratan Kaur and Rani Daya Kaur – the widows of Sahib Singh Bhangi. Rani Ratan Kaur gave birth to Prince Multana Singh in 1819. He also adopted Rani Daya Kaur's two sons' Prince Kashmira Singh and Prince Peshaura Singh.
From 1815 to 1822, He Married 5 Daughters of Various Kings
In the year 1815, the Sher-E-Punjab married Rani Rup Kaur the daughter of Jai Singh of Kot Sayyid Mahmud and Rani Chand Kaur, the daughter of Jai Singh of the village of Chainpur in Amritsar.
In the year 1820 he married Rani Lakshmi Kaur, the daughter of Desa Singh Vadpagga of Jogki Khan and Rani Mahtab Kaur, the daughter of Chaudhury Sujan Singh two years later in 1822. During the same phase, he also married Rani Gulab Kaur, the daughter of a landlord of Jagdeo in Amritsar district.
Mehtab Devi and Raj Banso – The Daughters of the Kangra King (1829)
Having defeated and pushed the Gurkhas out of Kangra, he sealed the alliance with Raja Sansad Chand of Kangra by marrying two of his daughters — Mehtab Devi (Guddan) and Raj Banso. Mehtab Devi was the one who did Sati when Ranjit Singh died in 1839.
The 3 Later Wives (From 1830 to 1832)
He married daughter of Kaur Singh of Chhachriwala Rani Ram Devi in 1830 who predeceased him. He also married the daughter of Sardar Karam Singh Chinah, the date of her marriage is unknown. In 1832, he married Rani Saman Kaur the daughter of Subha Singh.
Maharaja Ranjit Singh Married Another Dancing Girl Gul Bahar Begum in 1832
In 1832, Sher-E-Punjab yet again married a dancing girl from Amritsar Gul Bahar Begum. In 1831, she had danced before the emperor's English guest British Governor General, Lord William Bentinck, at Ropar. He even visited the Golden Temple after this wedding in an act of contrition for marrying a woman whose status did not match his own.
Since she had no children of her own, she adopted a Muslim boy whose progeny still lives in Lahore. Gul Begam survived Maharaja and was awarded an annual pension of Rs 12,380 by the British.
His Last Queen was Maharani Jind Kaur
In the year 1835, four years before his death he married his last wife Maharani Jind Kaur, the mother of the last Maharaja – Duleep Singh born in 1838.
After the Sikh lost the anglo Sikh war she was separated by her 9 year old son, imprisoned and exiled. She was later taken to London in 1861 by her son (after 13 years) where she died in 1863.
Three Rajput Wives Who Committed Sati
The marriage year of these three wives are not known but they committed Sati post the death of Maharaja Ranjit Singh. They are – Rani Har Devi, the daughter of Chaudhri Ram, a Saleria rajput, Rani Raj Devi, daughter of Padma Rajput and Rani Rajno Kaur, daughter of Sand Bhari.
Also Read: Interesting Facts about Mehtab Kaur – The First Wife of Maharaja Ranjit Singh!
Besides, Maharaja Ranjit Singh has 26 concubines in his harem as told by his last surviving son Maharaja Duleep Singh.
Fluoxetine no prescription
buy Bactroban cream online
Buy Flomax online