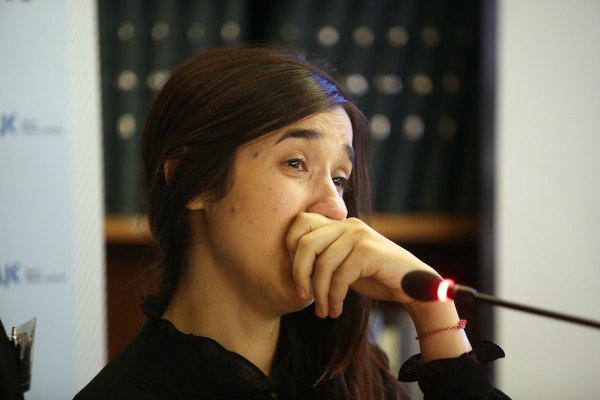 Nadia Murad Basee Taha, a Yazidi girl was abducted in 2014 by the members of ISIS and forced into sex slavery from her village in northern Iraq. Starting from 2014, Yazidis were targeted by ISIS in their attempt to purify Iraq and other neighboring nations as Yazidis do not practice Islam and are kafir or nonbelievers.
Here we share everything about this young girl, a survivor who is now a social activist working to highlight the plight of thousands of other women and children who have been tortured, kidnapped, raped and abused by ISIS.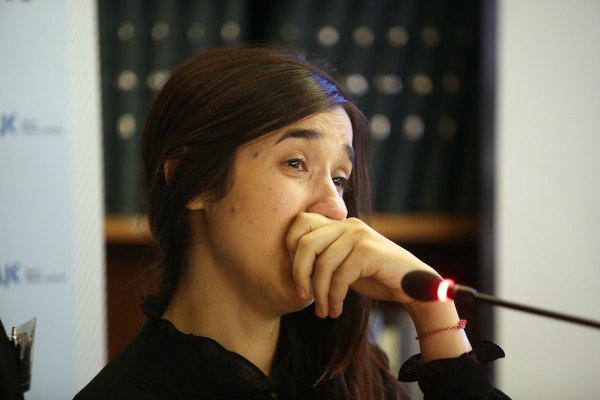 Image Courtesy: @AJCBerlin via Twitter
Nadia Murad was Born and Raised in Northern Iraq
Nadia Murad Besee Taha was born and raised in a village called Koch in northern Iraq. A peaceful village, Yazidis, Muslims and Christians lived harmoniously. She was living happily with her mother, 8 brothers and 2 sisters. Like any other girl she had dreams too. With a keen interest in history, she aspired to become a teacher.
She Knew Nothing about ISIS
While narrating her story in the New York City, Nadia revealed to the U.N. Security Council that she knew nothing about ISIS or their atrocities until she saw some horrific images on TV. Next, in August, 2014, she saw some ISIS fighters in her village while she was walking with her sister. She immediately recognized them. She had no clue that she too would be their victim soon.
The ISIS Executed 6 of Her 8 Brothers on the Spot
On August 15, 2014, during lunchtime, the ISIS fighters engulfed her village and asked everybody to move out of the school to the outskirts. They separated the men from the women and in one hour killed 312 men including 6 of Nadia's own brothers. Almost 80 elderly women including Nadia's mother was executed too as they were old and undesirable. Nadia's father died before the traumatic barbarism.
Nadia Murad, Her Two Sisters and Other Young Yazidi Women Were Enslaved
Those who were not executed were held captives including thousands of men, women and children. They had two options – convert to Islam or get killed. 'Sexual Enslavement' was the third choice given only to young women. Nadia and two of her sisters were enslaved. She was only 19 then.
She was distributed amongst the ISIS fighters in Mosul
Nadia Murad, her two sisters, teenage cousins as well as nieces along with 150 other girls were transported to the ISIS occupied Mosul City in Iraq. On their way, the fighters violated them, touched them and humiliated them.  They stayed there for 3 days and were then distributed amongst the fighters so that they could be 'enslaved'.
Nadia and Other Women Were Taken to Sharia Courts for Slave Swapping
In Mosul, all the Yazidi women were asked to wash themselves every morning. They would then be taken to the Sharia courts where they photographed each of the girls. These photographs were then pasted on walls with a phone number of the militant that owned the woman in picture. The process was a daily routine so that the ISIS fighters could swap women amongst each other.
Nadia Murad Besse Taha Had to Beg a Fighter to take her as His Slave to free herself from a Huge Man
One dark day it was her turn. A fighter came in and ordered her to come. Raising her eyes above, she looked at the huge man who looked nothing less than a monster. He took her by force as she was struggling with this huge man, she saw a pair of small feet – another ISIS fighter who had come for a Yazidi slave. She literally fell on his feet and begged him to take her away with him to escape the clutches of this huge man. She asked him to free her from the huge man and she in return would do whatever he wanted. Next, he took her for himself. Yes, what Nadia and other Yazidi women suffered is beyond even our imagination.
Nadia Murad Was Raped, Tortured and Gang Raped
The man who enslaved Nadia Murad raped her on several occasions. When she tried to escape his torture but was captured, he beat her up mercilessly and then stationed her in a room with six other ISIS militants. They continue to rape her until she fell unconscious.
She Escaped After Three Months of Rape and Torture
In November 2014, Nadia was able to escape after her captor left the house unlocked. She sneaked away from the house to a safe place. She was then transported to a refugee camp. In this refugee camp, Nadia was selected for a program that took around 1,000 refugees to Germany. She is now living near Stuttgart with one of her sisters. The other sister is in a refugee camp in Iraq with two of their surviving brothers.
Nadia Murad Besse Taha Is a UN Goodwill Ambassador and Has Been Nominated for Nobel Peace Prize
Ever since she escaped from her captor, the gang rape and human trafficking victim have been advocating for the end of human trafficking.  This is the reason why she has been appointed as the UN Goodwill ambassador as her ambassadorship will highlight the plight of countless trafficking victims around the world especially the refugees. She is also a Nobel Peace Prize Nominee for 2016.
Do Not Miss Reading: 
What is Islamic State Trying to Achieve?
Reasons Why India's Muslim Women Want a Complete Ban on Sharia Courts
Burqa Ban: Countries that Have Banned Burqa & Niqab Completely or Partially
 Editor's Note: NationalViews is a home for people with views and opinions that caters to the changing India. It is a place for the common men to articulate their views and opinions on any topic. A platform where you express and we publish. Mail us your opinion, views, and thoughts at editor@nationalviews.com and we will help you reach out to the masses.